Program Announced for CANA's 105th Cremation Innovation Convention
WHEELING, IL— You'll only be 1,287 steps away from the U.S. Capitol when you join the Cremation Association of North America (CANA) for its 105th Annual Cremation Innovation Convention at the Hyatt Regency on Capitol Hill! This premier event brings innovative cremation professionals together to share ideas, learn from experts, and see the newest products and services from industry suppliers. Head to Washington, D.C this August 9-11, 2023, to join the conversation and position your business for the year ahead.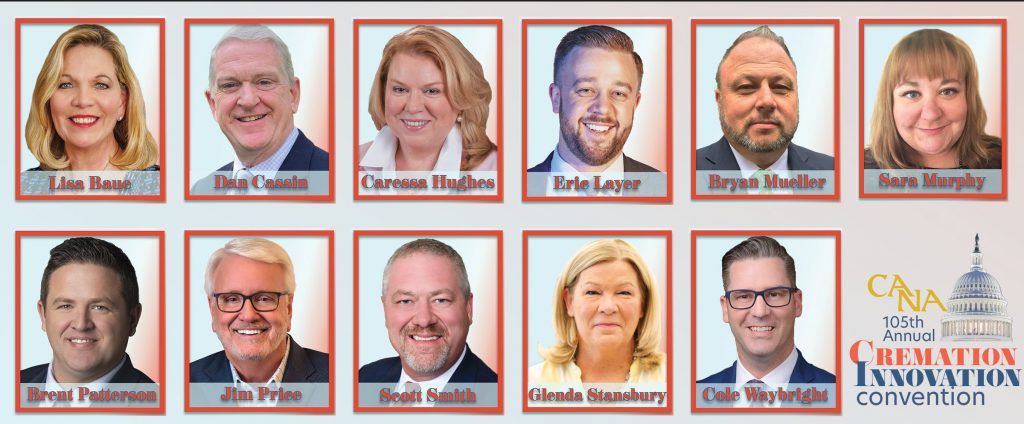 Innovative sessions are the core of every CANA Convention, and the D.C. program is sure to measure up:
We begin by tackling burnout and staffing shortages head on. Brent Patterson, memorial care specialist and licensed funeral director with Tribute Memorial Care Southwest and InSight Institute Vice President Glenda Stansbury kick-off the CANA Convention with a discussion on providing the right environment to grow and nurture employees. In Blocked, Burned Out, Blasé, they share strategies to engage your staff and help them grow as creative and enthusiastic professionals.
Drawing from national data collected over the last several years, Eric Layer, Partner at McKee Wallwork, will divulge key findings about family preferences around disposition, memorialization, and the funeral industry generally—and talk about how you can respond to these trends by Targeting with Data. A perennial favorite, this statistics and research session is always a source of thought-provoking and practical advice for applying the latest research to your business.
Regulate, Recruit, and React: A Quick Take on Current Issues brings together three presenters on three topics in bite-size format. Caressa Hughes, CANA President and Assistant Vice President of Government and Industry Relations for Service Corporation International, will present a Regulatory Update and answer participant questions. Learn what legislative changes may be ahead over the coming months and years. Next, President of the ICCFA Educational Foundation Jim Price will discuss tools for Recruiting Veterans to serve our families, followed by Scott Smith, Past President of CANA and Texas Funeral Directors Association. Scott will share his tips on How Can I Pitch In? when disaster strikes your community.
Following lunch, Your Funeral Coach Founder Lisa Baue presents seven essential components of mentoring, discussing Why Mentoring Matters to both owners and team members. Lisa will pay special attention to the benefits mentoring has on Millennials and Gen Z, who are now the largest generations in the workplace.
In a special two-hour session, death educator and suicidologist Dr. Sara Murphy will assist attendees in Responding to Suicide Death and Recognizing Suicide Risk—both for the families we serve and among members of the funeral profession. Importantly, it will also reframe factors contributing to complicated grief and to suicide risk in the context of the COVID-19 pandemic.
Looking for success stories and ideas to help breathe new life into cemeteries? Merendino Cemetery Care Account Executive Dan Cassin joins forces with Sales Manager Bryan Mueller and Vice President, Sales Operations Cole Waybright of Foundation Partners Group to close the Convention, reframing the discussion around permanent memorialization. In Built to Last, they'll feature ideas to turn challenges into new opportunities for growth and profitability, including a cremation garden that increased memorialization sales by 350%.
… and there's more! Earn or renew your certification by registering for an in-person, pre-convention CANA Crematory Operations Certification Program™ (COCP™) taught by Tom Krowl of Cremation Systems and Wendy Wiener of WRW Legal. Celebrate being together in DC at the CANA Afterparty! Reflect on another year in funeral service at the Annual Membership Meeting and In Memoriam. Attend a wreath-laying ceremony at the Tomb of the Unknown Soldier and tour Arlington National Park on Friday afternoon, then enjoy America's pastime in America's capital when the Oakland Athletics meet the Washington Nationals on Friday night.
What more could you want? How about an opportunity to attend for free! New this year, the Funeral Service Foundation offers five scholarships to attend the CANA Convention. Valued at up to $2,200, each scholarship covers full registration for the event, plus three nights at the Hyatt Regency Washington on Capitol Hill, and up to $500 in travel reimbursement. Candidates can learn more on the convention website.
Join your colleagues in the room where it happens! Get ready for a capital event and book yourself for August 9-11, 2023, at the Hyatt Regency Washington on Capitol Hill: goCANA.org/CANA23
About CANA
Founded in 1913, the Cremation Association of North America (CANA) is an international organization of over 3,500 members, composed of funeral homes, cemeteries, crematories, industry suppliers, and consultants. CANA members believe that cremation is preparation for memorialization.