FLYING GOATS + 2022 GOALS | FFFW #68
WE'RE BACK!
We've arrived in 2022! Which first, let me state, it needs to be pronounced "twenty twenty-two," none of this "two-thousand" stuff has any place in my brain. Last year was HUGE for this article. What? It was the first full year of publication, we got a killer sponsor, and each week funeral professionals from across the globe clicked on our ridiculous headlines to have a little fun and get a little break. And if you're thinking, "Well, you can't top that," you are sadly mistaken! This year we're going bigger and better, fasty-er and wrapy-er; we're doing it all!!! To kick us off we have a goat riding a skateboard. Like who else is starting out your year with a goat riding a skateboard? LET'S GO, FOLKS!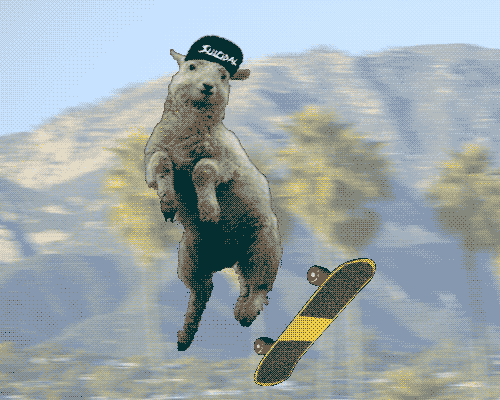 GAME TIME!
Which one of these celebrities got their start in the funeral profession?
a) Dolly Parton
b) Howard Stern
c) Danny DeVito
BECOME A 5-STAR FUNERAL HOME
Do you want reviews that look like this? These are just a small sample of 5-star reviews left for Parting Pro's customers.

"It was a very positive experience from start to finish! The prices are reasonable, and the service is wonderful. I really appreciated the fact that I was able to do all of the paperwork online in advance."
"The website was simple to navigate, and I liked that I could sort through all various options when making a decision. I did everything online, and it was quick and easy!"
"We could not have been more pleased with the entire experience. From start to finish, they were gracious, understanding, sympathetic, and followed through on everything they said they would. A family-owned business and they made us feel like family!"
"Yes! I would love that!" – You (hopefully)

Great! With Parting Pro, families can pay for services and complete forms online, saving both you and them valuable time. Once they see how easy it is to work with you, they can't help but share the news.
See for yourself how Parting Pro can mirror online the positive reputation you've earned in your community!
FIVE GOALS EVERY FUNERAL PROFESSIONAL SHOULD SET IN 2022

At least try wearing a different tie. Spice it up a little bit, give Old Trusty a rest.

Try using the phrase "ay caramba" on a weekly basis. See if anyone around you notices.

Don't accomplish goal two while meeting with a family.

"Well, losing grandma has been hard on us."

"Ay caramba…"

Come up with a new funeral joke. The world needs something better than "this is a dying business."

Just keep crushing it! Keep serving every family like they're your only family and spread a little love!


COMIC OF THE WEEK
Forget "No Way Home" here's the comic we all need!
YOU OTTER BE PROUD
Let's be honest, our profession gets a lot of negative press, so we present stories of funeral things getting respect, and doing great things!

1) ​​Passages International Introduces Fair Trade Certified Repurposed Wood Urns
2) Rollings Funeral Service Celebrates 20 Years of Service