Black Friday SPECTACULAR | Friday Funeral Fast Wrap #12
IT'S BLACK FRIDAY
That means our bellies are full, everyone is okay with Christmas music, and you're reading this while checking for online deals. Fun fact, I'm writing this before Thanksgiving, so for my own little fun, here's three Thanksgiving GIFs to start off your weekend!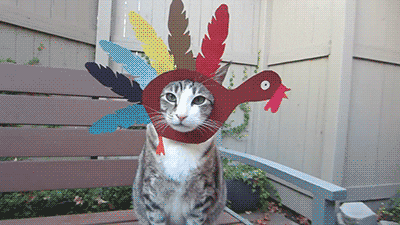 GAME TIME!
Two of these Thanksgiving products are real, one is not. Can you guess by the product name and description which one of these is coming from my GIF-filled mind? Click the link to see if you're right!
Thanksgiving Gum
Offered in three different flavors (cranberry, pumpkin pie, and turkey), these sweet gumballs keep the taste of the holiday going even when your plate is empty.
REAL OR FAKE? FIND OUT HERE!
Chainsaw Shaped Turkey Carver
Who says you can't look like a lumberjack or a serial killer while preparing the big meal? This turkey carver resembles a chainsaw and is sure to be a talking point for the whole family!
REAL OR FAKE? FIND OUT HERE!
Dumbbell Silverware
If you're spending the whole day eating, you might as well try to burn a few of those calories. This fork weighs 2.3 lbs and truly makes you work for every bite!
REAL OR FAKE? FIND OUT HERE!
Wow, that was fun! Now, how do we transition into our paid ad section?
Hmm. I got it!
CRUSH SOCIAL MEDIA AS A FUNERAL HOME
(SPONSORED)
Funeral homes and any death-care business NEED a good social media presence. This isn't always as easy as it seems. BUT… if you're looking for an easy way to get some likes on your page, we have you covered!
Top 3 Things that are social media gold.
1) Babies. People love babies. They're chunky, they're small, and they just randomly stare at people a lot. That being said, if you see a picture of a baby on social media and you DON'T engage with it – you actually are a bad person. Like no joke. Well, kind of no joke.
2) Puppies. These are like babies with more fur and less questioning about its parents being "ready yet." I like puppies, you like puppies, and we all like to LIKE puppies on social media.
3) Puppies and Babies. That's right; it's not rocket science. Babies do good, puppies do good, you combine them, and you get something simply amazing! This is like french fries dipped in a Wendy's Frosty; it's simply a combo that is almost too good to be true!
Now, these three types of content are fantastic, but if you want a social media strategy that REALLY works for you and your funeral home – you need to do a little more than that. You need DISRUPT Media.
DISRUPT Media understands that creative/digital marketing can seem complicated and can be confusing. They take care of all the stressful stuff and make social media simple for you. With years of experience and proven strategies, they know how to use social media to gain leads, build awareness, and grow your business!
Click here to learn more!
Watch this whole GIF for a satisfying ending!
WANT AN AD IN FFFW LIKE THIS? JUST SHOOT RYAN AN EMAIL AT RYAN@DISRUPTMEDIA.CO WE'LL WRITE UP AN ARTICLE AND MAKE A CUSTOM GIF!
THE BEST CHRISTMAS DEATHS…
Now that Thanksgiving is out of the way, we can floor the accelerator and go all-out on Christmas! This year, my co-worker and I have had an on-going conversation about the holiday season…and it's all about death. Every movie and song that we watch and listen to involves people dying. Don't believe me? Check it out.
A Christmas Carol (Scrooge)
This is obvious, right? The whole thing kicks off with Scrooge being visited by a deceased co-worker who takes him to relive many memories with people who are now dead. Then he sees a possible reality where Tiny Tim kicks the bucket and eventually has to face his own mortality. Charles Dickens made Christmas mainstream with this novel, so it makes sense that so many other holiday classics share a similar relationship with death.
It's a Wonderful Life
George (the main guy) actually tries to kill himself before seeing what the world would be like without him. Once again, without death this cinematic masterpiece wouldn't exist. See, the jolly time comes with some heavy stuff.
"Now Mr. FastWrap, that's cool and all, but that's just two examples. You need more than that if you want me to believe that Christmas is all about death." – Someone
That's true, and it would get boring if I explained how almost every famous Christmas thing is associated with death. So, I'm just going to list some and let you draw the connections.
The Santa Clause
Christmas Shoes
Frosty the Snowman
Jingle Bells (read all the lyrics, horsey doesn't make the whole journey)
Every Hallmark movie
I'll Be Home for Christmas
Die Hard (It's in the name)
Grandma Got Ran Over by a Reindeer
So, please don't feel afraid to be a funeral home that has a little fun and associates itself with the holiday. It's kinda what the season is all about.
YOU OTTER BE PROUD
This is our weekly segment where we highlight some amazing things that are going on inside this profession. We get a lot of bad press, so we're going to highlight the good and continue to keep our chins up!

1) Faith & Grief Ministries: Gathering, Storytelling, Healing
2) Sullivan Funeral Home founding family gifts museum research center with archive treasure
3) Funeral home cosmetologist worked day and night, as death toll rose amid coronavirus
There ya go!
Enjoy this week! Only 3 more Fridays before Christmas!