It's Christmas Eve | FFFW #66
Tomorrow's Christmas
Like it's actually here. Can you believe it? Since it's a special day, we wanted to make this a special edition of the FFFW. We gotta make it quick so you can get back to all the festivities. So, here we go!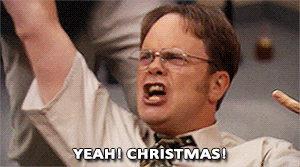 THE BEST CHRISTMAS PET GIFS
As funeral professionals, this whole season can be a little gloomy. Seeing families grieving through the holidays isn't fun. But, Christmas is still awesome. So, I just want to share a few GIFs with you that should help your mind reset and get you in the holiday spirit!
FOR FANS OF FUNERAL NATION
BECOME A 5-STAR FUNERAL HOME
Do you want reviews that look like this? These are just a small sample of 5-star reviews left for Parting Pro's customers.

"It was a very positive experience from start to finish! The prices are reasonable, and the service is wonderful. I really appreciated the fact that I was able to do all of the paperwork online in advance."
"The website was simple to navigate, and I liked that I could sort through all various options when making a decision. I did everything online, and it was quick and easy!"
"We could not have been more pleased with the entire experience. From start to finish, they were gracious, understanding, sympathetic, and followed through on everything they said they would. A family-owned business and they made us feel like family!"
"Yes! I would love that!" – You (hopefully)

Great! With Parting Pro, families can pay for services and complete forms online, saving both you and them valuable time. Once they see how easy it is to work with you, they can't help but share the news.
See for yourself how Parting Pro can mirror online the positive reputation you've earned in your community!
YOU OTTER BE PROUD
Let's be honest, our profession gets a lot of negative press, so we've searched the internet to find stories of funeral things getting respect, and doing great things!
1) ​​Philadelphia funeral homes will begin educating survivors about tangled property titles
2) Coleman Funeral Home gifts families ornaments of their loved ones

3) Owner of Miami Gardens funeral home gives away 100 Christmas trees