CANA's 101st Convention: Step Into the Winner's Circle with Us!
WHEELING, IL – From July 30-August 2, 2019, 285 people gathered in Louisville, Kentucky, for CANA's 101st Annual Cremation Innovation Convention. Attendees really admired their opulent and immaculate surroundings at the newly constructed Omni hotel. Thanks to the twenty-six generous sponsors of this year's convention, they also enjoyed top-notch presenters, amazing food, and a great atmosphere while networking throughout the event. The Funeral Directors Association of Kentucky helped welcome attendees, graciously offering samples of Kentucky cuisine along with mint juleps. Pre-convention education opportunities were offered starting July 29. These included both celebrant training and the CANA COCP™.
Pam Kleese, and Barbara Kemmis, CANA's Executive Director, opened the education portion of the convention with Cremation Is_ _ _ _, a fascinating look at recent groundbreaking research on consumer attitudes and behavior toward cremation. Damon de la Cruz and Ben Schmidt followed with CANA's first embalming CE session, Presentation Without Preservation. A panel discussion on Dispelling Myths: Cremation in the Curriculum with Damon de la Cruz, Lynn Hess, Jack Lechner, Leili McMurrough, and Robb Smith came next. The focus was on the range of education programs offering cremation and death care education, which included a lively post-presentation Q&A. Four different presenters tackled a range of subjects for the session on Cremation Fundamentals. Larry Stuart, Jr., began by talking about the importance of putting policies and procedures in place and adhering to them. Mark Matthews addressed the impending switch to a new coolant for refrigeration, followed by Ben Schmidt's introduction to the MorTraqr app, used to track CEs. CANA Historian Jason Engler rounded out the session with a visual tour through the new cremation exhibit at the National Museum of Funeral History. Capping off the first day of education, Dr. Jason Troyer provided practical advice for Defusing Conflict in the Arrangement Conference: Strategies from Family Therapists.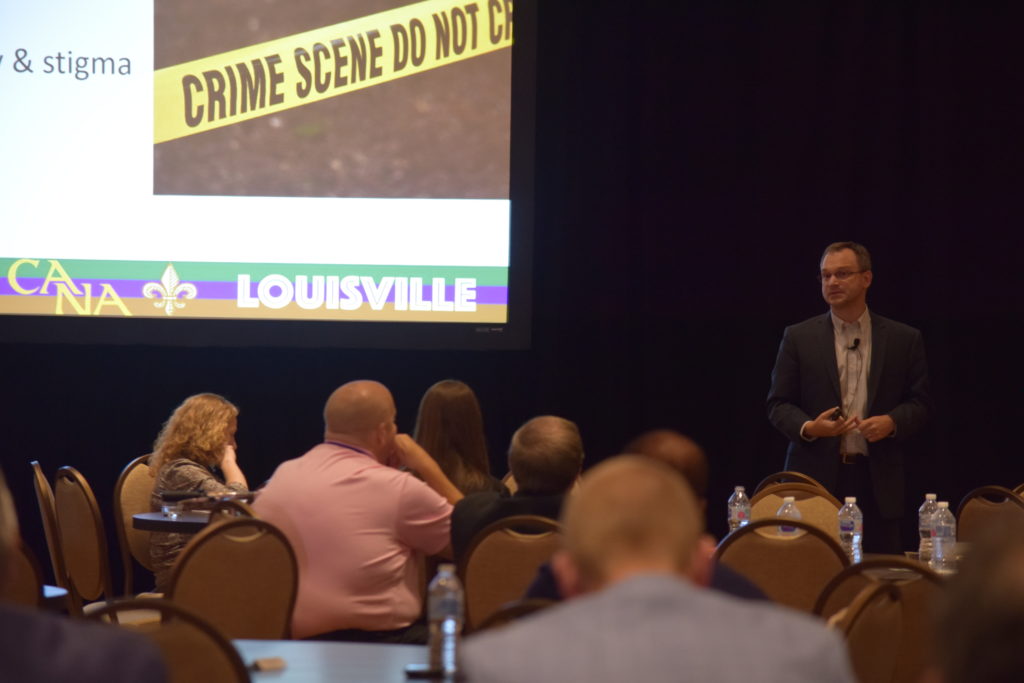 The second day began with Elisa Krcilek's take on CANA Statistics: Cremation GPS, a focus on CANA's Annual Statistics Report and how the data can apply to important business decisions. A look at innovative changes in the cemetery that can create meaningful connections for the bereaved was next, as Lynn Gibson and Jason Troyer presented Cemeteries are Dying: One Bold Response. Prior to a tour of the property, Gwen Mooney and Michael Higgs of Cave Hill Cemetery focused on their historic location and how it thoughtfully incorporates the Art of Story to serve families in a meaningful way.
During the annual business meeting on Thursday, August 1, CANA's membership elected two new directors, Denis Desrochers of Gregoire Desrochers in Quebec and Caressa Hughes of Service Corporation International in Houston, Texas (photo above). Retiring board members Dean Fisher, Director of the Donated Body Program at UCLA, and Past President Mike Sheedy of SCI Canada were saluted for their long service to the association. The business meeting ended with a moving tribute to the CANA members, industry professionals, and family members who died over the past year. Glenda Stansbury created an eloquent celebrant service establishing a new tradition.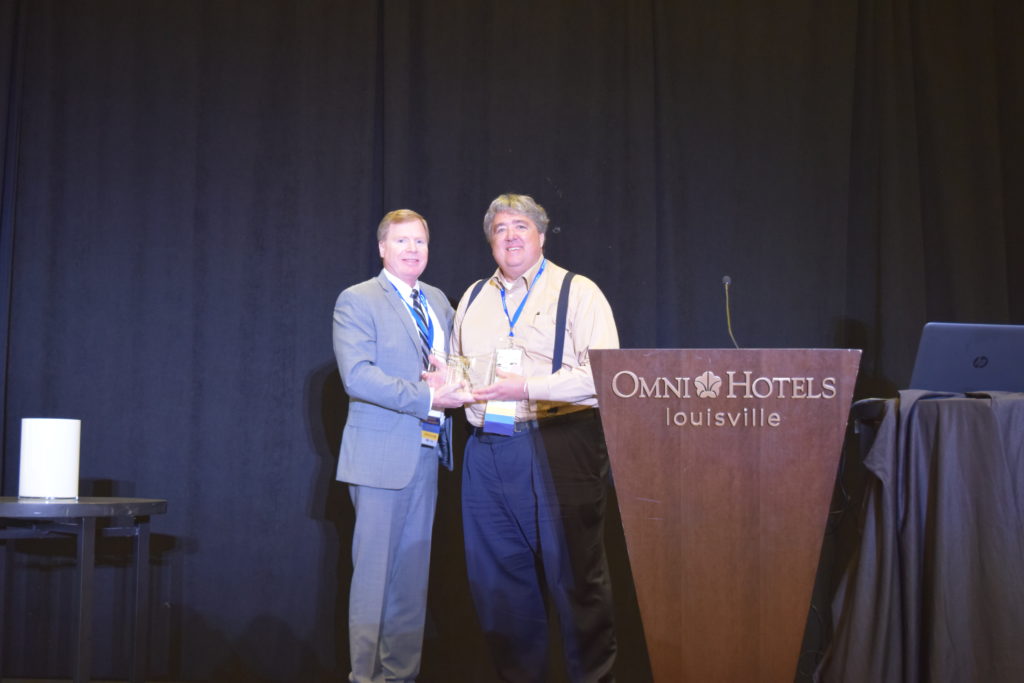 The association's new President is Elisa C. Krcilek of Mountain View Funeral Homes and Cemetery in Mesa, Arizona. The President Elect is W. Scott Smith, President of All Texas Cremation in Plano, Texas. Archer Harmon, Fairfax Memorial Funeral Home, stepped into the role of CANA's First Vice President and Shannon Asmus, Vertin Company, is Second Vice President, and Caressa Hughes is Third Vice President. Mitch Rose, of The Woodlawn Cemetery in New York, will serve as CANA's Immediate Past President.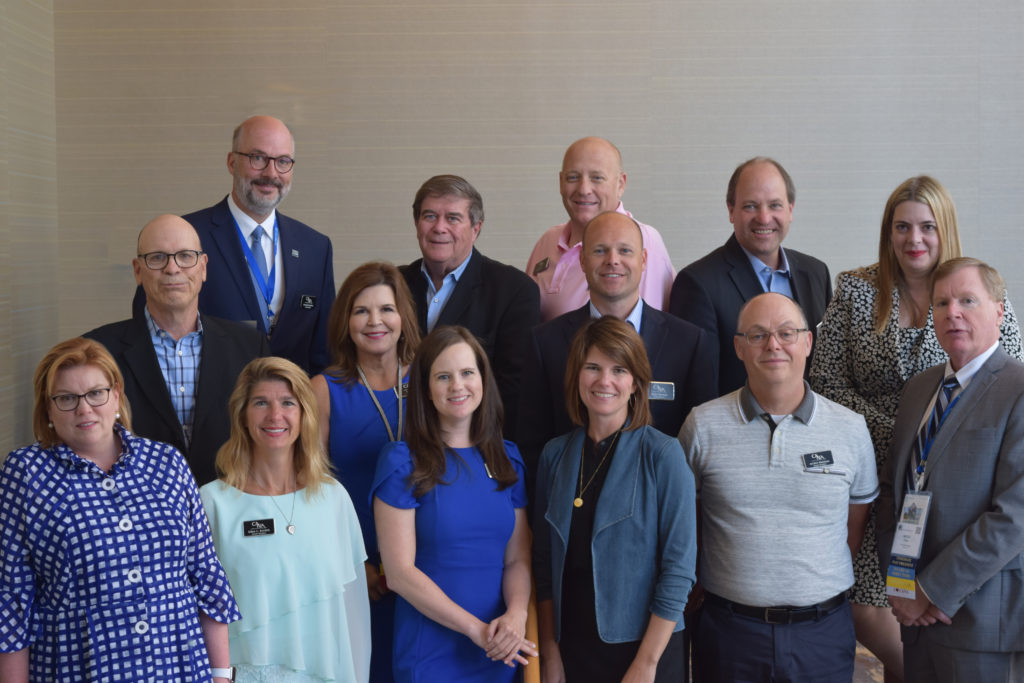 Save the date for CANA's 2020 convention. We'll be headed out to the west coast and the Seattle Westin hotel in Seattle, WA, August 5-7, 2020.
About CANA
Founded in 1913, the Cremation Association of North America (CANA) is an international organization of over 3,300 members, composed of funeral homes, cemeteries, crematories, industry suppliers, and consultants. CANA members believe that cremation is preparation for memorialization.