The Foresight Companies Announces Spring 2019 Dates for Seminars
Phoenix, AZ, January 7, 2019: The Foresight Companies, LLC, the nation's leading financial and management consulting firm serving funeral homes and cemeteries throughout North America, announced the Spring 2019 dates for Cemetery Impossible, Funeral Service Financial Boot Camp, and Human Resources Spring Training Seminars.  The Foresight Companies continue to provide their exclusive seminars which are unparalleled in the funeral and cemetery profession.  Their unique approach to providing solutions for the challenges funeral homes and cemeteries face offer attendees not just information, but actionable tools for practical use when returning to their respective businesses.
The first seminar scheduled is Cemetery Impossible March 7-8, 2019 in Phoenix, Arizona.  Lead by the President and Founder of The Foresight Companies, Dan Isard, attendees will gain a broader perspective on subjects like interment rights, pricing, masterplan, and creating inventory. "If you own a cemetery it is not just about mowing, digging, and coloring a map a few times a month. The operation of a cemetery is a holistic operation that speaks a whole different language than any other business including the language of funeral service," says Dan. As a cemetery owner, the Cemetery Impossible seminar is a must for improving profitability and marketing for 2019.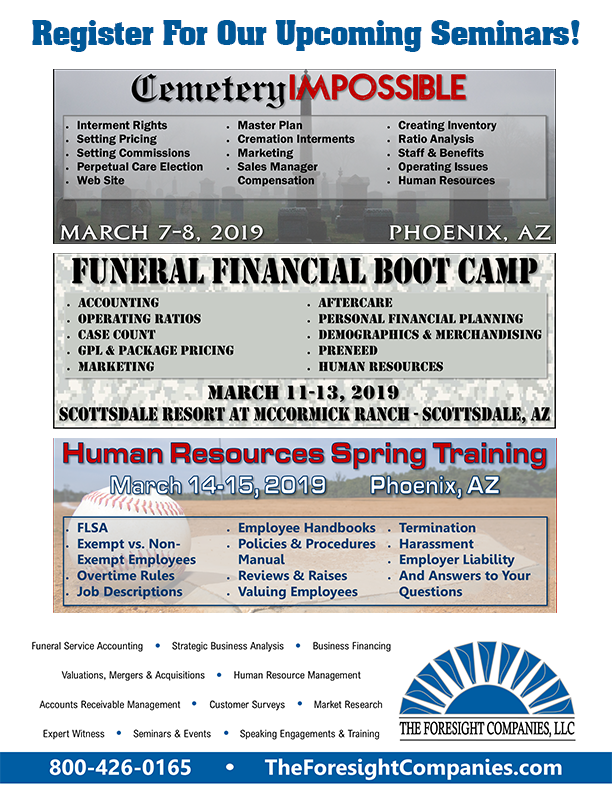 The premier business seminar in the funeral profession is next on the schedule, the Funeral Business Boot Camp March 11-13, 2019 at the Scottsdale Resort at McCormick Ranch in Scottsdale, Arizona.  The Foresight Companies team of industry experts Dan Isard, Doug Gober, Stephanie Ramsey, Jeff Harbeson, and Corey Gabriel of Roosevelt Investments provide participants tools to increase profitability as well as enhance operations. Boot Camp participants have some prep work to do before attending and are monitored for 6 months after the seminar.  The Foresight team is proud that every attendee completing Boot Camp and implementation work has increased their business profitability.  "I would highly recommend the Financial "Boot Camp" for any fellow small business owner and their leadership team. We saw immediate results with just a few of the many "nuggets" we brought back home!" Mark Smith, President McAlister-Smith Funeral Homes, Charleston, SC.
The final seminar in for Spring 2019 is Foresight's Human Resources Spring Training March 14-15, 2019 in Phoenix, Arizona.  The leading funeral profession Human Resources expert and The Foresight Companies own Stephanie Ramsey along with Dan Isard and Jeff Harbeson cover a vast array of important topics.  Participants leave this seminar ready to implement (subject to state law) Employee Manuals, Procedure Manuals, Hiring Letters, Firing/Termination Letters, Annual Review Forms, Job Descriptions,Confidentiality/Non-disclosure letters, consensual relationship agreements, and motor vehicle accident reporting forms.  Other important subjects such as harassment and social media policy are presented so attendees are armed with relevant knowledge to manage today's business.
Don't miss any of these seminars by registering now at www.theforesightcompanies.com or contact Catherine Belliveau at the Foresight office by calling 800-426-0165.