Shoulder Canes & Breakfast Funerals | 4M #7
Welcome to the seventh edition of Morticians' Monday Morning Mashup (4M #7), where we'll serve up bite-sized, easily-digestible nuggets of the deathcare news you need to crush conversations in the week ahead. Bon appetit!
Ah, Reddit. Love it or hate it, you have to admit it's usually entertaining. Take this post on the thread "Mildly Interesting," which was apparently interesting enough for Newsweek to pick it up:
The pic sparked a discussion with a surprisingly (disturbingly?) engaged audience of folks who had also considered what to do with their deceased loved ones' metal implants, including this gem: "My father has had both shoulders replaced. I've requested that it be written into his will that they will be returned to me upon his cremation, so that I can make them into cane tops for my sister and I, so we always have his shoulder to lean on." Now I can't help but consider creating an "Upcycling Ideas for Metal Body Parts" Pinterest board …
Kudos to Brian and Kayla Wood, owners of Wood Funeral Home & Cremation in Ammon, Idaho for stepping outside the box — and the funeral home chapel — to construct a massive multi-use event center adjacent to their facility. The 10,000 square foot venue will be available for weddings, parties, meetings, and of course, life celebrations. Brian Wood said seeing more families reaching out to hotels and other venues for their celebrations encouraged him to build his event center. "We're the professionals at being able to help these families, and now we're turning it over to the Hilton staff to figure it out, and they may not have the skill set," he says. Inspired yet? Check out this video of Wood and his event-center-in-progress.
Just Staaahhhp With the Deathcare Bashing, Already
Did you catch Samantha Bee's Full Frontal "exposés" on the death industry this week on TBS? Yeah, neither did I. Last week Bee devoted a portion of her late-night satire series to the "death industry" and — you guessed it — pricing practices. In a two-part feature, Bee rakes the profession over the coals for everything from the "bizarre" practice of embalming to breakfast funerals to Costco caskets. Predictably, these segments, as well as one about the death positive movement, were part of her Halloween-themed episodes (yawn).
I suppose it pays to be informed, so ICYMI, here they are for your viewing (dis)pleasure:
So there's a guy named Ben Oddo who lives in Nashville, attends visiting conferences and conventions, then shares his impressions on his podcast in a feature called Conventional Wisdom (fabulous idea, BTW!). Ben made the rounds at NFDA 2021, speaking to several folks including our very own Ryan Thogmartin, funeral director Walker Posey, and our friend Justin Crowe of Parting Stone.
Best of all, though, are the amazing impression you made on Ben. Your kindness and information actually changed this deathcare newbie's outlook on what you do. Here's Ben's conclusion: "My folly in attending the NFDA Convention is that I have been projecting my own fears onto the profession. Admittedly, I have not experienced a close personal loss, and so I have not seen this side of the funeral profession before — the one that is a godsend to a family during their time of need. But next time someone uses the word 'funeral home' or 'funeral director' around me, I'll be one of those 20 percent who think of something positive." Way to go deathcare peeps!
Here's Ben's full podcast if you'd like to hear more.
Casket Models and a Funeral Fashion Show at Necropolis 2021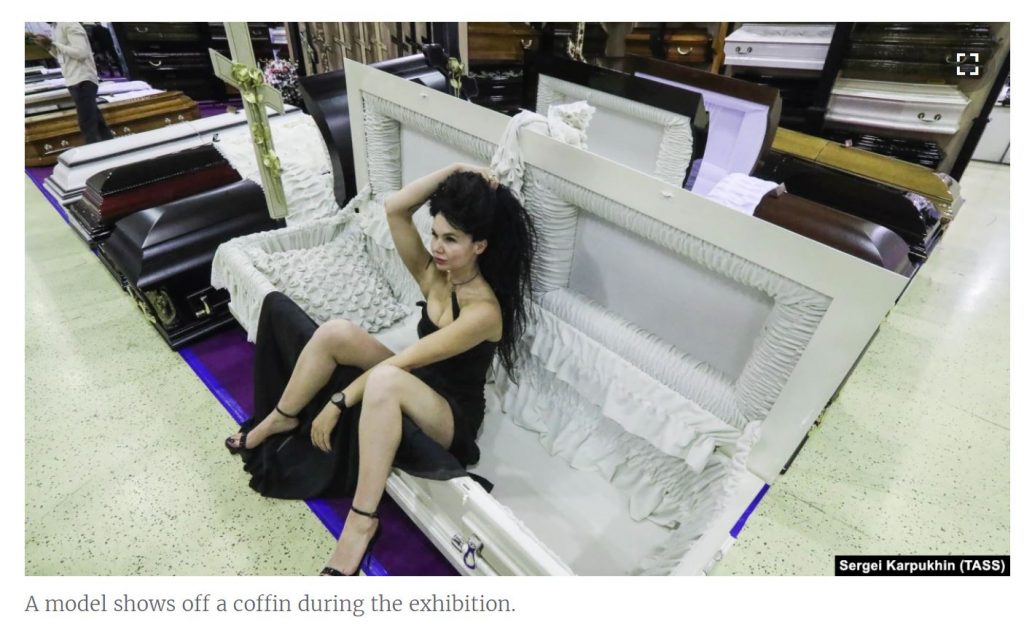 Last week we learned about Funermostra, Spain's equivalent of our annual NFDA Convention. Well, Spain and North American need to move over, because there's another deathcare convention in town (well, in Russia, actually) with beautiful women modeling everything from mourning headdresses to caskets. Yes, this year the Russians teamed up with Italians to create NECROPOLIS – TANEXPO, a deathcare extravaganza in Moscow. Take a look at these photos from the event and let us know if we need to make any recommendations to NFDA 2022 exhibitors . . .