Here's What People Are Saying About Coasson
The majority of funeral home business is fueled by referrals and recommendations. Usually, it happens only when a need arises. A family has a pleasant experience with your organization and when another's time comes, they pass along a favorable word. Rarely, though, will the level of service you provided, or your facilities, or your product offerings spark spontaneous dinner conversations or inspire glowing social media posts. It's even more unheard of for a family to seek you out because they pass by a service you're conducting and want to know more. It's unusual, of course, unless you have a Coasson.
"People from other funerals have come over to ours to look at our Coasson," relates Doug Jennings, who recently retired from Jennings Funeral Home in Sarasota, Florida. "That's from other funerals in the cemetery. They'd come over and say 'This is really cool, show me how this works.'"
In a profession that gets little to no press, this kind of buzz is unprecedented. But for Coasson owners and the families they serve, it's become the norm.
(Re)Introducing the Coasson
You've probably seen, or at least heard about, Coasson. The coach/caisson hybrid was a hit at the 2019 National Funeral Directors Association convention in Chicago, where Coasson won an NFDA Innovation Award. We've shared our fascination with the Coasson here in Connecting Directors, too. There's really nothing else like the Coasson, so once you see one, it's hard to forget.
The Coasson is the brainchild of Ron Stoll, a Florida deathcare professional who recognized a growing problem.
"Ron was involved with our vehicles and saw things were getting out of hand with the cost of coaches," recalls Jennings. "And of course, we're using them less. So the funeral industry was getting hit with a double-edged sword. And there was no alternative."
Stoll set out to create a new option, sketching out ideas and often bouncing them off of Jennings. The result was the Coasson, a dignified, compact non-motorized vehicle that can be towed and easily maneuvered in tight spaces. It maximizes visibility, access, and capacity with clear windows, pull-out platforms, and enough storage for several floral arrangements.
"[Ron] put a lot of his heart and attention to detail on the interior and exterior of the Coasson," shares Cheryl Lankford of Lankford Funeral Home in DeLand, Florida. "From the lighting to storage to the casket tray and floral tray that extends out makes loading easy access. The family and friends have the ability to view their loved one without even removing them from the vehicle. This leads to giving us so many options to offer the client families we serve."
Everybody loves Coasson
The flexibility and extraordinary mobility of the Coasson makes it perfect for offsite funerals or mobile visitations with multiple stops.
"We actually have ours out today," shared Rob Adams with Adams Family Hearse Service in Columbus, Ohio in March. "Our service today is actually a cremation, but the family wanted to drive past their house and come back to the chapel."
When he makes a stop during a procession, Adams places red carpeting around the Coasson for the family members and friends while they view their loved one. He uses a Harley-Davidson trike to pull his Coasson, which makes his processions even more noticeable, and interestingly photo-worthy.
"A lot of people want to take selfies with the bike and the Coasson," he says.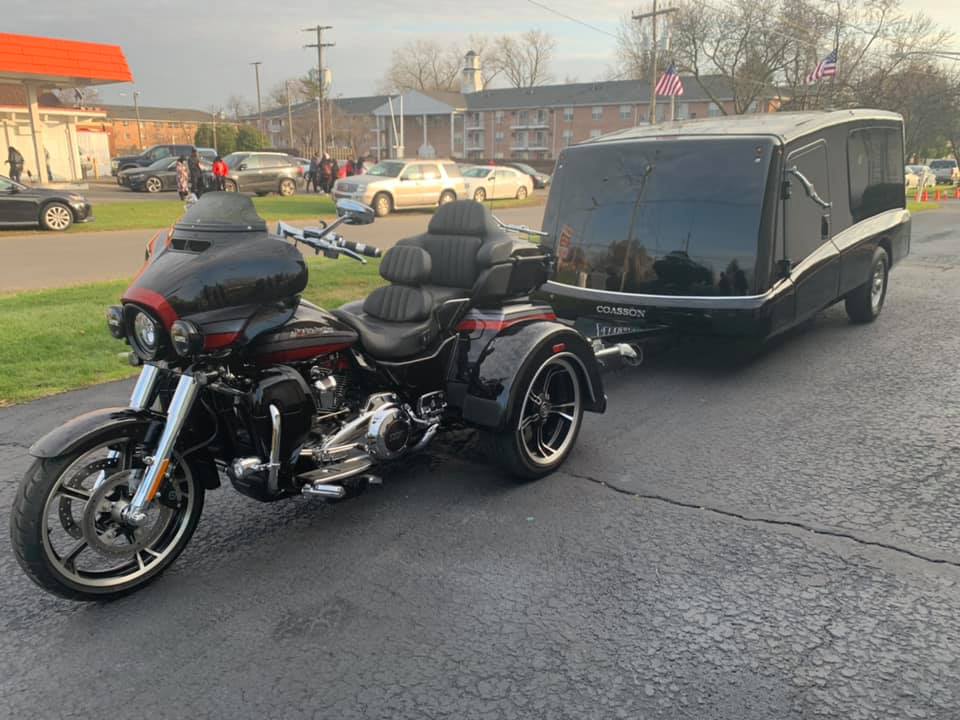 Ron Taylor of Ronald Taylor II Funeral Home in Washington, D.C. owns two Coassons, which he tows behind a Tesla X SUV.
"I thought it was something unique to the industry [. . .] and I wanted to see how my area would respond to a new innovation to a very traditional field," he says. "Families think the Coasson is different and very innovative. Families love it."
Taylor's competitors have noticed his Coasson, too.
"We get requests from other funeral services in the area for them to use the Coasson on their services," he adds.
#BestFuneralEver
When a funeral service concludes, attendees may politely comment that it was "a nice service" as they hurry out of the chapel. At Don Crawford's memorial service in March, though, his widow Claudia heard what some might call rave reviews.
"Everyone said it was the best funeral they've ever been to!" Claudia Crawford remembers. "Even today, people are telling me how nice it was. You don't hear that very often about funeral services."
Don's service took place on the pier at the couple's condominium complex overlooking the Intracoastal Waterway in Florida. The urn containing his cremains stood in a glass-walled Coasson, surrounded by some of Don's favorite things, including golf clubs and fishing poles. Attendees, casually dressed in shorts and short sleeves, brought their own chairs and settled on the lawn of the complex.
"I feel blessed to have had [the Coasson] instead of a hearse coming through our condo complex," Crawford recalls. "It was more elegant. To me, that's the way to go."
Following Don's service, Claudia met one of her neighbors for the first time. The neighbor said that even though she didn't know Don, she had watched the funeral from the balcony of her condo.
"She said that everything was just so wonderful," Claudia remembers. "And I don't even know the lady. So for her to say that to me, you know, made me feel really good inside."
New options for an old profession
When people describe the Coasson, they often use words like "innovative," "visionary," and "cutting edge." Those can be scary words for many deathcare professionals, especially those rooted in long-held and well-respected funeral traditions. Just because the coach is the traditional funeral vehicle, though, doesn't mean you can't add a Coasson to your fleet. The number and diversity of folks who request it might surprise you.
"I must admit while the vehicle caught my attention I remained a bit skeptical on how it would be received in our community," says Lankford. "On my initial contact with Ron he insisted that our firm use it at no cost. We tested it on two age groups and their reaction was very positive."
Some of Adams' clients have gravitated to the Coasson because it's "not their parents'" funeral vehicle.
"We get so many people who just come in and want to do something different," he says. "And that is awesome."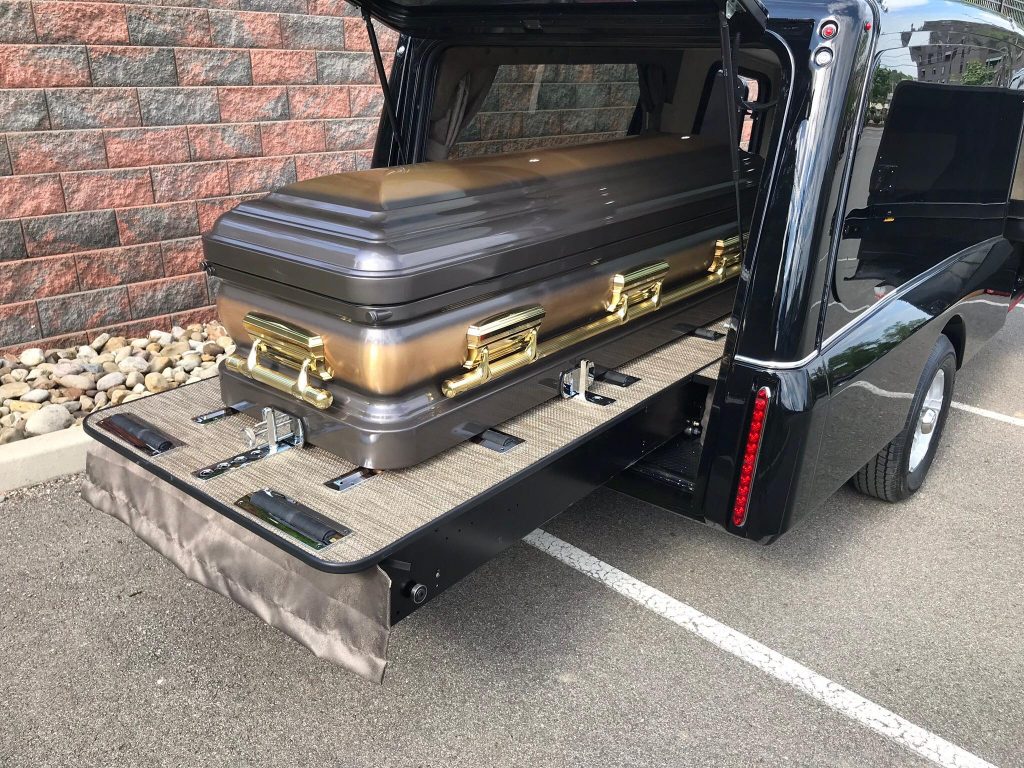 As a progressive funeral director and close friend of Ron Stoll, Jennings was one of the first funeral homes to offer the Coasson. Now he's urging you to be the first in your community to introduce this innovation.
"You can be the first one in your neighborhood to get one, or you can be the last one," Jennings says. "So do you want to be the first, the last, or do you want to just be stuck in the middle somewhere? You need to be forward-thinking. [Buying a Coasson] is one step in the right direction. That's getting ahead of everybody else. It's exciting. It's progressive. You can be progressive, or you can be the old guy in town who's going to follow him."
Vernie Fountain is a well-respected post-mortem reconstructive specialist with an incredibly impressive resume of education, experience, and accomplishments. After nearly 60 years in deathcare, only two products have merited Fountain's namesake: his own line of reconstructive products and the Coasson Vernie R. Fountain Signature Series.

"I just see this as an alternative for everyone," Fountain says. "If I had a funeral home, I'd have a Coasson. And I'll guarantee you that if I had a funeral home, I'll put my Coasson in the Christmas parade. It would steal the show, right?"
You can afford it
Fountain describes a conundrum within the deathcare industry: The perception that funeral directors are outrageously wealthy.
"In all of my career, people have thought I'm a rich guy because I've been involved in the funeral service," he laughs. "That's the image that we have, you know. They think it's a very lucrative business. Yes, we wear suits. And yes, we drive nice cars."
Unfortunately, the reality is that profit margins are low and those funeral coaches are expensive. Adding another coach to a fleet often means dropping a cool $110,000 plus fuel and ongoing maintenance. For only $40,000, though, you could buy a Coasson, which requires no fuel, no additional driver, and only minimal maintenance.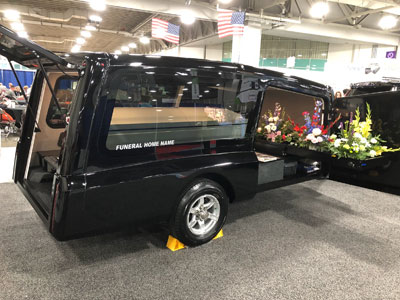 "We wanted to see if we could cut out the cost of a $100,000 new hearse," says Taylor, who owns three traditional hearses and two Coassons. "During these times, like most funeral homes, we've been extremely busy and having two extra hearses has been such a blessing. I'm glad we purchased the Coasson for the funeral home and for the families we serve."
"It's a lot less money and one of the best investments for a funeral home," adds Dick Conaway of Conaway Enterprises in Uniontown, Pennsylvania. As a distributor of funeral vehicles of all kinds, including Coassons, Conaway has a unique perspective on the Coasson's growing popularity.
"It's something new, and it creates a lot of attention," says Conaway. "[Owners] are getting a lot of good publicity out of it. It speaks for itself once you see it. It's going to be a real big thing within three or four years."
Why wait? Reach out to Ron now
You're in a profession that relies on recommendations, so why not take the word of your peers and try out a Coasson?
"Honestly, I have not heard any negative aspect of it," adds Jennings. "All people talk about is how mobile it is in cemeteries and how it's so full-featured and well thought out."
Lankford is about to become one of the newest Coasson owners.
"Coasson offers us a status and level to allow us to serve our families anywhere, especially after the COVID concerns, she says. "Ron Stoll is truly a visionary in our industry, and yes, my order is placed! Thanks [to] Ron we have gained a new vehicle and a new friend."
To follow Lankford's lead, check out Coasson online or reach out to Ron Stoll directly at ron.s@coasson.com.