Miss The 2019 NFDA Expo? Enjoy These Highlights!
Chicago was definitely the place to be last week — especially if you're connected in any way to death care. More than 4000 attendees descended upon the Windy City from October 27-30 for the 2019 NFDA International Convention and Expo. From puppies to pancakes to a plethora of pink, there was definitely a little bit of something for everyone.
If you participated, we hope you remembered to bring your walking shoes for those 10,000+ steps you logged each day in the expo hall. And kudos to those who had the foresight to bring an extra suitcase for all of that expo swag. There were almost 300 of them available for your browsing, networking, and purchasing pleasure. 
If you weren't able to make this year's event, here are a few highlights. Some were so intriguing, in fact, that we're going to explore them in more detail in future editions of Connecting Directors!
2019 NFDA Innovation Awards
There were 15 entrants in the 2019 NFDA Innovation Awards, but only three could be crowned winners. The competition was pretty tough, with innovations coming from brand new companies as well as industry veterans. Even four-time winners ASD — Answering Service for Directors were in the running. However, three innovations impressed the judges and edged out the others:
Third place winner

Coasson Funeral Coach

entered a vehicle that offers the "heritage of a caisson, with the luxury of a coach." The coach is designed to be towed behind any fleet vehicle, and provides clear, dignified visibility of the casket or urn.

Second place winner

Mortuary Lift introduced The Stepper

™, an electric dolly that eases the navigating a body on steps and stairways. The dolly accommodates up to 375 pounds, easily transitions to an upright stance, and electrically climbs or descends stairs.

First place winner

Carved in Memory

recreates the handwriting of a loved one on a wooden sign. The 3-D effect brings to life messages from letters, greeting cards, or even handwritten recipes.
Additions to NFDA's Remembering a Life Initiative 
Originally introduced in 2018, NFDA's Remembering a Life Initiative started out as the organization's first consumer-facing stand-alone website. RememberingALife.com offers advice on what to do at the time of death, information on types of arrangements, and valuable resources on grief. With a built-in directory of NFDA funeral homes, the program thoughtfully promotes the value of using a funeral director's service.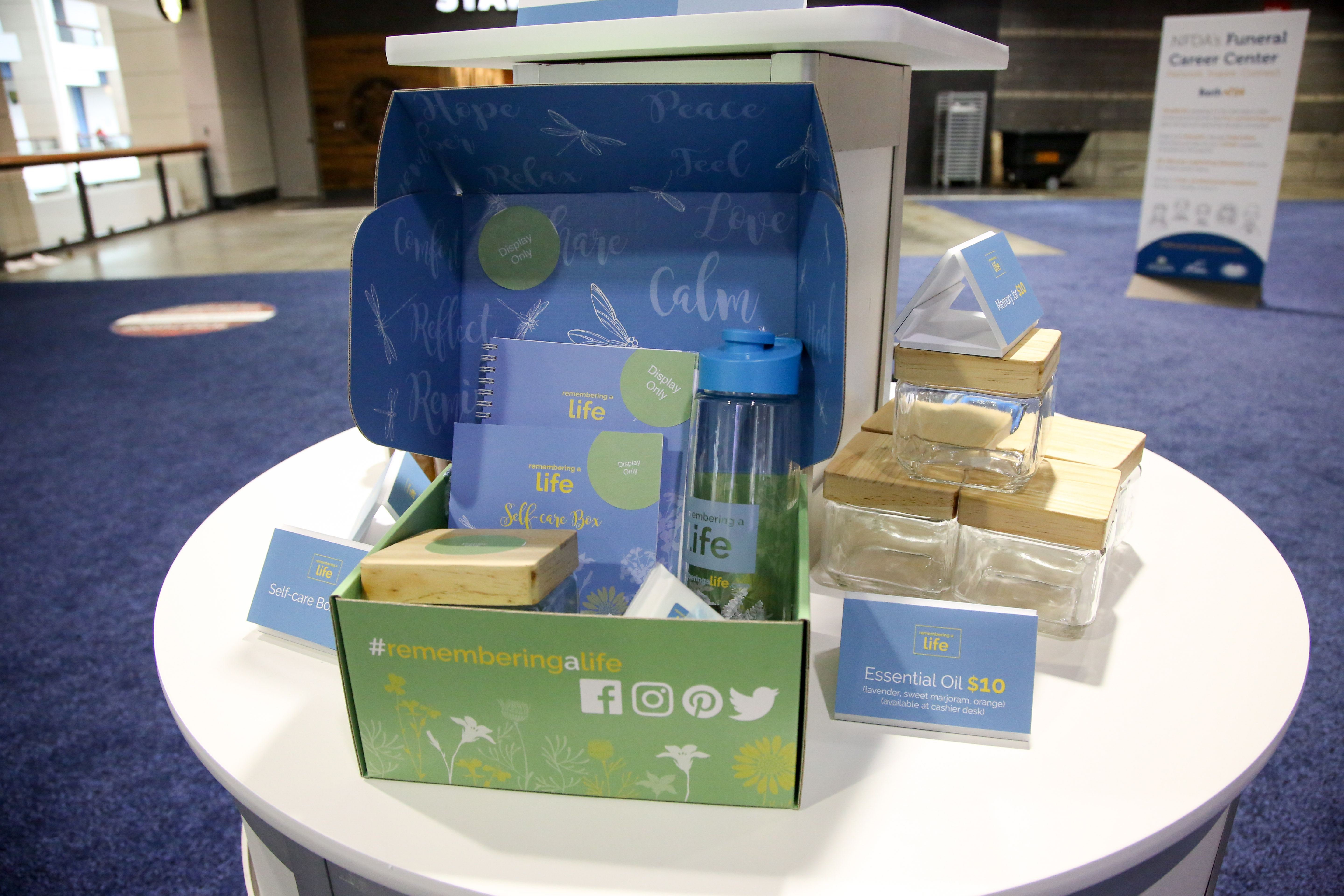 The initiative also provides resources to funeral homes, including public service announcements that can be posted on websites or social media. The NFDA introduced four new PSAs at the conference, two of which covered mass shootings and overdoses. But perhaps the most exciting addition to the Remembering A Life initiative was the self-care box. The box, which the NFDA introduced in August, contains items to "help grieving individuals grieve and heal in a healthy way."
Each element of the self-care box was available at the NFDA Central area throughout the conference. You could roll on the essential oil blend of lavender, orange, and sweet marjoram or sniff the pear-and-redwood-scented candle. The journal, memory jar, keychain, water bottle, and rose quartz stones were also on display. Each of these elements can be purchased separately or as a kit you can present to your families.
First-time exhibitors
Of the hundreds of exhibitors in the 2019 NFDA expo hall, 79 of them were first-timers. These new entrants represented a wide variety of products and services, from the financial/insurance realm to industrial and embalming supplies. Two new exhibitors, Air Force Mortuary Affairs Operations and US Navy/Marine Corps Mortuary Affairs, complemented Tuesday's touching service of remembrance for public safety officials. Soldiers from the Air Force's Dover, Delaware-based Mortuary Affairs branch even provided an incredibly dignified demonstration of their services.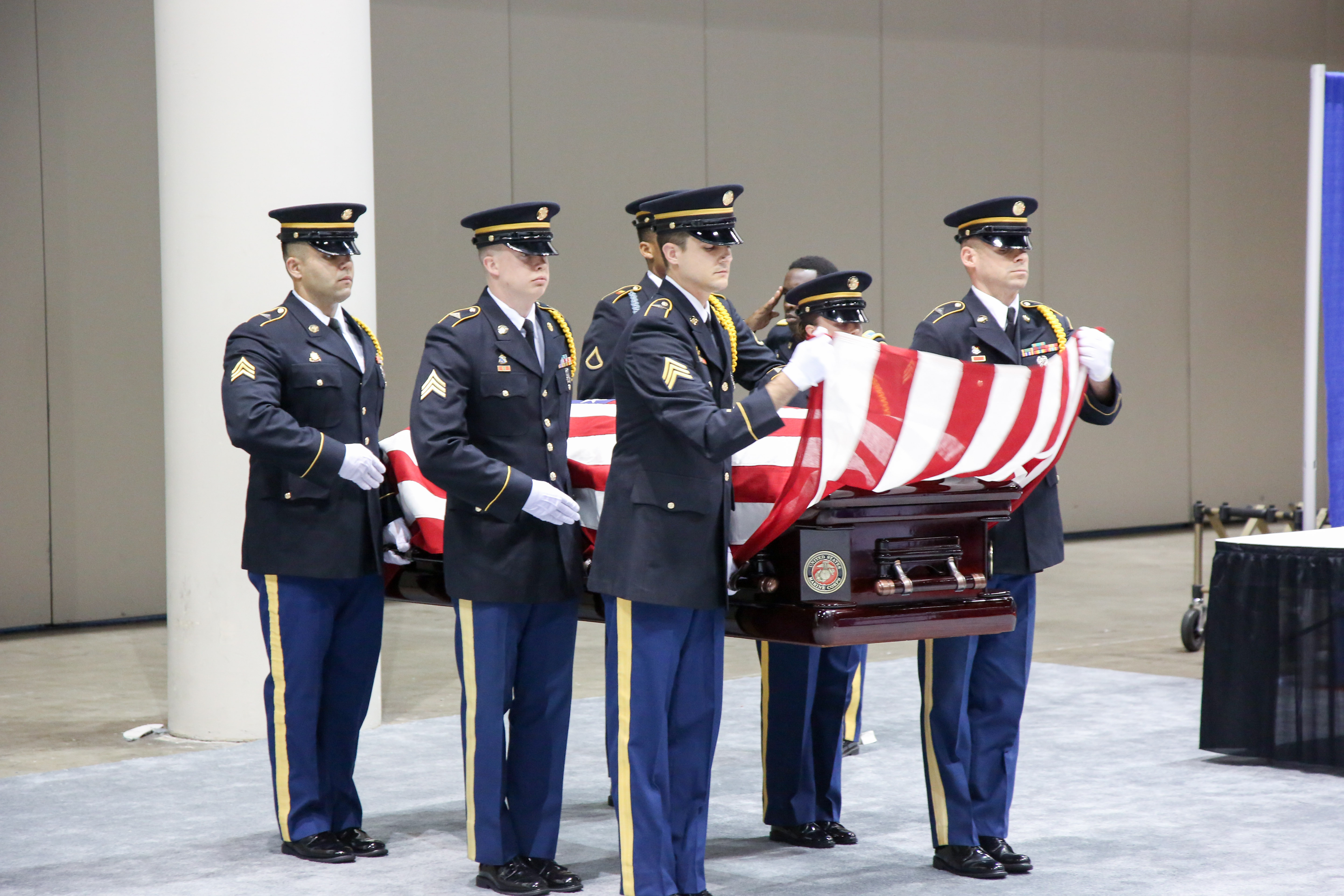 It seemed that every exhibitor enjoyed a steady flow of visitors, including the newcomers. Among these were some interesting products and services:
Feeling post-event FOMO? 
If you missed the 2019 NFDA conference, don't worry. The NFDA photographers were quite busy last week, and hundreds (maybe thousands?) of photos are available on their website for free download. And of course, it's never too early to make plans for NFDA 2020 in New Orleans or 2021 in Nashville!