Celebrities Footing the Bills for Violence Victims' Funerals
Celebrities, influencers, and billionaires — or at least their agents or advisors — understand that sharing their wealth is good PR. Some celebrities choose to devote their time and money to global causes like genocide or saving the environment, while others support the arts and education. Lately, though, a spate of celebrities are responding to the specific needs of those impacted by racially-motivated violence. In many cases, that means covering the costs of victims' funerals, especially those close to home.
Tyler Perry pays for 8-year-old's funeral…
Atlanta, Georgia erupted in gunfire and violence over the Fourth of July weekend, leaving 31 people injured and five dead. Among the victims was 8-year-old Secoriea Turner, who was riding in a car with her mother when someone opened fire on the vehicle. On Tuesday, July 7, actor and media mogul Tyler Perry announced he'd pay for Turner's funeral. "I'm outraged today because I'd rather be paying for 8-year-old Secoriea Turner's college than her funeral," Perry told People. Perry's 330-acre Tyler Perry Studios is located less than four miles from the site of the shooting.
…and also the funeral of Rayshard Brooks.
Tragically, Turner's murder occured near the site of burned-out Wendy's restaurant where on June 12, Rayshard Brooks was fatally shot by police. Brooks' death sparked protests in Atlanta and fueled racial unrest across the country. Tyler Perry announced on June 15 that he would pay for all funeral expenses for Brooks. Willie A. Watkins Funeral Home in Atlanta was in charge of arrangements, which included a public viewing at Ebenezer Baptist Church, where Martin Luther King, Jr. served as pastor in the 1960s.
Shaq pays for Florida athlete's services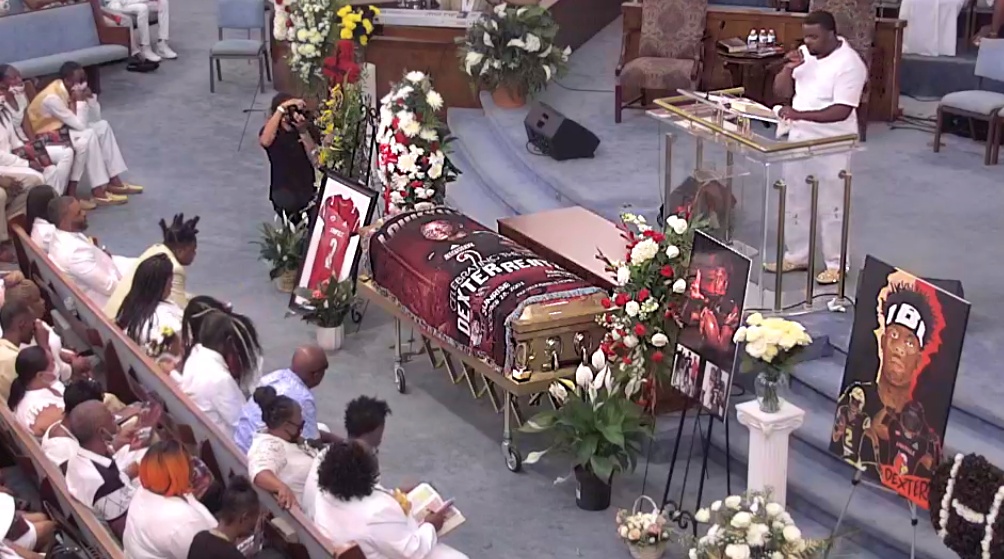 In late April 2020, a drive-by shooting in Orlando, Florida fatally injured 18-year-old standout athlete Dexter Rentz. After hearing about Rentz, who had signed to play football with the Louisville Cardinals, Orlando resident Shaquille O'Neal stepped in. "This one hurts my heart," O'Neal told ESPN. "I wish things like this would never go on. It's just so sad, and I want to be able to help his family. I wanted to take care of it." O'Neal told Rentz's parents he'd pay for "whatever his mom wants," including a horse and carriage and custom-made casket.
NBA and NFL players pay for police-shooting victim's funeral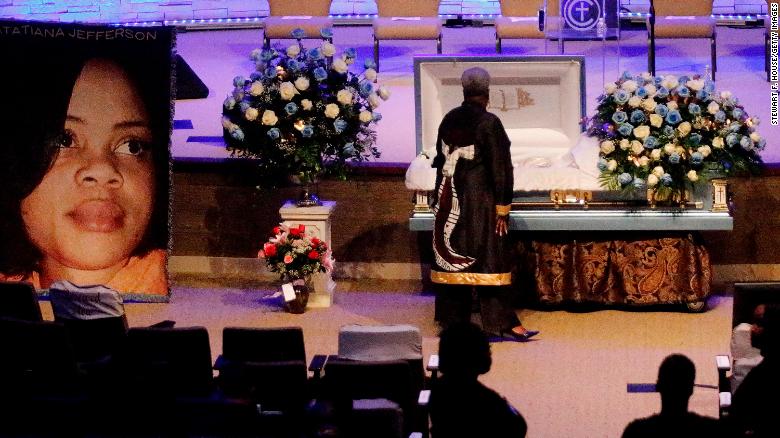 After three seasons with the Dallas Mavericks, NBA star Harrison Barnes says he felt like part of the Texas community. That's one reason he was so affected by the tragic shooting of Atatiana Jefferson in her Fort Worth home in October 2019. Jefferson, 28, was playing video games with her nephew when a police officer responded to an "open structure call" at her home. The officer shot Jefferson through a closed window. "It was a tragic situation that happened," Barnes told NBC Sports. The 27-year-old athlete and his wife Brittany paid for 90% of Jefferson's funeral expenses. His friend, Philadelphia Eagles defender Malik Jackson, paid the remainder.
Baltimore Boxer moved by entrepreneur's murder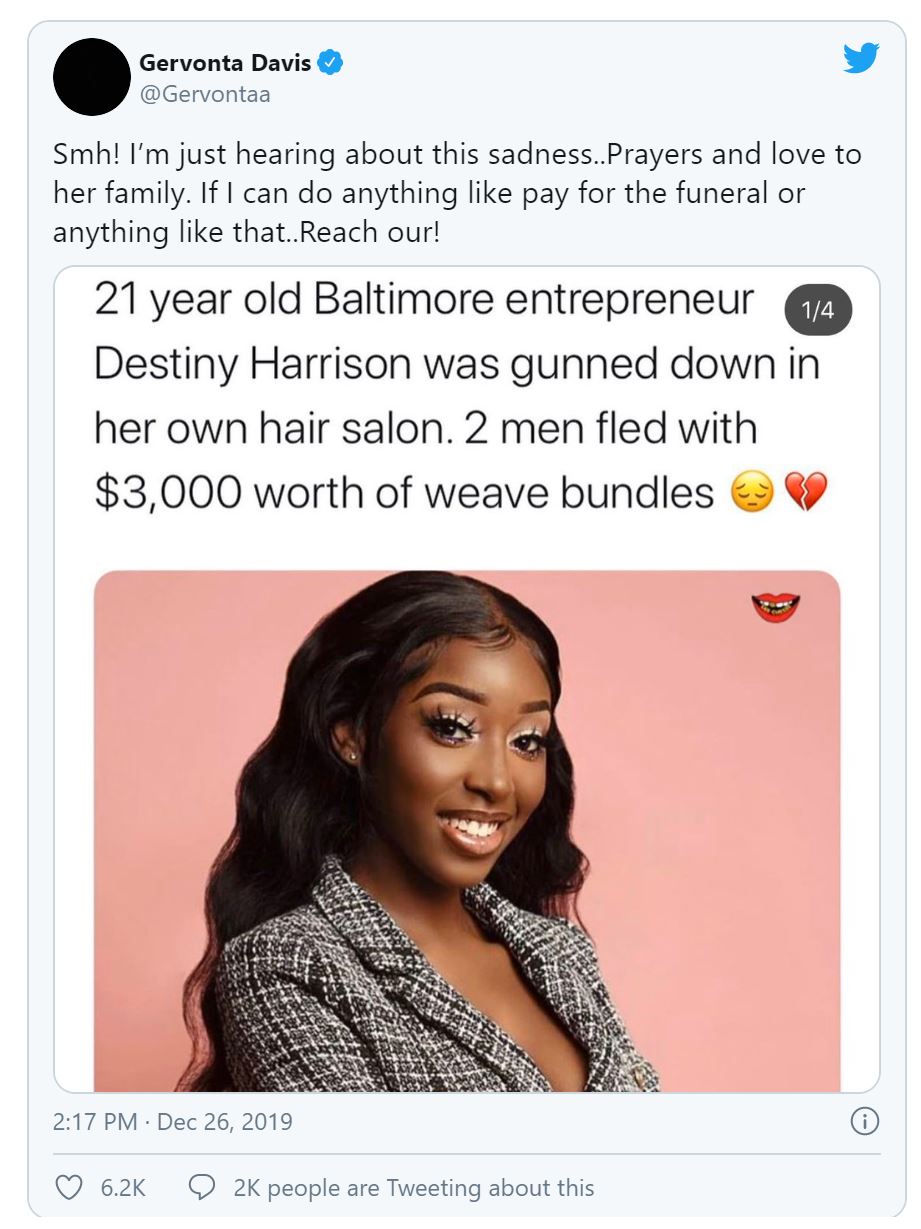 After a break-in, physical assault, and multiple pleas to Baltimore police that she feared for her life, 21-year-old Destiny Harrison was gunned down in her own salon. She died later at a local hospital. Baltimore area super featherweight champion Gervonta Davis heard about the shooting and offered via Twitter to pay for Harrison's funeral. In response, Destiny's sister wrote that Destiny was a fan who "got a whole dress made for your upcoming fight."
Floyd Mayweather takes care of George Floyd's funeral
Although he "did not want to talk about" it publicly, boxing legend Floyd Mayweather paid the funeral expenses for George Floyd in June 2020. Floyd's death at the hands of Minneapolis police in May was the impetus for ongoing nationwide protests against police brutality. Mayweather's publicist quietly confirmed his contribution, telling ESPN Mayweather would "probably get mad at me for saying that."
Chipping in or footing the entire bill for funeral expenses is a blessing for any family, no matter who contributes. When that support comes from prominent figures like athletes or celebrities, it also spotlights senseless violence and its tragic consequences. No matter their motivations, it's refreshing to see them reaching outside their inner circles and making immediately-impactful, personal contributions.