Experts Question Eterneva + Mark Cuban Shark Tank Deal
Most episodes of ABC's Shark Tank result in at least one investment agreement. However, not every one of those creates as much press as Mark Cuban's recent six-figure deal with ashes-into-diamonds company Eterneva. 
The day after Cuban agreed to invest $600,000 in Eterneva in exchange for a 9% ownership stake, the fact the billionaire had entered the death care space made headlines. But the day after that, a story on the New York Post's Page Six Style called Eterneva and its product "fraudulent."
Shocking the sharks
According to reports, Eterneva's concept, which co-founders Adelle Archer and Garrett Ozar pitched, intrigued the sharks. As a video of a mother mourning her recently-deceased daughter played in the background, Archer and Ozar described their process of "eternalizing remarkable people." The company uses high-pressure heat and carbon extracted from a cup of cremains or hair to create a synthetic diamond. The customer selects a shape and color for each diamond, which start at $2999 and take 10 months to produce.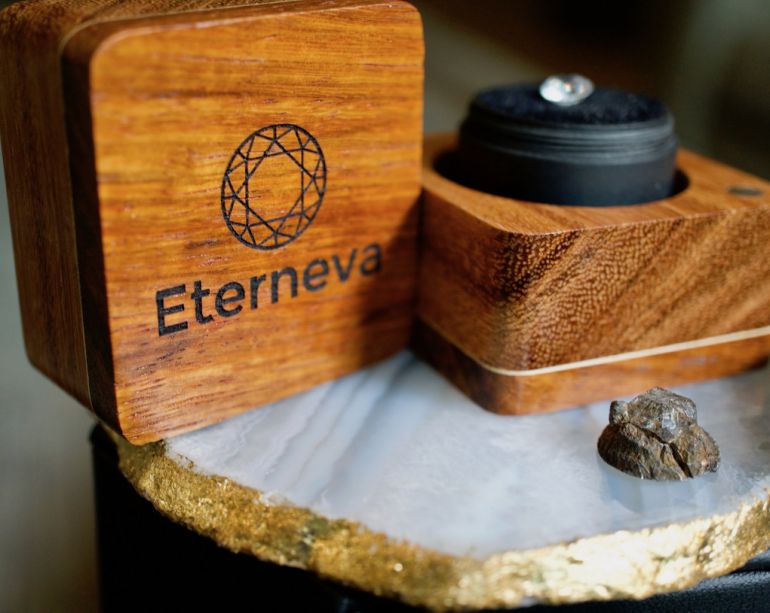 The panel was less impressed with Eterneva's business model. After finding out that the pair had current investors, and had raised "a $1.2 million round in a $10 million valuation," the sharks questioned their need for more funding. Cuban told them they had capped their negotiating ability. Shark Daymond John accused them of taking a spot on the show away from someone who "desperately needed the help."
Despite Cuban's concern about caps on negotiations, Eterneva negotiated the final deal with Cuban. Two other sharks made initial offers, but negotiations fell through. Cuban seemed thrilled with his new partnership. "I love the idea," he said during the episode. "You're a celebration company. I love what you're doing."
Not so unique
Perhaps the sharks' unfamiliarity with death care products and services influenced their fascination and eagerness to invest. After all, one of the sharks, Kevin O'Leary, actually asked the owners if they could "take a piece of somebody out of a coffin" instead of using cremains.
Later, when the entrepreneurs rejected his offer of $600,000 for a 10% stake, O'Leary seemed even more confused. "Frankly, I could do this myself," he said. "I could buy four machines and bang out cat diamonds."
If O'Leary did open his own ashes-to-diamonds business, he certainly wouldn't be the first. Eterneva's idea is far from a new concept; ten companies offering the same service come up the first two pages of Google results, including. Even an August 2019 New York Times article on the topic mentioned three vendors, including Eterneva. 
However, Eterneva has done a great job disrupting the cremation gemstone industry, and the company does have a great story. Archer launched Eterneva in 2016 after the death of her beloved mentor, Tracey Kaufman. In 2018, she was featured in the May edition of Inc. Magazine as one of the "30 Most Inspiring Young Entrepreneurs of 2018." Archer was even featured on the cover. In just the first year, Eterneva generated $280,000 in sales. In 2019, Eterneva raised an additional $1.2 million in funding. However, this doesn't shield them from criticism; in fact, their recent appearance on Shark Tank has attracted a vehement response from a rather unlikely source: gemologists.
"Experts" weigh in on Eterneva 
On October 15, PageSix.com shared one expert's opinion of Eterneva and its many competitors. "It is a shame to see that Cuban agreed to invest in Eterneva," said gemologist Grant Mobley. "Companies like Eterneva that claim to make synthetic diamonds out of human ashes have been around for more than a decade. But after further research into the process, it has become well known within the jewelry industry that these companies are nothing more than a scam, which is why investments have come from outside the jewelry industry."
Mobley supports his claim with an article by a report published by the non-profit Insurance Institute of Jewelry Appraisal. The Cremation Diamond Report, written by gemologist Robert James, is the result of 12 years of investigative research. "To date, no 'memorial' diamond company has been able to prove that any ash-based carbon was actually used to make these diamonds," reads an introduction to the downloadable report. "No proof. Fancy claims? Yes. But no proof."
Originally published in 2018, James' report was updated after the Shark Tank episode to specifically address Eterneva. After nine pages of Eterneva-focused scientific detail, James concludes that "cremation diamonds are a very cruel hoax, based on my research." 
"It is obvious to me that these are lies being told by Eterneva (and all cremation diamond companies)"to grieving people who have lost a dear loved one and are desperate to hang on to their memory," James writes. "Playing on the grief-stricken to create hugely profitable revenue streams, based on deceptive trade practices, is deplorable."
Who to believe?
It's difficult not to at least read and consider Mobley and James' findings. Basically, the gemologists' beef with Eterneva and the cremation diamond industry in general has to do with carbon. According to James' report, the cremation process destroys about 18% of the carbon in a human body. He tells Page Six that the only way to have enough carbon for a cremation diamond is to add it from another source or do a "partial cremation."
Mobley completed the graduate diamonds and precious stones programs at the Gemological Institute of America and serves as a trade lead for the Diamond Producers Association in New York. James is a jewelry adjuster who is licensed by the Texas Department of Insurance. He's a fellow of the Gemological Association of Great Britain and a graduate gemologist with the Gemological Institute of America. However, it's up for debate as to whose opinion should be considered the most reliable; Eterneva's website, for example, includes a report citing the work of carbon scientists, inorganic chemists, and PhDs in forensic scientists, among others.
Eterneva's Archer responded to Page Six, agreeing that most of the "elemental carbon is burned off" during cremation. She countered, though, that "there is still carbon atoms left in the ashes in the form of carbonates."
"We started Eterneva after I experienced the loss of a close friend and mentor, and wanted to memorize her as a diamond, but didn't feel comfortable sending her away because there was not a lot of transparency into the process at the time," Archer told Connecting Directors. "After doing some of my own research and speaking with carbon scientists, I verified the science is legitimate, so that was part of why we wanted to start Eterneva – to involve customers in the process (we share pictures and videos as we go) so they know it's done with absolute integrity. We have ample third-party scientific research explaining the existence of carbon in ashes (in the form of carbonates), and are also happy to arrange for our customers' ashes to be tested by a third-party for Carbon-content before commencing the ashes to diamonds process for utmost peace of mind."
What about Cuban?
Obviously this argument is still very fresh and the debate will most likely continue. You might wonder, though, where this leaves investor Mark Cuban. 
Several stories on the Shark Tank post-episode process reveal investors can back out of a deal if they find out it's "not what the Shark thought it was." The "winning" shark's team does their due diligence and "very careful, thoughtful analyzation," according to shark Lori Greiner. She describes the agreement shown on the show as a "handshake deal." Indeed, a 2016 Forbes investigation found that of 237 Shark Tank deals in seasons one through seven, 43% fell apart and 30% changed.
If there's any validity to James' and Mobley's claims, however, Eterneva might want to come clean with Cuban. And sooner rather than later. Cuban shared his opinion on Shark Tank scammers in December 2016.
"[I]f you're trying to scam me, if you're trying to pull a quickie, or your product's a scam, I'm going to nail you," Cuban told AOL. "Because I know that people see these products and they'll go to buy them."
"Those situations," said Cuban, "I'm going to crush you."