Thirty Wilbert Licensees Earn Awards For 2013 Accomplishments
BROADVIEW, IL, March 17, 2014 – Thirty Wilbert Licensees were recognized with various awards for accomplishments in 2013 at the Wilbert Funeral Services, Inc (WFSI) Annual Sales Meeting, held in Dallas, TX in January.
A Special Achievement Award was presented to Johnny Moller, Sales Representative for Iowa-based Williams Wilbert Vault Works and Waterloo Wilbert Vault Company.  This is the only individual honor and is awarded for exemplary efforts both within his territory as well as within the Wilbert network.  Johnny's focus on his customers is second-to-none and he contributes time and expertise on special projects for Wilbert.
Two awards for sales growth in lined burial vaults were presented.  Piedmont Precast, Atlanta, GA won the award for the greatest unit sales of lined burial vaults, while Akron Concrete Products, Akron, IN won an award for the greatest percentage growth in this category.  Lined burial vaults are constructed of high-strength concrete and reinforced with a metal or plastic liner, providing the most lasting protection compared to unlined concrete graveboxes.
The greatest increase in cremation product sales was awarded to Arnold Wilbert Corporation, Goldsboro, NC.  Cremation products include urns, mementos and memorialization jewelry.
Twenty-six Wilbert Licensees received the Wilbert 110% Club award, recognizing those whose 2013 burial vault sales were at least 110% of those in 2012.  Recipients were: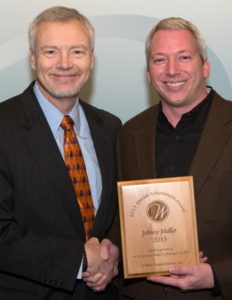 Johnny Moller (right), representing Iowa Licensees Williams Wilbert Vault Works and Waterloo Wilbert Vault Company, receives the Special Achievement Award from Dennis Welzenbach, President of Wilbert Funeral Services. Johnny was one of 30 Licensees who received awards at Wilbert's Annual Sales Meeting.
Lakehead Monument Ltd, Thunder Bay, ON Canada
Akron Concrete Products, Akron, IN
Evans Eagle Burial Vault, Enola, PA
Bolton Concrete Products, Johnson City, TN
Piedmont Precast, Atlanta, GA
Nebraska Wilbert Vault Co, Norfolk, NE
Arrow Vault Company, Lafayette, IN
Cooper-Wilbert Vault Co, Barrington, NJ
Costello & Company, Smiths Falls, ON Canada
Wilbert Sales Manitoba, Winnipeg, MB Canada
Sioux City Wilbert Vault Co, Sioux City, IA
Brown-Wilbert, Inc, DePere, WI
Richmond Wilbert Vault, Richmond, IN
Automatic Wilbert Vault Co, Tacoma, WA
Livingston Wilbert Vault Co, Livingston, TN
Florida Wilbert, Inc, Jacksonville, FL
Ringtown Wilbert Vault Works, Inc, Ringtown, PA
Vogt Vault Co, Louisville, KY
Clinton Wilbert Vaults, Inc, Clinton, IA
Lycoming Burial Vault Co, Montoursville, PA
Williams Wilbert Vault Works, Inc, Des Moines, IA
Northern Wilbert Vault Service, Grand Forks, ND
Brown-Wilbert, Inc, Chippewa Falls, WI
SI Funeral Services, Clackamas, OR
Corpus Christi Wilbert, Corpus Christi, TX
Brown-Wilbert, Inc, Hurley, WI
"We congratulate all of these Wilbert Licensees for a job well done," said Mark Klingenberger, Vice-President Sales & Marketing, WFSI. "The Wilbert Licensee network is renowned for customer service and this year's award recipients have demonstrated their commitment to this driving goal."
To learn more about Wilbert Funeral Services, visit www.wilbert.com.