Did Batesville Have a Change of Heart?
If you are frequent reader of ConnectingDirectors.com then you know back in February we did a post covering a picture of a Batesville Casket delivery truck that had gone viral across Facebook and Twitter between those connected to the funeral profession.
The image showed the back of a Batesville delivery truck with the words: "Don't Text and Drive. Yours may be on the next shipment". Many funeral professionals gave Batesville kudo's for the marketing message and truthfully it was probably the most positive press Batesville has had in years.
Shortly after the picture was posted on ConnectingDirectors.com we received a statement from Batesville saying that the image was fake and had been photoshopped. Batesville gained much respect across the profession for admitting it wasn't a real image when they could have just rode the wave of free positive PR without anyone knowing any different. In the statement Batesville says:
While we're strong supporters of not texting and driving – we have a policy for our own drivers – the image circulating online is not real. The original picture of the back of the Batesville truck was taken by an independent photographer and appeared on his website back in 2010. Apparently someone downloaded that image and altered it.
After that the image hasn't been talked about since, until yesterday.
Yesterday, the following comment was posted to the article about the image being photoshopped:
This is on the back of their trucks now. I work at a funeral home in central Ohio and I saw it today when they delivered our order. I Googled it to show a co-worker that missed it and found this blog.
The funeral director who posted this comment is correct. I was behind a Batesville truck just outside of Columbus, Ohio on Friday of last week and had my wife take the below picture.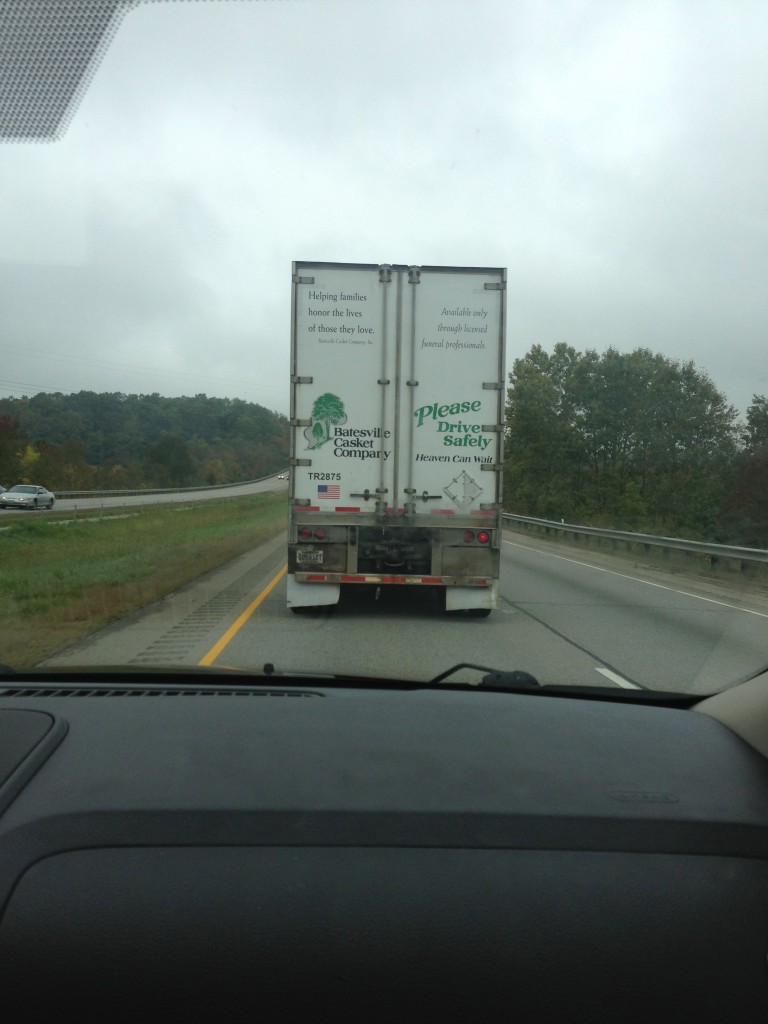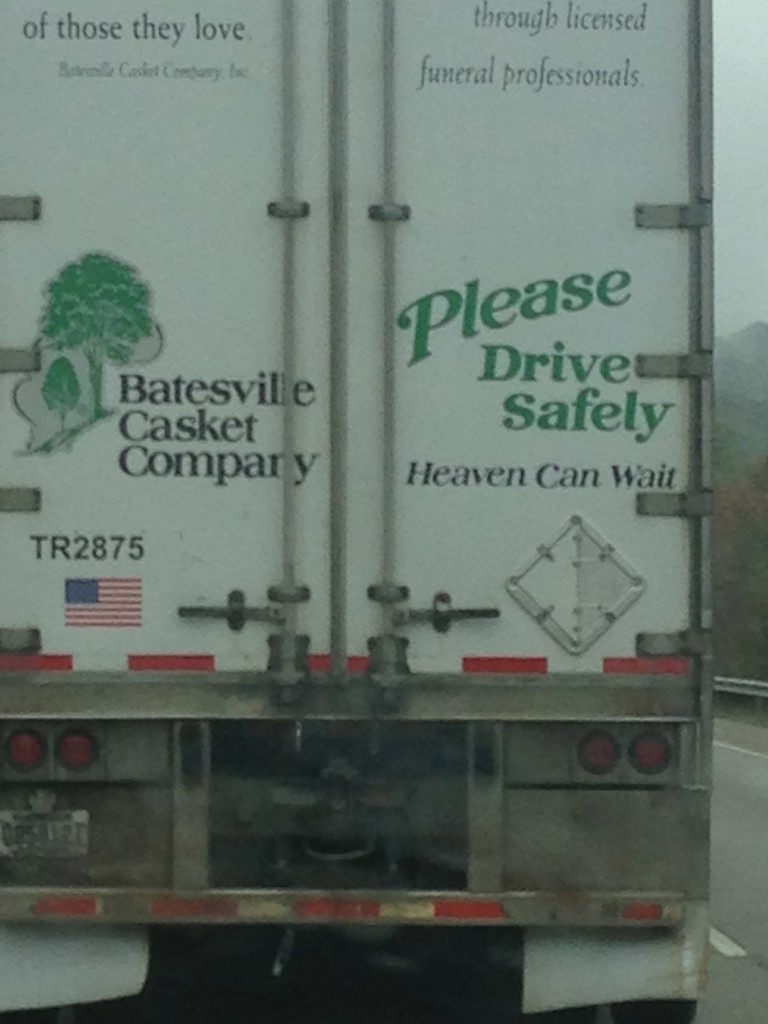 Route 70, which is the major highway the runs East to West across the state, is graced with a Batesville delivery truck like clockwork everyday at 9:00am (passing Zanesville heading to Columbus) and at 3:00pm leaving Columbus heading West. I have followed their trucks many times and this is the first first I have noticed the saying "Please Drive Safety, Heaven Can Wait". 
So did Batesville have a change of heart?
I have been told though that Batesville has used this slogan before, but again I have never seen it and many funeral directors I have talked with haven't either.
Honestly, I am glad the message is there and I hope it is now on all of their trucks. I do however wish they would be more direct and use the photoshopped slogan that really made an impact around the profession.
Regardless, it is a positive message. Two thumbs up for Batesville.