115 Decomposing Bodies Discovered at "Green" Colorado FH Facility on October 6; Are Lax Laws to Blame?
Authorities investigating reports of a putrid smell emanating from a nondescript storage building in Penrose, Colorado on Friday, October 6 found 115 decomposing human bodies inside. Each had been entrusted to the care of Return to Nature Funeral Home, a "green" operation based in Colorado Springs and owned by Jon Michael Hallford, 43, whose past transgressions perhaps foreshadowed this tragedy.
The situation has prompted outcries from many entities, including the National Funeral Directors Association (NFDA), to re-examine Colorado's deathcare regulations, which, despite a new 2022 law regarding surprise inspections, are still "some of the weakest rules" in the nation.
Governor Jared Polis quickly issued a verbal disaster declaration to allow the immediate deployment of state resources in response to the gruesome situation. Additionally, the FBI brought in teams with specialized expertise and equipment usually reserved for "scenes of national magnitude" like airline crashes.
More than a week after the Return to Nature news broke, authorities are still tight-lipped about the conditions inside the building, leaving families who recently tapped the company for services baffled and terrified that their loved ones are among those in the storage facility. Fingerprints and DNA samples are reportedly being used to identify the remains, a process that could continue into late October.
Early warning signs in Oklahoma
As law enforcement personnel joined the FBI specialists, medical examiners, and coroners in the cleanup and investigation following the October 6 discovery, news outlets slowly but steadily uncovered more and more allegations against Return to Nature owner Hallford and his business enterprises.
According to several reports, Hallford's legal and financial troubles began in Oklahoma in 2006, when he was charged with a weapons-related misdemeanor after he and some friends staged a "fake robbery" by storming a home where a group of women were having a slumber party. The men were wearing masks and pointing unloaded weapons during the incident, which Hallford described as a "prank gone wrong." At the time, Hallford was running for a city council seat in Muskogee, Oklahoma and later told a local outlet that the charges were potentially "politically motivated."
The Denver Gazette also found Oklahoma court records that, cumulatively, could have been interpreted as wildly-waving fire-red flags for Colorado authorities, had they been discovered, including:
Two minor 2005 criminal charges of operating a motor vehicle without a license and driving without a seatbelt, to which Hallford pleaded guilty;
A dismissed 2005 criminal case alleging reckless conduct against Hallford;
A 2006 record ordering Hallford to pay over $8,000 to Creditors Recovery Corporation;
A 2009 record ordering Hallford to pay over $1,000 in a default judgment to an apartment complex after being served a forcible entry and detainer and failing to appear for his court date;
A 2011 default judgment of $5,000 against Hallford and Hallford Cremation & Funeral Options LLC after failing to appear for a court hearing;
The termination of Hallford Cremation & Funeral Options' 2010 articles of organization by the Oklahoma Secretary of State in 2011; and,
Absolutely no records for Hallford Cremation & Funeral Options with the Oklahoma Funeral Board, indicating he could have possibly been operating an unlicensed funeral business.
The Gazette adds that Hallford was married to three different women and divorced three times in Oklahoma before his current marriage to Carie Hallford, his Return to Nature co-owner.
Problems followed Hallford
Perhaps not surprisingly, Hallford's issues didn't end after his move to Colorado in 2016 and registration of his funeral home in August 2017. Sadly, the mounting clues went unnoticed by Colorado deathcare regulators — even as Hallford conducted business for nearly a year as an unregistered funeral home with a license that expired in November 2022.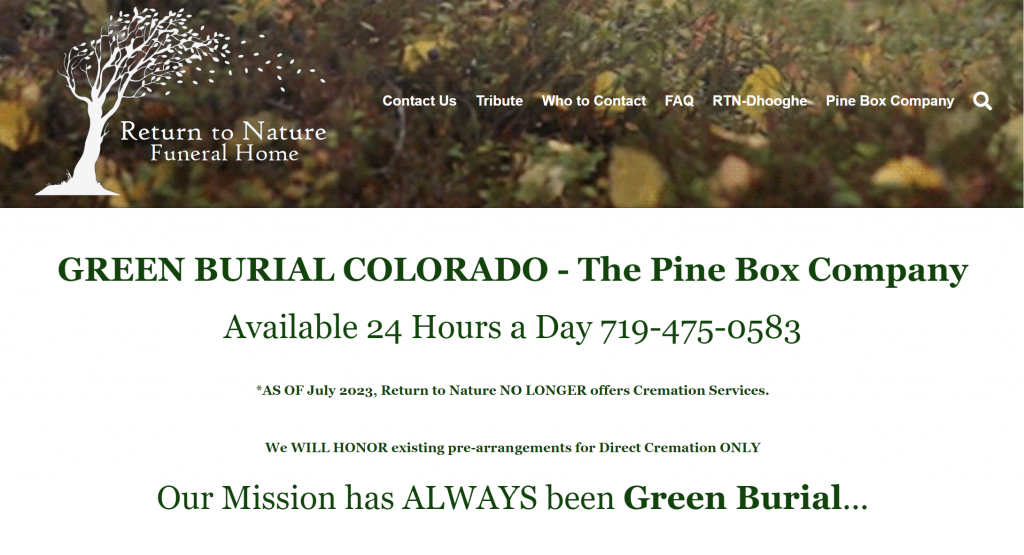 The Gazette reports that Hallfordhomes LLC, the parent company listed on Return to Nature's website, has operated at four different locations in Colorado Springs, and purchased the property in Penrose, about 34 miles southwest, in 2021. Hallfordhomes currently owes $5,385 in property taxes and interest on the location from the 2022 tax year.
According to the Associated Press, the Hallfords not only didn't pay their taxes; they also "got evicted from one of their properties and got sued for unpaid bills by a crematory that quit doing business with them almost a year ago, according to public records and interviews."
The Hallfords, Hallfordhomes LLC, and Return to Nature Funeral Home have recently been involved in three civil lawsuits, according to the Gazette:
Wilbert Funeral Services was awarded over $18,000 in a default judgment in June 2023 after Hallford "did not respond to a court summons or failed to appear in court;"
In April 2023 a property management company serving the Colorado Springs area filed a still-active suit against the Hallfords and Return to Nature Funeral Home; and
A suit by an unidentified party demanding $15,000 in damages was filed against Hallfordhomes in 2020, but the case was dismissed with prejudice only three months after filing.
No arrests have been made nor criminal charges filed in the Penrose case as of this writing, although reports reveal that authorities were in touch with Hallford after complaints of foul odors were reported but before the FBI arrived on the scene with a search warrant. According to the AP, Hallford disclosed on October 5 that he had a "problem" at the Penrose location and that he had been "practicing taxidermy" at the location.
Could this have been prevented?
The Return to Nature disaster will likely remind readers of another Colorado Springs-area deathcare tragedy: The Sunset Mesa body brokering case. Earlier this year, Connecting Directors reported that Sunset Mesa owner Megan Hess, 48, and her mother, Shirley Koch, 69, had pleaded guilty to charges associated with stealing bodies or parts of bodies from hundreds of victims from 2010 to 2018 and selling the remains in a body broker service scheme. Hess was sentenced to 20 years in federal prison while her mother received 15 years.
The Sunset Mesa case, coupled with charges against Lake County, Colorado Coroner Shannon Kent alleging unlawful cremation and abuse of a corpse, prompted Colorado Senator Dylan Roberts to cosponsor a 2022 law to allow inspections of funeral homes and crematories without first getting an operator's permission to enter the premises.
Although the law went into effect in August 2022, it's not known if the Return to Nature property was inspected before the October 3 complaints surfaced. Sen. Roberts told the AP that "lawmakers were working to change the rules but did not want to overly disrupt the industry."
The AP also reports that "unlike nearly all other states, Colorado's funeral homes aren't routinely inspected" and "those who run them don't have to graduate high school, pass an exam or apprentice."
The industry responds
A Colorado Springs TV station reports that Sen. Roberts is working on a new bill to require funeral directors to be licensed in the state. The reporter also quoted Colorado Funeral Directors Association President Joe Walsh as saying he "welcomes licensing requirements in hopes it would help weed out unethical funeral directors, but he doesn't know if a license would prevent all tragedies like the one in Penrose."
In an interview during the segment, Walsh says, "People are in this industry to do good, and is a license going to make that happen? Is a piece of paper going to give somebody morals and ethics that they didn't have before? Without the morals and without the ethics, you're really nothing."
NFDA general counsel Chris Farmer offered a similar sentiment, telling the AP that "while stricter regulations might not have prevented the mishap, but they can ensure problems are discovered more quickly," he said. "You catch it at six or eight bodies and not at 115," Farmer said.