Funeral Faker: The Shawnte Hardin Story
When police officers in Toledo, Ohio found an unembalmed, supposedly septic corpse lying in a ripped body bag in a vacant residential apartment in January 2018, they probably didn't realize they were stepping into an intricate web of deceit and tragedy that would rock the state of Ohio and the entire deathcare community.
The saga of Shawnte Hardin actually spans more than eight years and has impacted more than 100 families whose remains were entrusted to him in one way or another. It's a story of a man who wanted to be a deathcare professional, but didn't go through the years of training and the formality of proper licensing to get there. The path he chose led him not to a career of service as a trusted member of the community, but instead to a conviction on 31 counts of criminal acts related to operating as an unlicensed funeral director.
Hardin's beginnings
Shawnte Hardin had the opportunity to share the inauspicious story of his "career" in deathcare on July 26, 2022 in an Ohio courtroom, when his attorneys began their defense. Hardin testified that he started working in a funeral home at age 12 and "briefly studied" at a Pittsburgh mortuary school. He was "asked to unenroll" without finishing. When he was 20 he served 80 days in prison for unauthorized vehicle use.
In 2014, Hardin applied for a funeral home license; his application was denied for being incomplete. Undeterred, Hardin took jobs at various Ohio funeral homes where he transported bodies and occasionally assisted with preparation. In his additional role as a senior pastor at a Baptist church, he would guide members of his congregation to "inexpensive funeral service providers," calling himself a "funeral guide," rather than a funeral director.
According to the prosecution, Hardin began to blur the lines between those two titles by accepting the deceased into his own care — if it could be called that.
The initial investigation
In an affidavit to support a 2020 warrant to search Shawnte Hardin's property and vehicles, authorities state that the Ohio Board of Embalmers and Funeral Directors began receiving complaints in 2016. Most of the complaints alleged that Hardin was acting as a licensed funeral director and embalmer, but also included "other suspicious activity."
In January 2018, Toledo, Ohio police found the body of James Pettaway, Jr. in that vacant apartment. According to the affidavit, Hardin presented himself to the coroner's office as a funeral director and told the transport driver where to leave the body. Following this discovery, the police opened an abuse of a corpse investigation.
In 2019, a Toledo cemetery reported that Hardin had written them bad checks totalling $3,755 for two funerals he conducted without burial permits. Around the same time, Hardin allegedly picked up a body from a Columbus funeral home in a station wagon, positioning the deceased between the legs of an upside-down coffee table.
The 2020 affidavit lists several similar incidents:
In 2018, a family paid Hardin $3,450 for handling funeral arrangements but was never provided with receipts or death certificates. They reported that the body arrived at the church for the funeral in a "dirty beat up station wagon" and "two males in white painters clothes and paint all over them" removed the body.
In 2019, Hardin showed up at a cemetery in an "old rusty van" for the indigent burial of a body that "smelled of decomposition;" the deceased expired 23 days earlier. Hardin's check for this burial came back "unable to find account."
Also in 2019, a woman paid Hardin $4,700 to provide funeral services for her son, who died on May 6. The burial, planned for May 14, actually took place on May 16, and the casket wouldn't fit the vault. The mother also learned the cemetery where her son was buried was suing Hardin and that he wasn't a licensed embalmer.
In 2020, an OBEFD agent following up on a tip that Hardin was conducting a funeral service found a stolen Penske van at Hardin's church; an acquaintance of Hardin's was charged with the theft.
During this investigation, authorities filed for tax records for four entities run by Hardin, including "Hardin Funeral Home." No tax records were found. In a related incident, a felony warrant was issued for Hardin on charges of passing bad checks in the summer of 2019; he turned himself in to the Mogadore, Ohio police in October 2019.
When the above-mentioned search warrant was executed in November 2020, authorities found three boxes of cremated remains, trocar buttons, and eyeball caps, among other items, in one of Hardin's vehicles.
Enter the urban explorer
In January 2022, an urban explorer photographing a vacant church in Akron, Ohio stumbled upon what turned out to be the cremains of 89 individuals, some dating back as far as 2010. It didn't take long for authorities to learn the building was associated with Shawnte Hardin.
According to a search warrant issued by the Ohio Bureau of Criminal Investigation, Hardin operated "Hussain Funeral Home and Celebration of Life" out of the building, which sported a sign with the words "Greater Faith Missionary Baptist Church" and Hardin's name.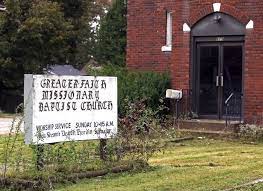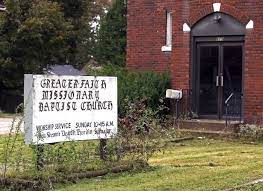 Hardin's attorney told a local news outlet that the cremains belonged to a deceased funeral director and Hardin was only storing the cremains. The former funeral director, Robert Tate, Jr., lost his license in 2015 after authorities found 11 bodies in his garage in various states of decay.
The January 2022 search warrant was issued as part of the ongoing investigation into Hardin's activities. He was indicted in June 2020 by a Lucas County, Ohio grand jury on the charge of abuse of a corpse.
In October 2021, the Ohio Attorney General's office indicted him on more than three dozen counts of allegedly providing funeral services without a license after they recovered two bodies from a building Hardin was using for "makeshift funeral services" in Columbus in September 2021.
These charges included:
One count of engaging in a pattern of corrupt activity, a first-degree felony.
Three counts of tampering with records, third-degree felonies.
One count of theft, a fourth-degree felony.
Eight counts of abuse of a corpse, all fifth-degree felonies.
Five counts of failure to file taxes, all fifth-degree felonies.
Five counts of passing bad checks, all fifth-degree felonies.
Two counts of identity fraud, both fifth-degree felonies.
Two counts of telecommunications fraud, both fifth-degree felonies.
Six counts of representation as a funeral director while unlicensed, two unclassified felonies and four unclassified misdemeanors.
Single counts of fifth-degree felony criminal tools and unauthorized use of a vehicle.
One count of operating an unlicensed funeral home, an unclassified felony.
One count of failure to refrigerate a human body, an unclassified misdemeanor.
Hardin was arrested In October 2021 a few days after the 37-count indictment after a vehicle in which he was a passenger was pulled over for a traffic violation. He said he was on his way to turn himself in.
The trial
The trial of The State of Ohio vs. Shawnte Devon Hardin began on July 11, 2022. The prosecution opened with a statement about Hardin's lack of respect and dignity and mistreatment of bodies. The defense argued that Hardin was simply trying to "help low-income families have a proper funeral at a low cost and didn't commit any crimes or misrepresent himself as a funeral director."
Over the next 11 days, the judge (Hardin had waived his right to be heard by a jury) heard testimony from police officers, transport providers, former morticians, state records employees, cemetery directors, OBEFD inspectors, and others who provided first hand information about Hardin's activities and statements. Worst of all, though, were the heartbreaking stories from family members who had entrusted the care of their loved ones into Hardin's hands.
On August 5, Hardin was found guilty of 31 of the 37 charges against him, most of which are felonies:
One count of engaging in a pattern of corrupt activity
Three counts of tampering with records
Two counts of telecommunications fraud
One count of operating an unlicensed funeral home (unclassified misdemeanor)
One count of possessing criminal tools
Six counts of abuse of a corpse
Eight counts of representation of a funeral director while unlicensed (unclassified misdemeanor)
Four counts of passing bad checks
Two counts of theft
Three counts of failure to file taxes
After the trial, Hardin spoke with a local news outlet, maintaining his innocence.
"I did my best with what I could under the Ohio revised code in terms of the rules as a pastor and what our church is allowed to do," Hardin told the ABC station. "The judge's idea was different then mine as I tried to help these families and I wish them all the best as we begin to move forward."
Did Hardin dupe these deathcare folks?
In researching Hardin's history, Connecting Directors came across a blog posted in March 2018 by SevenPonds.com, a website that provides "a comprehensive resource to help educate people about their options around death and dying, and to encourage an open dialogue about an uncomfortable subject."
In this two-part post, writer Lucas Morgan interviews Shawnte Hardin on the topic of home funerals. Here's the introduction to the piece, which was posted on March 10, 2018:
Here, Hardin clearly states he's not a licensed funeral director. However, later in the piece he says, "Some people may want to do all the paperwork themselves, but would prefer to have a funeral director or guide embalm their loved one." An eagle-eyed reader commented on that statement:
In the second installment of the blog, posted on sevenponds.com on March 17, 2018, Hardin addresses some of his past troubles with the law:
Lucas: I'd heard that you were involved in a court case regarding your business, home funerals, etc. What was that all about?
Shawnte: It all began when I started to introduce the idea of home funerals to my community, and people became aware that they could save money by avoiding costly funeral home services. There were changes that needed to be made, and still need to be made, regarding regulations, laws and rules for families so they can better handle the disposition of their loved ones. One day at work a couple families called me saying they needed help handling funeral services at a much lower rate than they were being offered by a funeral home. Within an hour and a half I received three phone calls from three separate families, all phoning from the same funeral home. It was a total coincidence; the families did not know each other. I told them I could help and, long story short, the funeral director there tried to sue me. He tried to say that I was running a renegade funeral home business. But in no way, shape or form is it illegal. He was unaware of the disposition laws in Ohio himself. It backfired on him, and he lost in court.
In reading both portions of the Seven Ponds interview, it's clear that Hardin believes himself to be an expert in home funerals. In both posts, he states that he's a member of the Home Funeral Alliance, although he's since been removed from the site's directory. The services cited in the search warrants and court proceedings simply don't reflect that expertise.
It's not outside the realm of possibility that he still thinks that the services he provided (or didn't provide) were not illegal. The judge in his case saw fit to disagree, and on Friday, August 26, the world — and Shawnte Hardin — will learn what's next in this sad chapter of deathcare history.