Can Funeral Directors Work From Home? + Awful Marketing Ideas| FFFW #69
WE'RE BACK!
Happy Friday the 14th! People are superstitious about Friday the 13th, so maybe today should be extra great. Why? Because we escaped the 13th being a Friday by a whole day. We were close, but we slid right by it! So, here's a GIFt of a baby elephant falling to get you in the Friday the 14th spirit!
GAME TIME!
In Charles Dicken's novel, Oliver Twist, what is the name of the funeral professional? (Click your answer)
a) Mr.Fettywig
b) Mr.Sowersberry
c) Mr.Guysenburg
BECOME A 5-STAR FUNERAL HOME
Do you want reviews that look like this? These are just a small sample of 5-star reviews left for Parting Pro's customers.

"It was a very positive experience from start to finish! The prices are reasonable, and the service is wonderful. I really appreciated the fact that I was able to do all of the paperwork online in advance."
"The website was simple to navigate, and I liked that I could sort through all various options when making a decision. I did everything online, and it was quick and easy!"
"We could not have been more pleased with the entire experience. From start to finish, they were gracious, understanding, sympathetic, and followed through on everything they said they would. A family-owned business and they made us feel like family!"
"Yes! I would love that!" – You (hopefully)

Great! With Parting Pro, families can pay for services and complete forms online, saving both you and them valuable time. Once they see how easy it is to work with you, they can't help but share the news.
See for yourself how Parting Pro can mirror online the positive reputation you've earned in your community!
A.I. Generated Awful Funeral Marketing Ideas
I used an A.I. (artificial intelligence) engine to generate purposefully bad marketing ideas for funeral homes. Here are five of the worst examples!

1) Corporate funerals- Drive the lowered hearse around with all four doors open. Embrace weird, talk to everyone you see while making strange noises.

2) Put a dumpster in front of your building to collect bodies for drag racing.
3) Throw a parade every time we pick up an old body and throw it into the grave.
4) Place life-sized cutouts of dead people in urinals. Label them a specific gender and ask men to visit Mr.Smith.

5) Get a truck, plant an apple tree in the bed of it. Ask for employee donations for breast cancer research. Sell something.
Well… those are awful. Maybe we SHOULD be worried about all this A.I. stuff.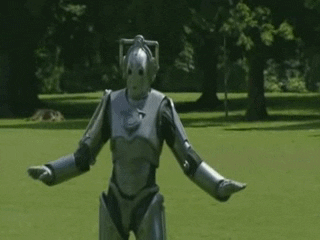 COMIC OF THE WEEK
We're all about equal opportunity.
YOU OTTER BE PROUD
Let's be honest, our profession gets a lot of negative press, so we've searched the internet to find stories of funeral things getting respect, and doing great things!

1) ​​ICCFA EDUCATIONAL FOUNDATION AWARDS 57 SCHOLARSHIPS

2) Over 10,000 volunteers helped restore 100 Jewish cemeteries in Poland last year