Reimagining the Cemetery as Public Space
From the humble churchyard to glamorous memorial parks with manicured lawns, cemeteries all require one thing: land. As urban real estate becomes an increasingly valuable commodity, many cemeteries have started incorporating more uses, creating a community hub that everyone, not just mourners, can enjoy.
The idea of the multi-use cemetery isn't new. For centuries, people have picnicked, worked, and even lived alongside the dead. For some, the picturesque garden settings of cemeteries provide the only respite from the concrete jungle. In other cases, poverty and necessity has led to thriving communities that live among graves and mausoleums. In the Philippines, Manila's sprawling cemeteries double as neighborhoods for thousands of urban residents. The graveyard slums have no sanitation or services, but desperate residents have created homes and businesses to get by as well as they can. Living among the dead, they work as stonemasons, cleaners, and caretakers of the graves.
In India, one restaurant owner, upon discovering graves on his property, decided to go ahead and build around them. His patrons don't seem to mind as they enjoy their lunch among dozens of caskets. Spain's Santa Coloma de Gramanet cemetery has installed solar panels above its mausoleums, harnessing the Mediterranean sun to produce clean energy.
Cemeteries as Cultural Resources
Other cemeteries have explored incorporating diverse uses in their properties as a way to bring in extra revenue. Historic cemeteries, particularly those that are closed to new burials, can use visitor programs to boost their revenue and raise awareness about their history and connection with the surrounding community. Brooklyn's idyllic Green-Wood Cemetery, founded in 1838, plays host to a variety of reenactments, tours, and performances and served as Brooklyn's first public park for decades until Prospect Park offered another option.
Hollywood Forever, the world-famous Los Angeles cemetery where entertainment luminaries like Rudolph Valentino, Cecil B. DeMille, Johnny Ramone, Judy Garland, and many others are laid to rest, hosts a hugely popular summer outdoor film series every year, projecting well-loved classics onto a massive wall next to the grave of Douglas Fairbanks.
Cemeteries as Gardens
One cemetery in British Columbia goes beyond lush landscaping to bring edible plants and honey to the community. As Atlas Obscura's Laura Kiniry writes, Surrey's Heritage Gardens, in addition to being one of the region's newest cemeteries, serves as a home for beehives and a bountiful vegetable garden. The cemetery's founder, Trevor Crean, wanted to create a unique connection with his clients and rebuild the trust that he feels many of them have lost in the funeral industry. When Crean's family bought the property, "it was eight-acres of abandoned greenhouses, fruit stands, and flowers boxes," Crean told Atlas Obscura. Inspired by the land's past life as a working farm, the Creans planted a pollinator meadow and vegetable patch–on the other side of the property from gravesites—whose plentiful produce they gift to cemetery visitors. The meadow feeds the cemetery's resident honeybees.
Lynchburg, Virginia's Old City Cemetery has a similar program, selling "Died and Gone to Heaven" honey from its own hives in their gift shop.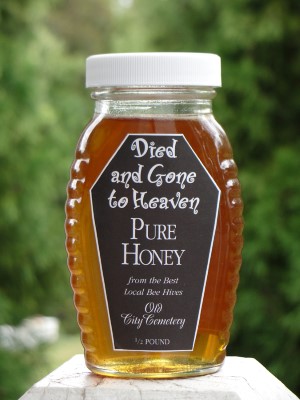 Despite their somber purpose, cemeteries can–and do–serve as tranquil green spaces, valuable historic resources, community hubs, and more. Around the world, out of necessity or desire, people continue to reimagine the graveyard in surprising and creative ways.