Colombia Responds to COVID with Hospital Beds That Convert To Coffins
On May 26, Latin America earned the undesirable distinction as the new epicenter of the COVID-19 global outbreak. Colombia, the third-largest Latin American country, has been particularly hard-hit. Like Asia, Europe, and the United States before them, Colombia hospitals and funeral homes are struggling to keep up. 
In Ecuador, for example, families have no choice but to lay their deceased loved ones' bodies on the streets to await burial. However, a businessman in Bogota has created an unorthodox, yet pragmatic, solution to the country's lack of hospital beds and burial containers. 
From product props to propping up patients
Rodolfo Gomez is the founder of ABC Displays, a marketing and advertising company based in Bogota. ABC's specialty is heavy cardboard product displays like those found in grocery stores. The company ceased production for two months amid COVID-19 quarantine restrictions. Gomez's innovative mind didn't stop working, though.
According to Reuters, Gomez was deeply impacted by the "disturbing images of bodies" on the streets of Guayaquil, Ecuador's largest city. He realized that poor families couldn't afford wood coffins, and were resorting to donated cardboard models. These facts motivated Gomez to lend his company's cardboard and creativity to a different use.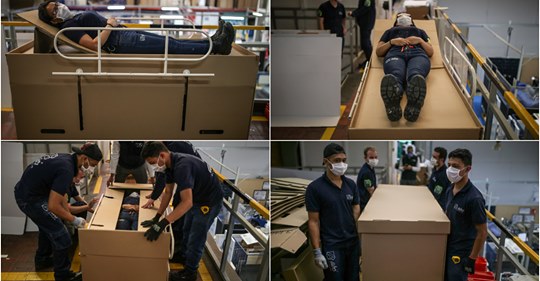 In mid-May, Gomez and ABC Displays introduced cardboard bed-coffins, which are exactly what the name describes. About the size of a cardboard refrigerator box, the bed has metal railings, wheels with brakes, and a horizontal panel that inclines up or down to support the patient's upper body. Upon death, families can use the rails to lower that panel and the body deeper inside the box. This demonstration video on the company's Facebook page illustrates the process from construction to disposition.
Less contamination?
With a cost ranging from $92 to $132, Gomez told Reuters he hopes rural or underfunded hospitals will benefit from his invention. ABC will donate the first bed-coffins to a hospital in an Amazonian city in Colombia. Gomez says he's in talks with potential buyers in other South American countries and the United States. His plan can produce up to 3,000 beds each month.
The beds are "100% recyclable, biodegradable" and "100% ecological" per a rough translation of an ABC Displays Facebook post. Gomez believes being able to enclose the body in the same container where the patient was ill cuts down on contamination.
"Once the bodies are prepared it is converted to a coffin and covered," he told Reuters. "The staff who are nearby are not exposed to biological risk."
A doctor interviewed by the Associated Press has his doubts, though. The doctor, says AP, warns "that any corpses should first be placed in a sealed bag before being put in a cardboard coffin." The same doctor is "skeptical of how sturdy a cardboard bed might be," although Gomez says they hold up to 330 pounds.
Mixed reactions
Predictably, the Twittersphere weighed in as news of what many called a "bed-coffin combo" spread. Feedback included these gems:
"Love to recover from illness in a bed that will be my coffin if I don't."
"It's like saying to a patient – well, if it doesn't work out, we will just open the hatches and drop you right into coffin mode, no fuss no muss."
"If you don't think the Corona Virus is real, then tell us WHY would there be a need for THIS?!?"
"Value added: making medical errors go away has never been easier."
"Horrifying, but a brilliant way to reduce exposure."
Gomez, however, is quite proud of his invention. In fact, a comment on the company's Facebook page says, "The new idea keeps going around the world! Our wit has no limits."
So what do you think, death care professionals? What's your take on the bed-coffin combo?