7-Day Challenge: Make $1,000 Profit with This Proven Email Script
Virtual arrangements suck.
They are impersonal, inhibit effective communication, and are killing profit margins.
280 funeral homes have figured out how to recover the loss of merchandise sales caused by virtual arrangements while providing a meaningful service.
"I haven't seen a revenue decrease since the pandemic began. The families we serve need to know that there are options like solidified remains. We have offered solidified remains to every cremation family and almost 10% are choosing this form instead of conventional ash." – John Perkes, Regency Mortuary
Parting Stone is posing a 7-day challenge to the entire death care profession.
Every funeral home that places 3 orders for solidified remains between April 29th – May 6th will keep 100% of their 3rd sale.
You make $1,000 profit in one week.
Sale #1 and #2 – Retail: $595, Wholesale: $395 ($200 margin) + Sale #3: FREE ($595 margin) = $995
We'll throw in a fiver to make it an even $1k profit.
This is not an experiment.
If you didn't hear… solidified remains won a World-Changing Ideas Award from Fast Company Magazine this week.
And an ICCFA KIP Award in February.
Firms that offer solidified remains to every family see 7% choose this option over conventional cremated remains.
These are real statistics…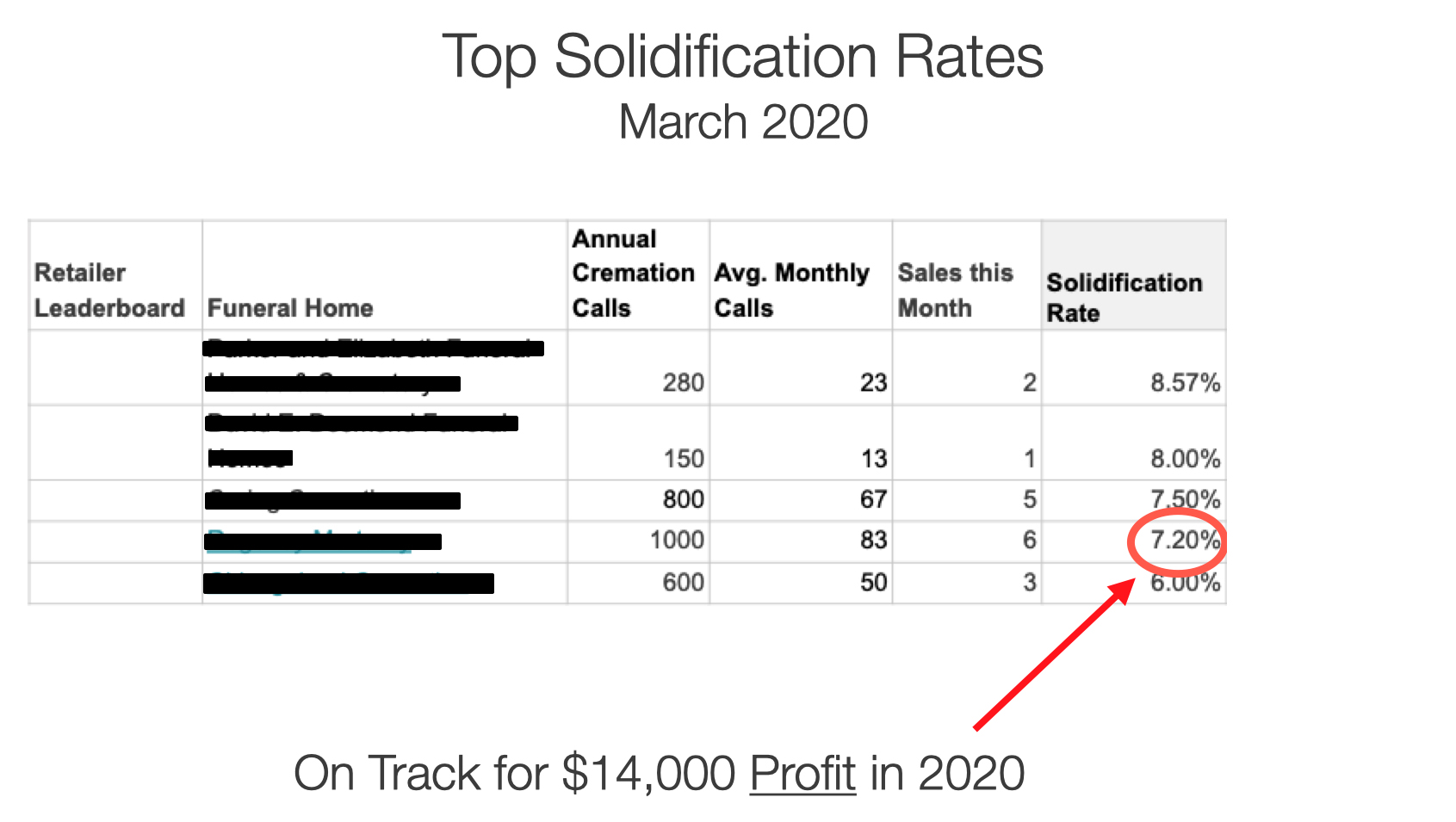 You DO NOT need to be a Parting Stone retailer to participate.
You DO NOT  need to contact us ahead of time.
There is NO TIME TO WASTE for increasing per-case revenue.
We'll even tell you exactly how to win the game…
Think of 5 families you are currently working with
Copy/paste the email script below and send it to each family now.
Tomorrow, call 505-772-0634 to place your first order.
Repeat with each new cremation family.
Copy/Paste this EXACT email script:
---
Dear ______,

Following the cremation of your loved one, you have the option of receiving either cremated remains or solidified remains.

Conventional cremated remains are gray and come in a granular form yielding about 8-10 cups of remains, while solidified remains are stone-like, typically white, and yield around 25-30 "stones."

Families planning for permanent placement such as burial or interment typically choose cremated remains. Families planning to take the remains home, typically choose solidified remains because they are comfortable to live with and easy to share with family.

You can learn more about solidified remains here.

Would you like to receive cremated remains or solidified remains following the cremation?

note: if you choose cremated remains, the remains will need to go into an urn.

If you have any questions about these two options please give me a call.

My best,  _______
---
Families will thank you.
This is a letter sent to the Parting Stone Lab from a Regency Mortuary family…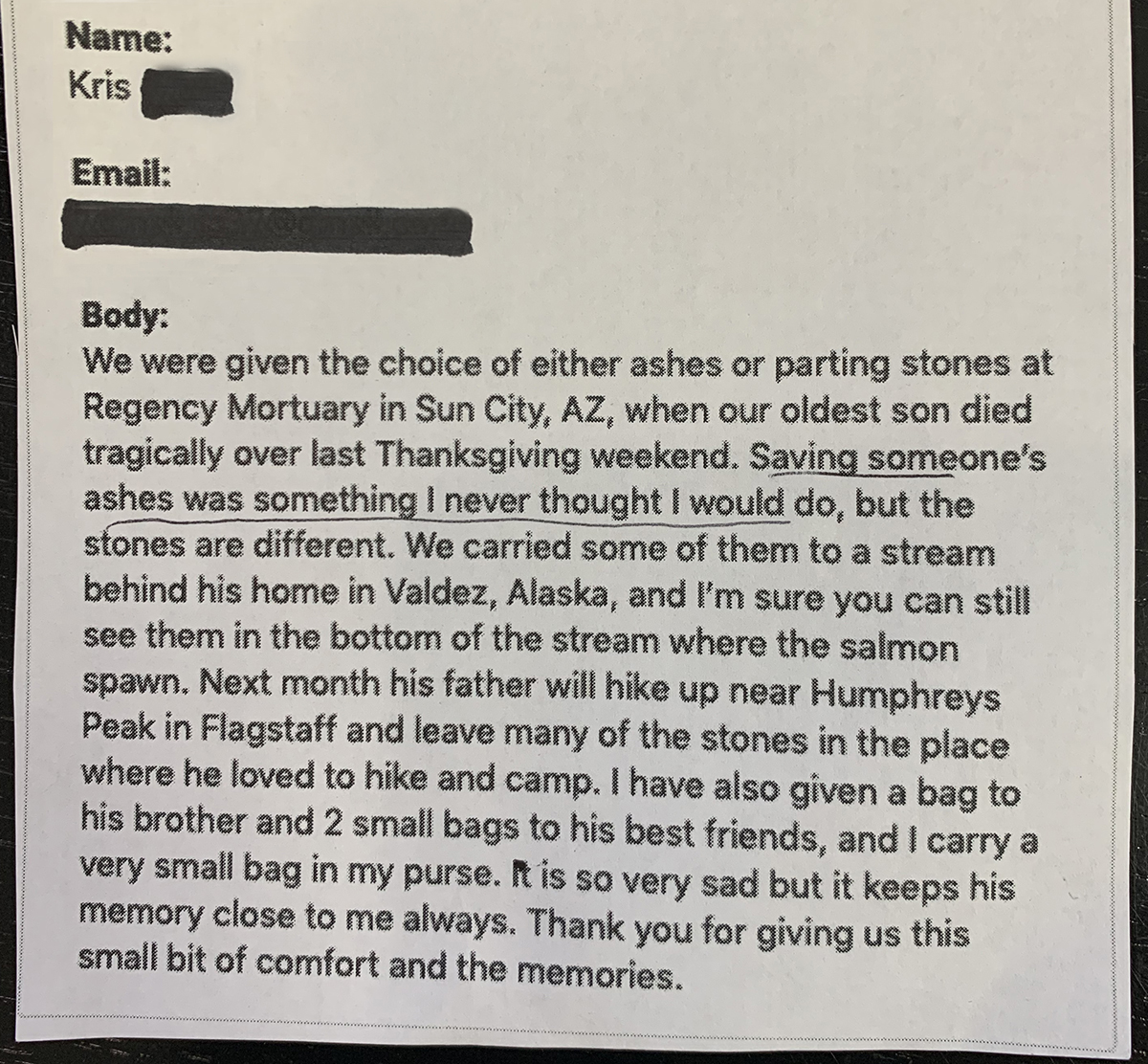 Some people are cheating at the 7-day challenge. Which we encourage…
Instead of focusing on at-need clients, they are dipping into their previous families and sending this email…
---
Hi ________. I hope your family is doing well and staying healthy.

I wanted to touch base and let you know that we are now offering a solid alternative to cremated remains called solidified remains. Many of our families that take remains home with them are now choosing this option because solidified remains are nice to hold and they are easy to share with family.

You can learn more about solidified remains here.

We are extending this option to all of our previous families. Would you like someone from our staff to give you a call and tell you more about solidified remains?

My best, ________
---
Now, more than ever, families are searching for ways to feel connected to their departed and close to their communities.
Give them this profound gift of connection.
Join the 7-Day Challenge today to empower families in their grief, increase profits, and help your business survive the pandemic.
You can reach us at 505-772-0634 or support@partingstone.com. Visit our website at www.partingstone.com
Click here to attend our May 12th webinar and learn more about solidified remains.
Stay safe and stay healthy.
Cheers,
Justin Crowe
CEO, Parting Stone
---
* Offer Terms: Orders must be for immediate processing (no pre-orders). The 3 orders must be placed on our website by May 5th, 11:59 pm MT. Each business entity is limited to take advantage of this offer one time.