Need a Hearse? You can now buy this Tesla Hearse for $200,000.
If you've made all the necessary arrangements to offer eco-friendly burial but are still in the market for a stylish and carbon-neutral transportation option, your solution has arrived. In a logical next step for the "green burial" movement, a Norwegian manufacturer has retrofitted several Tesla sedans to serve as full-service hearses, adding to a growing range of environmentally friendly funeral services.  
Known as much for its CEO's provocative personality as for its high-end vehicles, Tesla has been producing fully-electric cars since 2008. The company offers a 2-door car, a 4-door sedan, and an SUV, with plans to roll out an electric semi truck next year. While electric vehicles hold promise for reducing greenhouse gas emissions, their components and production are not without their own environmental issues. As with any electric devices, using electric power is only as clean as the source of that power—which, for now, often comes from coal-burning plants. Lithium ion batteries use rare elements that will become increasingly scarce as demand rises, leading to more environmentally destructive mining practices, and recycling infrastructure has not caught up with the surge of battery production. However, recent developments in battery recycling and reuse show promise for the improved sustainability of future products.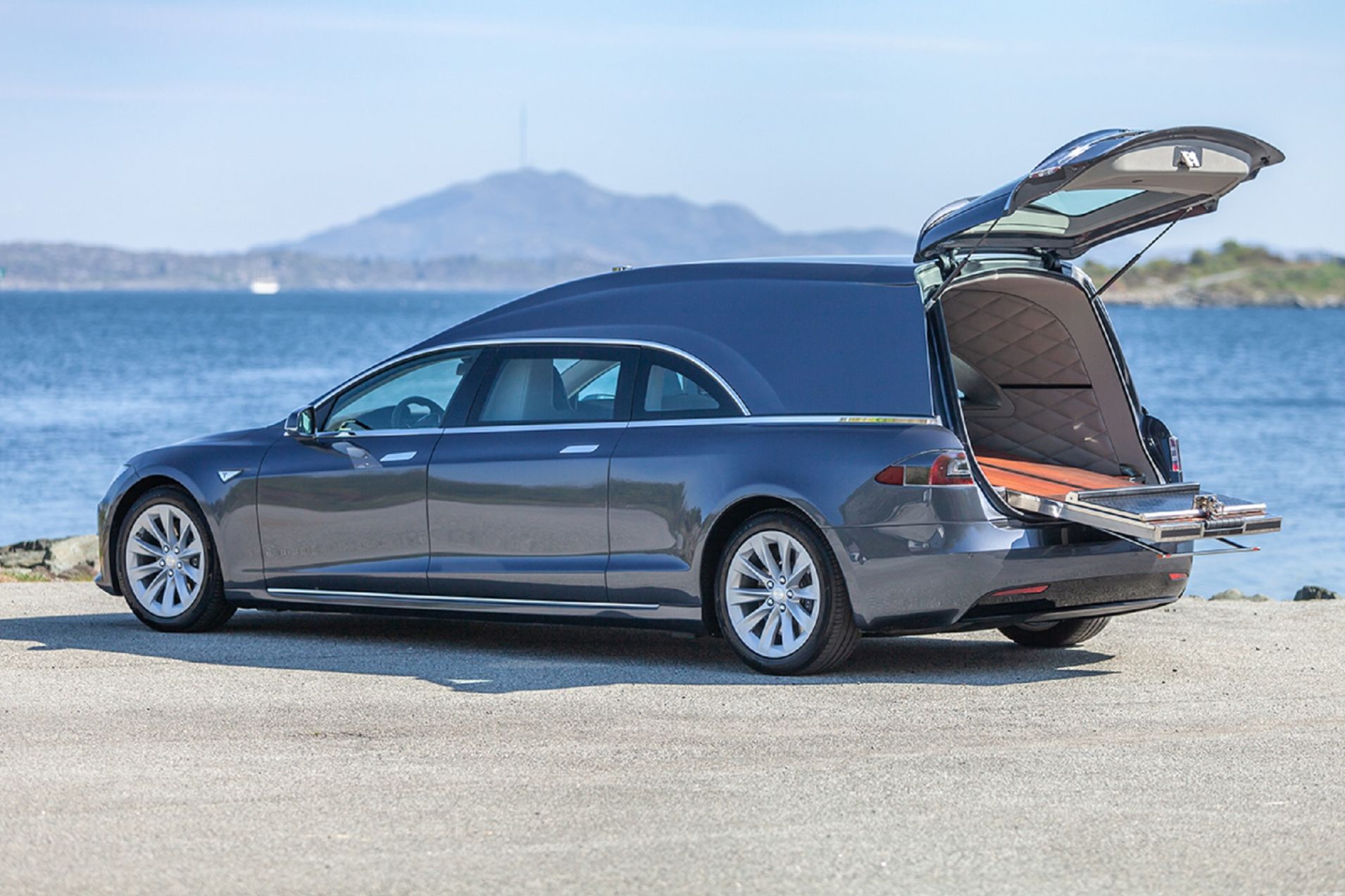 Creator Jan Erik Naley, who specializes in turning high-end vehicles into hearses, started designing the Tesla hearse after receiving the request from a local funeral home. He worked with a Dutch auto manufacturer to convert the Tesla Model S into a full-service hearse complete with retractable teakwood floor platform and redesigned interior. Due to Tesla's aluminum unibody design, the conversion took more work than your typical hearse buildout, but the final product features all the functionality of a traditional hearse combined with the sleek styling and zero-emissions motor of a Tesla sedan. In fact, there are practically no mass-manufactured hearses: all hearses are retrofitted by specialized companies, usually using Lincoln, Buick, or Cadillac vehicles. The car's body is extended with an extra-long chassis and fiberglass shell and special features like window drapes and bier pin plates are added. 
To date Naley has produced four vehicles, all sold in Norway, though he's had interest from other countries as well. He isn't the first to create a Tesla hearse: in 2016, a car builder in the Netherlands showcased their glass-topped version at that country's annual Funeral Exhibition, appropriately themed Fit for the Future. 
The eye-catching luxury won't come cheap. A typical new hearse costs around $60,000 USD; Naley's latest creation is up for sale for 1.99 million Swedish Krona, or around $200,000 USD. While these models remain out-of-reach novelties for most funeral homes, the growing popularity of electric vehicles across industries signals expanded availability and affordability of electric hearses in the not-so-distant future.
Article by Connecting Directors contributor Diana Eliza Ionescu