What Happened to Event By Wire?
Event By Wire claimed to be 'The First Online. Integrated Webcasting. and Video Tribute System' but they are no more. Event By Wire just shut it's doors for good on Monday leaving many funeral homes dead in the water. Fortunately, the shutdown didn't come without warning. On January 18the Event By Wire notified its customers that they would be closing down effective February 1, 2016 and that if the funeral home had any leased equipment they needed to return it promptly. See the notice sent below: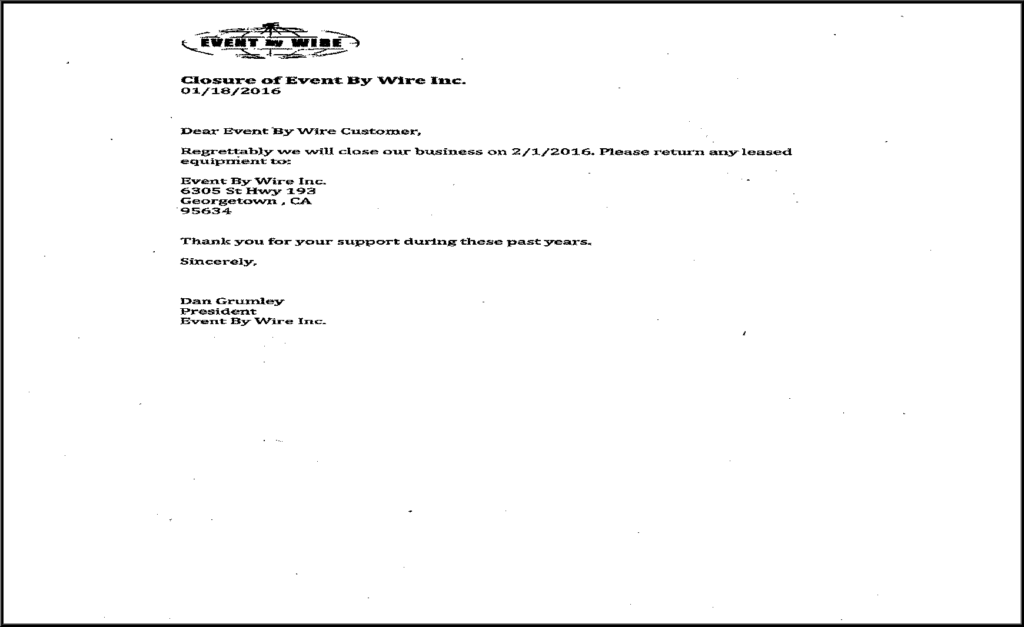 This shutdown, with only two weeks of notice, put many funeral homes scrambling for a new provider. If you are one of those funeral homes there is a solution. We were contacted by Paul Generowicz, owner of Sympathynet.com, who made the following offer:
SympathyNet.com is willing to provide 2 Free months of webcasting services to any funeral Homes that were affected by the unexpected shutdown of Event By Wire. There are no strings attached with this offer. We just want to give those firms affected some time to check out options that are available while still being able to provide webcasting services to their client families. Sympathynet.com has no affiliation with Event By Wire and there is no additional equipment needed to webcast with SympathyNet.com. This is a no oblignition offer and there is no contract to sign. We just really want to help the funeral community affected by this event.
Funeral homes interested in this offer can contact Paul at 718-928-6608 or by email at paulg@sympathynet.com.
ConnectingDirectors.com reached out multiple times to Event By Wire for comment but no calls or emails were returned.
It is interesting that this shutdown came just weeks after Facebook starting rolling out Facebook Live and days after they announced they were rolling Facebook Live to all iPhone users. You can read more about this in a blog post from DISRUPT Media
Could Facebook Live mean the end of funeral webcasting companies?