Buzzfeed Says This Controversial Funeral Channel Is The Best Thing on Youtube
Exploding caskets, human taxidermy, and poop, oh my.
Caitlin Doughty is a mortician who wants to help you understand the process (and the business) of death.
She's could say she's pretty into death. You know, professionally.
She has a video series called "Ask a Mortician" that covers ~ALL THINGS DEATH.~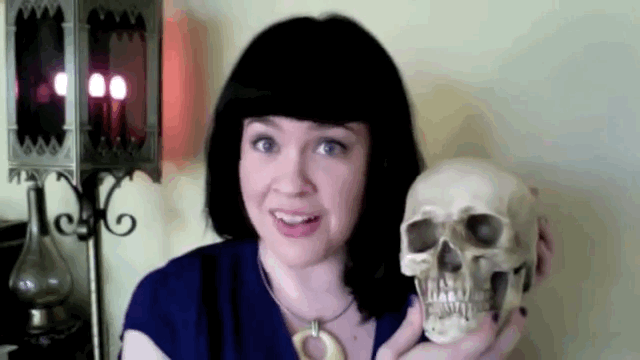 There will be skulls. And also jokes.
It's a heavy-ass topic, but she handles it with sensitivity, empathy, and very practical advice. And also floating props.
While Caitlin admits that she feared talking about her Siamese cat's death and funeral could have a "forever alone vibe" to it, she felt it was important to discuss because "animals are part of your family." Which is THE GODDAMN TRUTH.
(Yes, that last one definitely made me cry at my desk.)
She also dives into the nitty gritty details of her job. For example: Ever wondered what happens to breast implants and fake hips in a cremated body?
Spoiler: There's fake boob goop involved.
The answer is complicated! Also, did you know that corpses poop? Caitlin will tell you aaaaall about it. #DeathPoop
Caitlin also tackles criticism about her industry. IS the whole funeral thing just a PYRAMID SCHEME?
How much schemin' is really going on?!
Plus, she's tackled everything you probably never/always wanted to know about… HUMAN TAXIDERMY.
This is a real question someone asked her.
So. Got a question about death? Funerals? Exploding crematoriums? Ask Caitlin.
LONG LIVE CAITLIN!