Astral Takes to Social Media with the Help of DISRUPT Media
Together they create a timely and record-breaking Facebook post
Astral Industries, a leading metal casket manufacturer and distributor, has selected DISRUPT Media, the social media strategy and management agency, to coordinate its social media strategy and content management.  Using their proprietary FUNERAL Social Design Process, DISRUPT Media is helping Astral to create a platform to build social networks among people who share interests, activities, backgrounds or real-life connections in the funeral industry and the public.
"Astral wants to drive traffic to our website while encouraging funeral homes and their families to have discussions on how to improve or change our products and services," said Charlie Shaw, CEO of Astral Industries.  "Having seen Ryan Thogmartin present on the topic of social media at a funeral service conference last year, I realized he was exactly what Astral needs to spearhead our social media efforts."
Astral had established their Facebook presence late in 2014, but quickly realized they needed professional assistance if they were to fully leverage the power of social media.  They knew social media was a great way to build a brand image; they just needed some expert assistance to do so.
"At DISRUPT Media, we are passionate storytellers and excited to create a program that will not only tell the remarkable Astral story through social media, but really inspire funeral homes to engage with Astral in a way that drives business," stated Ryan Thogmartin, President of DISRUPT Media.  "Astral has an incredibly rich story to tell as a leader in funeral service, focused on providing great value to funeral directors who offer Astral caskets.
One of the first successful social media forays for Astral was to leverage the internet viral sensation created by the blue and black or gold and white dress question.  Within a day of Caitlin McNeil posting her dress and question on Tumblr, DISRUPT Media and Astral had posted their version with a white and gold casket featuring the question, "What do you think of this blue and black casket?"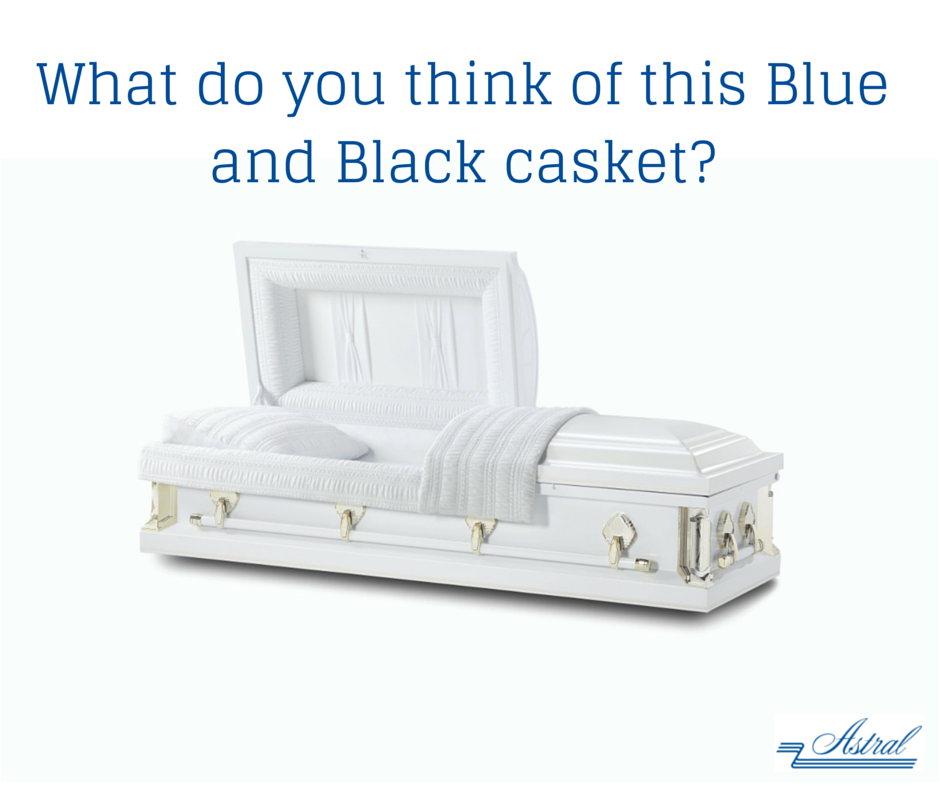 "We have always believed at Astral that social networking sites such as Facebook and Twitter are great ways to build our brand image, commented Chris Shaw, Social Media Project Manager at Astral Industries.  "In addition, social media can help to bring a human element to our products.  We look forward to doing just that with the help of DISRUPT Media"
About Astral Industries:  Founded in 1972, Astral Industries is a privately-owned and operated manufacturer of 20 gauge, 18 gauge and stainless steel caskets.   Over the years, Astral has gained a reputation among funeral directors for balancing quality, service, and price, providing great value to families who select Astral caskets.  Astral has recently announced a relationship with Sauder Funeral Products to provide the latest in cremation products.  For more information, call Astral at 765.874.2525 or visit www.astralindustries.com.
About DISRUPT Media:  DISRUPT Media is a Full service social media management and content agency dedicated to the funeral profession. Started by Ryan Thogmartin, DISRUPT Media provides creative ideas and a simple plan to produce a social media presence that is completely unique for each client.  For more information, call DISRUPT Media at 740.617.0599 or visit www.disruptmedia.co.