Life Celebration Completes Design, Training and Production Facility Upgrade
Life Celebration, Inc., a growing community of funeral homes that embraces a systematic approach to creating memorable and meaningful funeral experiences for families, recently completed the remodel and upgrade to the design, training and production facilities at its headquarters in the Philadelphia suburb of North Wales, PA.  The Life Celebration campus now boasts a state-of-the-art learning environment for hosting existing community members and prospective new firms as well as a comprehensive production facility for the delivery of the essential multi-media components of the Life Celebration brand.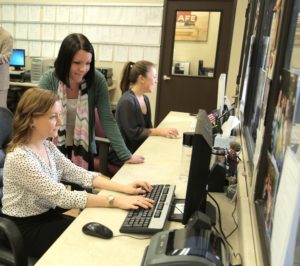 "We've raised the curtain on the new Life Celebration design lab and training center", said Jim Cummings, Vice President and Chief Experience Officer at Life Celebration.  "Thanks to the upgrades made in the design center, our creative team can now push the envelope of inspiration to new heights in assisting Life Celebration community members in staging once-in-a-lifetime events for every family."
The facilities within the new Life Celebration training center offer new resources for the more than one hundred members of the Life Celebration community.  They also provide a great educational environment for the growing number of firms that visit the campus after expressing interest in the Life Celebration concept.
"The new conference and learning center has been constructed for the ongoing education and sharing of best practices and principles for our existing community of member homes," stated Gerry Givnish, President of Life Celebration.  "It was designed to encourage ongoing and regular trips from our community members and prospective members – not just a place to come visit on an infrequent basis."
Since its launch, the Life Celebration program has used a system approach to train the entire staff of community members' funeral homes and focuses on enhancing their alignment and engagement to the family being served.  Life Celebration provides funeral professionals with the proven strategies, training and resources to consistently create memorable and meaningful experiences.
"We knew that we had an opportunity to reshape the Life Celebrations Training Center as an accessible and connected 21st-century facility for teaching and learning," said Cummings. "We set out to create a new kind of laboratory that would support our mission of teaching across disciplines, conducting training, and listening to funeral service professionals. We also wanted to strengthen the center's role as an integral part of the Life Celebration success equation."
Key elements of the Life Celebration expansion and renovation include: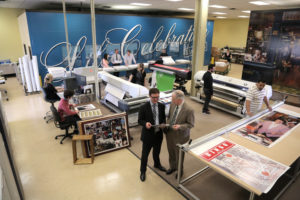 • Digital Print Center: Concurrent with the remodel, the Life Celebration Digital Print Center has been upgraded with a new Xerox iGen4 press.  This press features vibrant image quality that rivals offset printing and advanced color management tools to ensure consistent, high definition color images.  The new press not only increases the flexibility in meeting increased order volume produced on tighter timelines for personalized Life Celebration print products, but offers an innovative matte dry ink finish which produces photo-rich images with a smooth matte look and feel on the finished pieces.
This new Xerox press serves as a complement to the photo publishing equipment, the three wide format printers and lamination machine that are also housed at the Life Celebration Digital Print Center.  The photo publishing equipment is used to create the Life Celebration photo books and photo calendars, the wide format printers for making Life Celebration banners and lamination machine for creating permanency for prayer cards and other similar print materials.
• Life Celebration Café: A central feature of the new facility, the Life Celebration café offers not only a place for training and casual discussions, but provides both members and prospective firms a real life "blue print" of how this café concept can be designed to play out in a funeral home environment.
• Training and Seminar Rooms: At key component to the Life Celebration success equation is to strategize and share progressive practices which have been implemented by members of the Life Celebration community.  As part of the upgrade, additional space was added that provides a more dynamic and meaningful learning environment for all funeral professionals visiting the facility.
• Memories Collection Design Lab: This area is dedicated to showcasing the comprehensive creative and innovative suite of Life Celebration print and video keepsake materials. The hands-on, active learning lab showcases the ever increasing portfolio of pictorial and video tributes that are at the core of the Life Celebration concept.  These multi-media materials tell the story of life's journey while becoming a cherished family treasure long after the funeral.
Life Celebrations also announced an association with Normandy Farm and Conference Center, located nearby in Blue Bell, PA, for use by its overnight guests.  Normandy Farm is a first class hotel and hospitality venue, with more than 140 exquisitely appointed hotel rooms and suites.  Located nearby is Normandy Farm's sister property, the Blue Bell Country Club, which offers an 18 hole Arnold Palmer Signature Championship Course.
"After a day of training and learning at the Life Celebration facility, the rustic charm of Normandy Farm offers the perfect backdrop for dinner and further discussions, albeit in a more relaxed atmosphere," added Givnish. "It makes for an outstanding ending to a productive day."
To schedule a visit to the Life Celebration facility or get more information about the Life Celebration program, send an email to jcummings@lifecelebration.com or call 888-887-3782.  You can also visit www.lifecelebrationinc.com