Thacker Announces the "Remembrance Line"…the Most Important Cremation Innovation since the Match!
Thacker Caskets, Inc, Funeral Service's imagination leader, has rocked the industry once again. Thacker's new "Remembrance Line" of metal rental caskets joins Thacker's groundbreaking "Value Line" caskets; Thacker's paradigm shattering "TTNL" merchandising system; and Thacker's iArrange interactive virtual casket display program as incredibly important industry innovations.
Yes, you read it correctly. Thacker has pioneered a selection of 6 metal rental caskets available in today's most popular finish colors and themes.
It's a fact. CANA tells us that the provisional cremation rate for the United States for 2012 has reached 43.5%. Cremation percentages are only going to continue to rise. Thacker has stepped far out of the box in their efforts to help Funeral Directors meet the needs of this burgeoning consumer segment all while encouraging Funeral Directors to explore new and profitable cremation merchandising strategies.
After all, what sense does it make that over 65% of today's consumers select metal caskets yet most Funeral Home's only rental casket options are hardwood? Thacker recognized both a need and an opportunity. For the first time, Funeral Directors will not only have the opportunity to offer choices to families seeking to rent a casket, but Directors will also have the ability to merchandise their rental casket selections as well. Genius!
Thacker's fresh approach to cremation doesn't stop there. While many Funeral Directors have already ordered Remembrance Line metal rental caskets for their selection room display many, too, are taking advantage of Thacker's novel "rent a rental" program. Funeral Directors have the option of renting one of Thacker's metal rental caskets…delivered to their door and then removed following the services. Now that's innovation with an exclamation point.
Thacker's Remembrance Line also incorporates a well built, and economical selection of cremation inserts lined with Rose Tan, White, Pink, and Light Blue crepes. In addition, each Remembrance Line casket features an optional matching companion cremation urn along with a varied selection of the latest in cremation remembrance products most of which are available for engraving and personalization. Ask for Thacker's new "Memory of a Lifetime" cremation products catalog.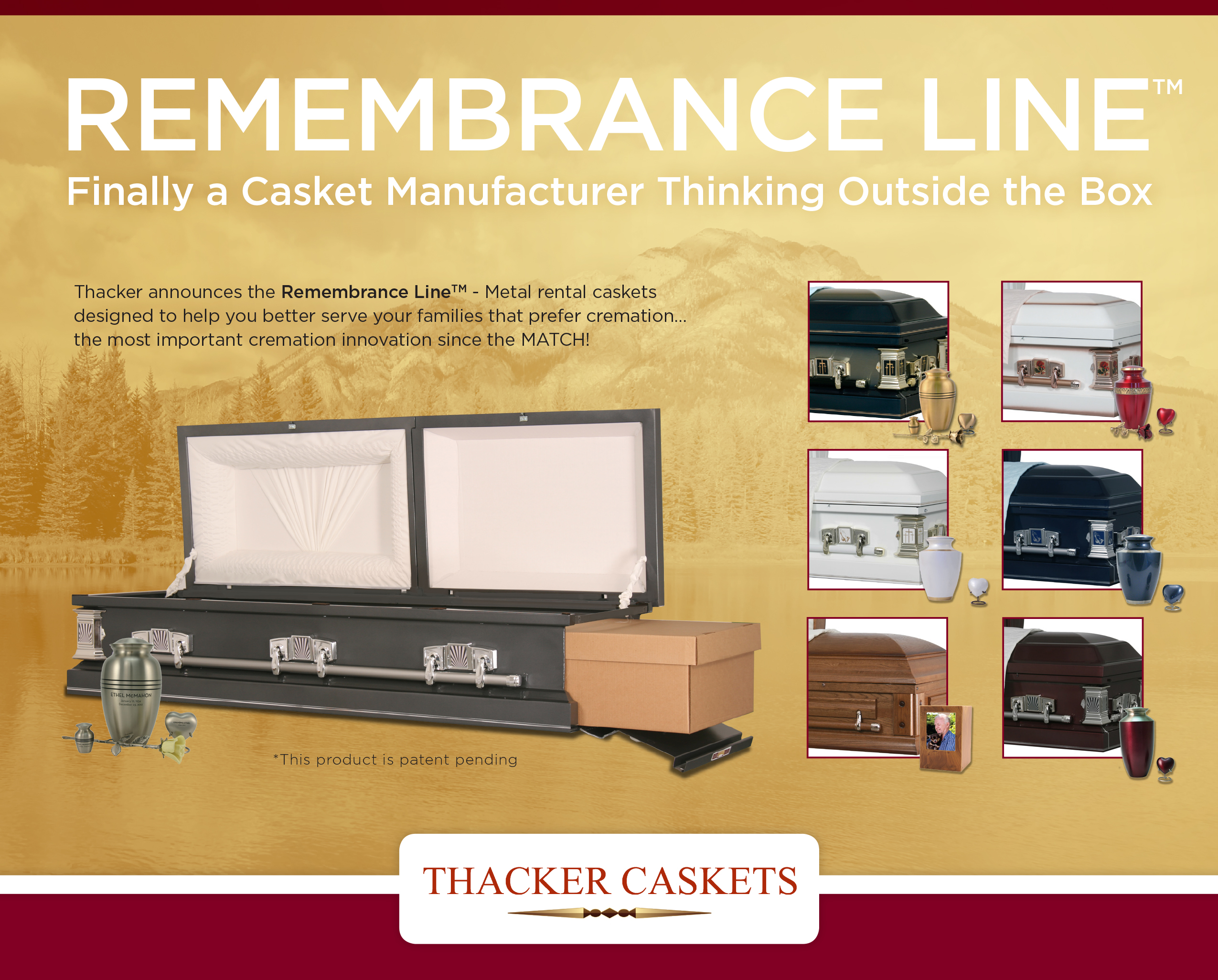 If you don't know iArrange, the Value Line, "TTNL Merchandising", and the Remembrance Line then you don't know Thacker. Sometimes being the fourth largest American casket company has its advantages. Family owned Thacker moves quickly to address today's rapidly evolving industry challenges unfettered by the burdens and impediments inherent with larger corporate entities.
It is 2014 and Thacker Caskets, Inc is proudly celebrating its 75th anniversary of serving leading American Funeral Directors. As other US casket manufacturers outsource their production to Mexico or fill their caskets with Chinese component parts, Thacker remains steadfastly committed to producing 100% American-Made metal caskets from its factory in Florence, Alabama. Thacker employs over 250 Americans!
For more information regarding Thacker's new Remembrance Line or any of Thacker's industry innovations please contact your Thacker Sales Consultant or call the Thacker Customer Service Office at 800-637-8891.