If Your Child Can Watch Miley Cyrus Twerk And Be Relatively Unaffected, They Can Handle A Funeral
Should children attend a funeral? is one of the most discussed questions among funeral directors and families. There are guide books with suggestions on how to present death to a child and how to determine what age they need to be before you let them experience a funeral and the list goes on.
Now there is a clear answer…
After watching Miley Cyrus' overly provocative and slutty performance on the VMAs Sunday night I think the below Facebook post from Caleb Wilde puts the 'should a child attend a funeral?' discussion in perspective.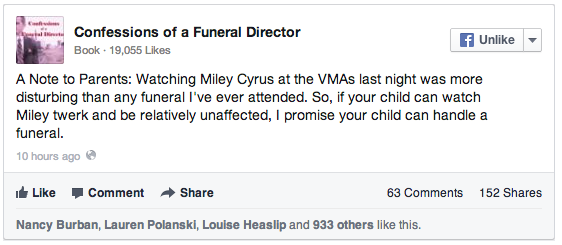 A Note to Parents: Watching Miley Cyrus at the VMAs last night was more disturbing than any funeral I've ever attended. So, if your child can watch Miley twerk and be relatively unaffected, I promise your child can handle a funeral.