FDLIC Names Rex Miley Director of Sales Development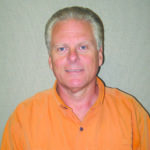 Funeral Directors Life Insurance Company (FDLIC) is pleased to announce the promotion of Rex Miley from Market Center Manager to Director of Sales Development.
"Rex has shown tremendous dedication and leadership," said Kris Seale, President & CEO. "Rex has successfully served our clients and helped them to grow throughout his tenure with FDLIC. We are proud of all that he has been able to accomplish."
"Rex does a great job of serving his customers in Mississippi," added Mark Owen, FDLIC Regional Sales Vice President. "Rex has been performing the job description of a DSD already for several years. Now his title will reflect his role with the company."
Rex has been with FDLIC for 11 years and has worked in the funeral service profession for over 35 years. He started as an assistant funeral director in 1976 at Wright & Ferguson Funeral Home in Jackson, Mississippi.
"I feel very fortunate to be in the position I am in," said Rex. "We're just going to keep doing what we've been doing, which is help funeral homes grow and achieve their goals. I love what I do, and I'm honored to be associated with a quality company like FDLIC."
FDLIC, rated A- (Excellent) by A.M. Best Company, is a legal reserve life insurance company which specializes in the sale of insurance-funded preneed funerals.