More than 5,800 attend the 2015 NFDA International Convention & Expo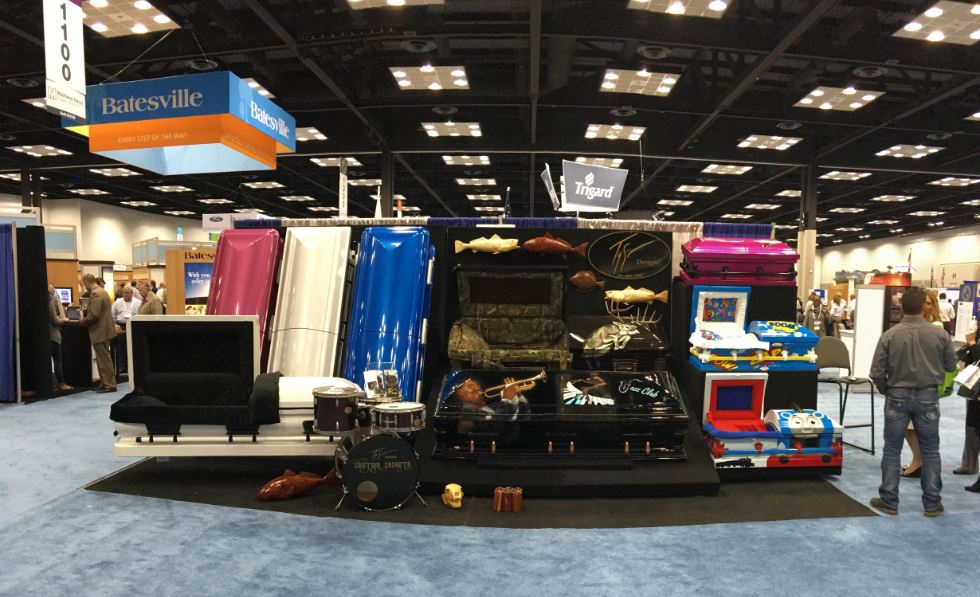 Brookfield, Wis. – The National Funeral Directors Association (NFDA) 2015 International Convention & Expo, held October 18-21 in Indianapolis, Indiana, drew 5,831 total attendees (3,564 attendees and 2,267 exhibitor representatives). A total of 320 international attendees, representing 33 countries and territories, participated in the 2015 NFDA Convention. The Expo Hall featured 392 exhibiting companies which filled 115,338 square feet of space (963 10' x 10' booth spaces).
"We have heard so many positive comments about our 2015 NFDA Convention," said NFDA CEO Christine Pepper, CAE. "We had an exceptional slate of workshops that offered strategies to help attendees build profitable and thriving businesses that compassionately serve the bereaved. The Expo Hall was a highlight for many because, in addition to connecting with valued supplier partners, they also discovered new products and services they can offer to families. From the Welcome Party at the Indiana State Museum to the closing party at Lucas Oil Stadium, our guests had many opportunities to network with their peers and experience the sites and sounds of Indianapolis."
Arranger Training Program Will Debut in 2016
During the Opening General Session, Pepper announced that NFDA was developing a new arranger training certification program.
According to Pepper, the arrangement conference – regardless of the manner of final disposition – is the opportunity for funeral directors to help families tell their loved one's story. The arrangement conference is where funeral directors need to convey the value of the funeral and build a connection of trust with families in order to help them plan meaningful funerals that honor their loved one and help them begin the healing process.
"Earlier this year, NFDA conducted a member survey and we asked them to identify the biggest challenge they face when meeting with families to plan a funeral," said Pepper during the Opening Session. "The number one issue, identified by over 73 percent of respondents, was explaining the value of a funeral. In a world where some people no longer recognize the value of honoring their loved one through a funeral or celebration of life, it is our responsibility to reintroduce our families to those traditions and values."
The arranger training program will debut in 2016 and is being developed by funeral directors. It will offer participants the tools they need to help families understand the value of the funeral, the value of the funeral director and the value of the staff at a funeral home. The insights gained will help funeral professionals partner with family members to create meaningful services to honor the dead and help the living as they begin their personal grief journeys.
Honoring The Great Emancipator During The Service of Remembrance
A highlight of the 2015 NFDA Convention was the Service of Remembrance, which commemorated the 150th anniversary of the assassination and funeral of President Abraham Lincoln and enabled all present to honor the memory of colleagues and family members who died in the last year.
The service featured Fritz Klein of the Lincoln Institute for Education in Springfield, Illinois, who portrayed the late president and recited The Gettysburg Address and other readings. Local singer Josiah McCruiston from Marian University sang hymns of the period.
Lincoln aficionado Todd Van Beck of John A. Gupton College shared the story of the president's funeral – a three-week journey by train from Washington, D.C., to Springfield, Illinois. As the train made its way from town to town, communities along the route gathered to mourn and pay tribute to their revered leader. He also shared the many ways in which Lincoln's funeral impacted the funeral service profession and shaped the public's understanding of the importance of ceremonies that honor the dead.
A collection taken up at the Service of Remembrance yielded $3,618 for Greater Indy Habitat for Humanity.
Giving Hearts
On Saturday, October 17, NFDA volunteers shared their time and talents with Greater Indy Habitat for Humanity.
Volunteers built storage sheds at two Habitat homes. The homes are being constructed for Maria Gilpin, a single mother of two who also cares for her disabled father, and Omar and Tenagne Noureldin, the parents of two children who came to the United States from Africa in 2012.
Thanks, in part, to the generosity of NFDA volunteers, the Gilpin and Noureldin families will realize the American dream of home ownership.
"Members of the funeral service community are compassionate, giving people," said Pepper. "Habitat for Humanity is a wonderful organization, and I am so proud of our attendees' and exhibitors' generosity. Their time, talents and treasure will make a tremendous difference for Maria, Omar and Tenagne."
NFDA Honors Funeral Service All-Stars
During the All-Star Recognition Ceremony, NFDA recognized funeral professionals who are Certified Crematory Operators (CCO), Certified Preplanning Consultants (CPC) and Academy of Professional Funeral Service Practice (APFSP) Certified Funeral Service Practitioners (CFSP). NFDA also recognized funeral homes that are Green Funeral Practice Certificate holders and 2015 Pursuit of Excellence Award recipients – including the Best of the Best Award Recipients, 2015 Hall of Excellence Inductees and firms celebrating a participation milestone.
NFDA took time to celebrate the 35th anniversary of the Pursuit of Excellence Award program during the All-Star Recognition Ceremony. The seeds of what would become the Pursuit of Excellence program were planted in the early 1980s when the NFDA Executive Board recognized it was time to share the funeral service story and commitment to excellence to a broader audience.
NFDA knew there were many, many good funeral homes dedicated to serving families and their communities and there were thousands of funeral directors dedicated to providing service at the highest levels excellence and integrity. The challenge was finding a way to share that knowledge with the public.
Thanks to then president-elect Richard Myers, NFDA found an answer: the Pursuit of Excellence Award program.
At the 1980 NFDA Centennial Convention in Boston, NFDA conferred the first Pursuit of Excellence Awards on member funeral homes. Today, 35 years later, the Pursuit of Excellence program created by Myers continues to be a vital tool for helping funeral homes achieve and maintain an international standard of excellence. The program helps NFDA tell the story of funeral service by highlighting the ways in which association members serve grieving families and their communities.
For founding the Pursuit of Excellence Award program and his steadfast devotion to promoting funeral service excellence, NFDA presented a special token of appreciation to Myers, which was accepted by his son Shaun Myers on his father's behalf.
Funeral Service Suppliers Recognized for Most Innovative Product and Best Booths
NFDA presented the 2015 NFDA Innovation Award to ASD – Answering Service for Directors for its new product MobileFH™ during the Opening General Session. Established in 2009, the NFDA Innovation Award recognizes and promotes creativity, innovation and excellence among funeral service suppliers and vendors.
During the Wednesday General Session, NFDA recognized three funeral service suppliers for having the best booths in the Expo Hall during the 2015 Convention.
Convention attendees voted for their favorite booths in the Expo Hall in three categories; attendees were asked to judge booths based on five criteria: creativity, imagination and originality; use of product, images and visuals in booth design; booth staff's enthusiasm, friendliness and interaction with attendees; promotional giveaways; and overall appearance and experience.
The 2015 NFDA Booth Contest winners are:
Booths 400 square feet or larger: ASD – Answering Service for Directors
Booths 300 square feet or smaller: Grateful Glass
New NFDA exhibitors: Cremation Portraits
NFDA Convention Videos Now Available
NFDA offered free live webcasts of its general sessions to funeral professionals who were unable travel to Indianapolis. Archived video recordings of general sessions and other special events are available on the NFDA website, www.nfda.org/indywebcastrecordings.
Planning Underway for 2016
"It has been more than a century since NFDA last hosted a convention in Indianapolis and we hope it won't be another 100 years before we return," concluded Pepper. "Indy rolled out the red carpet for our attendees; we are grateful to the Indiana Funeral Directors Association for their assistance and generous hospitality. We appreciate the many fine workshop presenters who took time to share their expertise. We're thankful for the vendors who make our expo the largest in the world and offer attendees products and services they can use to better serve families. We appreciate the support of our generous sponsors who partner with us to help make this convention an invaluable experience."
Pepper continued, "Most of all, we're grateful to all the funeral professionals who attended the convention, especially those who came for the first time or traveled from outside of the United States to be with us. Our convention is strengthened by the presence of thousands of funeral professionals who are eager to learn from and share ideas with their colleagues from around the world."
Anticipation for next year's NFDA International Convention & Expo is already building. The 2016 NFDA International Convention & Expo will take place October 23-26 in the City of Brotherly Love, Philadelphia, Pennsylvania.
The second-largest city on the East Coast and fifth largest in the United States, Philadelphia is known as the cradle of liberty, a city of medical firsts and is the only UNESCO World Heritage City in the nation. A state-of-the-art Convention Center, with world-class shopping, nightlife, culture, dining and thousands of hotel rooms all within a few blocks, make Philly the perfect site for the 2016 NFDA International Convention & Expo.
Funeral professionals can visit www.nfda.org/indywebcastrecordings for a preview of what lies in store at the 2016 NFDA International Convention & Expo.
NFDA thanks its 2015 International Convention & Expo sponsors for their continued support:
Platinum: Federated Insurance, FCA US LLC
Gold: Batesville, Frazer Consultants, Matthews Aurora Funeral Solutions, Messenger, NGL Insurance Group, Physicians Mutual
Silver: ASD – Answering Service for Directors, Bass-Mollett Publishers, Carriage Services, Everpresence, Homesteaders Life Company, Implant Recycling, Live Oak Bank, Madelyn Company, Nomis Publications Inc.
Bronze: ClearPoint Federal Bank & Trust, Doric Products Inc., Forethought Life Insurance Company, HeavensGate Funerals, Hunter-Warfield, Inman Shipping Worldwide, Kelco Supply Company, Link Manufacturing, LoveUrns LLC, Wilbert Funeral Services Inc., Wuxi ANA Industries Co. Ltd.
NFDA is the world's leading and largest funeral service association, serving 19,700 individual members who represent more than 10,000 funeral homes in the United States and 39 countries around the world. NFDA is the trusted leader, beacon for ethics and the strongest advocate for the profession. NFDA is the association of choice because it offers funeral professionals comprehensive educational resources, tools to manage successful businesses, guidance to become pillars in their communities and the expertise to foster future generations of funeral professionals. NFDA is headquartered in Brookfield, Wis., and has an office in Washington, D.C. For more information, visit www.nfda.org.

ConnectingDirectors.com is the leading online daily publication for funeral professionals with a reader base of over 45,000 of the most elite and forward-thinking professionals in the profession. With ConnectingDirectors.com we have created a global community through an online platform allowing funeral professionals to Stay Current. Stay Informed and Stay Elite.

Latest posts by CDFuneralNews (see all)
You may be interested
Funeral Industry News
897 views
Funeral Industry News
276 views
Funeral Industry News
276 views
RELEASE THE FN CRAKN! | FUNERAL nation 114
CDFuneralNews
-
June 18, 2018
It's a barn burner... The Commander is moving his Command Post!!! Besides the Commander on the move, the boys speak…
Frontrunner Professional
3 views
Comments