World Famous Rapper Tweets Funeral Wishes; Wants 100% Rose Gold Plated Casket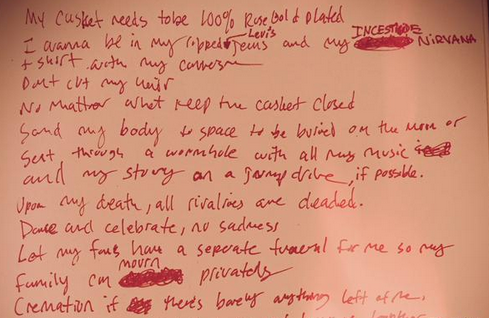 Article by Latifah Muhammad, Hip Hop Wired
Kid Cudi is preparing for his own demise, and  like any musician/actor/celebrity-type, he wants to make sure an important detail at his funeral is taken care of : his outfit.
He also wants to be buried with his dad — depending.
Cudi tweeted out a photo of the chicken scratch, which fans figured were lyrics. A close look at the shoddy handwriting shows that it's actually a will Hypebeast reports.
Here's what Cudster wants:
My casket needs to be 100% rose gold plated
I wanna be in my ripped Levi's jeans and my Incesticide Nirvana
T shirt with my Converse
Don't cut my hair
No matter what keep the casket closed
Send my body to space to be buried on the moon or
Sent through a wormhole with all my music
and my story on a jump drive, if possible.
Upon my death, all rivalries are deaded.
Dance and celebrate, no sadness
Let my fans have a separate funeral for me so my
family can mourn privately
Cremation if there's barely anything left of me,
or else dig up my dad's body and bury us together
wherever my mom sees fit. funeral must be
This scribble could still be lyrics, maybe a poem set to soft music for Speedin' Bullet to Heaven? Or art work for the album? We never know with this guy.
It's Cudi' world, we're just visiting.
ConnectingDirectors.com is the leading online daily publication for funeral professionals with a reader base of over 45,000 of the most elite and forward-thinking professionals in the profession. With ConnectingDirectors.com we have created a global community through an online platform allowing funeral professionals to Stay Current. Stay Informed and Stay Elite.
Latest posts by CDFuneralNews (see all)
You may be interested
Cremation
3 views
Funeral Homes are Struggling to Keep Their Doors Open
Ryan Thogmartin
-
August 13, 2017
This is a topic and conversation that does not get talked about or covered enough. We all want to put the blame on cremation and ignore the fact that many of the issues facing funeral homes aren't because families choose cremation but because of bad business decisions of many funeral directors who don't want to change or accept cremation.
Jobs
2 views
Preneed Funeral Sales Advisor
CDFuneralNews
-
August 11, 2017
Premier Funeral Solutions is currently seeking a Preneed Funeral Sales Advisor . Premier Funeral Solutions offers tools and methodologies developed to help…
Marketing
3 views
12 Benefits of Social Media Every Funeral Home Needs to Know
Ryan Thogmartin
-
August 10, 2017
Social media is 'marketing.' It's not the new marketing, it's the current state of marketing, and funeral homes and death care companies can no longer afford to ignore it. There are so many reasons why death care companies need to get their heads out of the sand and start engaging on the platforms used by over 68% of all Americans.
Comments