3 Reasons Why Wrestling With Death is the Best Show On TV Right Now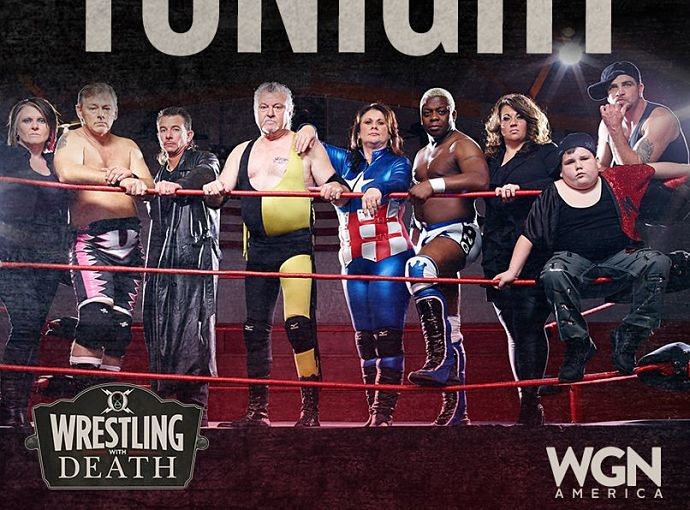 This article provides a great perspective on the controversial new reality show 'Wrestling with Death'. The article was originally published on WIBC.com and was not written by ConnectingDirectors.com.
Tell us below: Is this the best show on television right now?
———————————————————————————————————————————–
I almost missed it. Normally, commercial time during Monday Night Raw – yes, the wrestling show; this is the Electric Newsman we are talking about – is my time to do one of two things. If I am watching it live on Monday Night, I walk down the hall to tell my daughters to go to bed for the sixth time – it's a school night. If I am watching wrestling on DVR, I fast forward through the spots – as well as any boring matches. This time, I stayed on the big red couch at the Sun King Brewing Hancock County News Bureau long enough to see a promotional commercial for 'Wrestling With Death', a reality show coming to WGN America. I knew I had to watch it.
"Well of course you did. There's 'wrestling' in the title," said Purdue Percival, one of WIBC's producers down the hall (hint: not his real name). "Why, you'd watch 'Wrestling With Civil War Collectible Chess Pieces' if that was on." You got me there, Percy. But I had no choice than to check out Wrestling With Death because it also included part of my family's past that I don't talk about nearly as much as my passion for the squared circle – the funeral business. Both the wrestling business and the funeral home in the show are owned and operated by the Latham family of Osceola, Arkansas. Within five minutes of episode 1, I was hooked. Here are three reasons why I think you should be hooked on Wrestling With Death, too.
1. There is wrestling!
I have said it before, but professional wrestling, executed property, is the greatest of the performance arts. It is the most effective and efficient way to tell a story – again, when it is done the right way. I haven't seen a complete match involving Big Daddy LaFonce Latham, the star of 'Wrestling With Death' with whom I spoke this week, so I will not pass judgment on the quality of his Mid Southern Championship Wrestling promotion. It probably isn't up to the standards of the big league WWE, but to the people of Osceola, Arkansas, it is infinitely more important than the WWE. Latham's group is the quintessential small, independent wrestling promotion in a wrestling-is-the-only-thing-to-do-on-Friday night town. Most of the wrestlers have a first name relationship with the fans. You can't say that about any other sport.
The wrestling must be good for the Osceola fan base; as Latham told me, they have been doing it for 22 years, and LaFonce is still a force in the squared circle at 65 years old.
2. The funeral home
My maternal grandfather was a mortician and funeral director. He worked at Moore Funeral Home in my hometown, Trenton, Georgia, for many years. As a result, I was not scared of death as a kid – when Papa would leave for work whenever I happened to be at my grandparents' house, he told me he was going to see if anyone had "kicked the bucket" that day. Papa even took me on a couple of rides to pick up bodies – there's probably a law against that somewhere, but it was Trenton, where fireworks were illegal and you still could shoot a bottle rocket over a police car and not get in trouble. Papa would drive 100 miles an hour in the body-less hearse. He never got a speeding ticket, to my knowledge.
Years later, I would learn how much Papa meant to Trenton and how the funeral home was, arguably, the most important business in a small town. 'Wrestling With Death' shows the level of importance of the Latham family's Wilson Funeral Home to the people of Osceola in a serious, respectful way. While roughly half of each episode deals with a wrestling storyline, the other half features the interaction between the Lathams and the family of someone who had recently died, almost always someone LaFonce knew. "There's no redneck stuff, like people saying 'there's a body back there on the slab.' It's all professionally done as a tribute to this individual," Latham told me. A classy "In memory of" still shot of the deceased closes each episode.
"You have to learn to accept death," as LaFonce says. Once you do, you respect the jobs of those at the funeral home, particularly in towns where those in the funeral industry know virtually everyone whose last ride will be through their doors.
3. The show respects small town America
It was my intention to write "respects the South", given that I am a native, and too often we are portrayed as Larry The Cable Guy. LaFonce Latham and his family may share Larry's accent, but "Wrestling With Death" shows the depth of their character, via the family business and through LaFonce's efforts to teach his son-in-law Derrick and his grandson Max to be responsible people. I did not write "the South" because almost every small town in Indiana could pass for a small Southern town, often including the accent – y'all didn't know that, did you? City people don't always say nice things about the crowds at LaFonce Latham's wrestling matches or the crowds at the high school basketball game in New Castle or the rodeo in Greenfield.
A reality show production company could have easily pulled a Honey Boo Boo and gone out of their way to show how Osceola puts the 'neck' in redneck. Whereas Honey Boo Boo was/is an embarrassment to my home state, 'Wrestling With Death' shows small town people doing their best to do right by each other. Parts of the big city might not be so scary if the folks there took time to emulate that quality.
"Wrestling With Death" airs Tuesday nights at 10pm Eastern, with two new episodes each week, on WGN America.
Listen: To The Audio interview with "Big Daddy" LaFonce Latham of 'Wrestling With Death'

ConnectingDirectors.com is the leading online daily publication for funeral professionals with a reader base of over 45,000 of the most elite and forward-thinking professionals in the profession. With ConnectingDirectors.com we have created a global community through an online platform allowing funeral professionals to Stay Current. Stay Informed and Stay Elite.

Latest posts by CDFuneralNews (see all)
You may be interested
Funeral Industry News
1053 views
Funeral Industry News
285 views
Funeral Industry News
285 views
RELEASE THE FN CRAKN! | FUNERAL nation 114
CDFuneralNews
-
June 18, 2018
It's a barn burner... The Commander is moving his Command Post!!! Besides the Commander on the move, the boys speak…
Frontrunner Professional
3 views
Comments