Touching Portraits of People Facing Death with Acceptance and Peace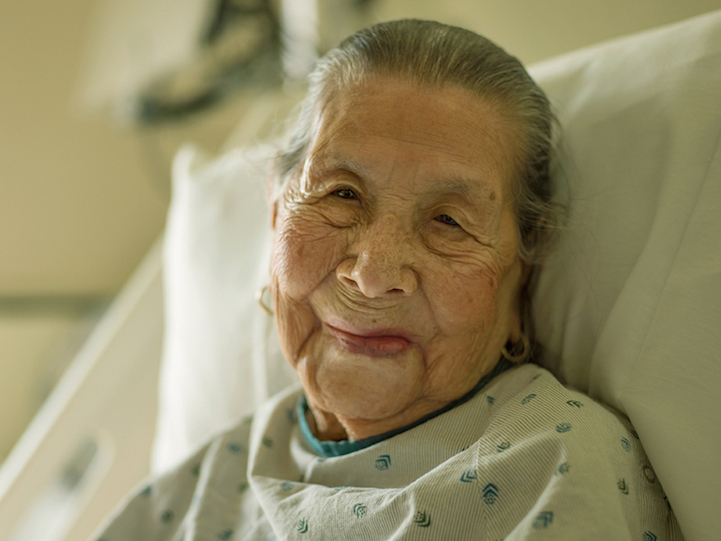 Article By Jenny Zhang, MyModernMet
Los Angeles-based photographer Andrew George's series Right Before I Die is a powerful meditation on life and loss, featuring touching portraits of ordinary people living out their final moments in the face of impending death. Although the end of life is a concept that humans have struggled to confront for thousands of years, the terminally ill subjects of these photos are no longer afraid of dying. Rather, as George reveals in his portraits and in candid words from the subjects, these everyday heroes await death with heartbreaking acceptance and quiet courage.
George was inspired to create this series after the passing of his friend's mother. "I marveled at how there was so much genuine love for her," he explained to the Huffington Post. "She was, quite simply, one of the best people I've known, yet, regrettably, was no one you'd ever learn about if you didn't know her because her material accomplishments did not include fame." The photographer became interested in documenting those living with the knowledge of their impending deaths, those "unremarkable" people who went unnoticed at bus stops, on the sidewalk, and in the supermarket.
"These portraits convey my admiration of 20 men and women who face an impending death and do so with acceptance and peace," says George. "I believe it takes real courage to accept that everything we see as so vital and integral to our lives will vanish. Some of us will have the fortitude to go beyond the fear of our mortality and confront this unknown journey bravely."
For more portraits and excerpts from letters and interviews with the subjects, be sure to check out the project's website.
Above: Josefina. "Life is the waiting room to death. We are just passing by because you already know that since we are born we are going to die and we have a specific day and we don't know when or where or how—I feel calm, at ease, because I already know I am going, so every night I tell God, 'You know what you are doing.' I'm not scared of dying; I already lived many happy years."
Chuck. "One of the happiest moments of my life? At the top of that list would be when I married Sally, who became my wife of 35 years."
Ediccia. "I love to open my eyes in the morning and hear all these birds by my window, there are so many, singing—that's the meaning of life for me—and feeling the sun on my skin."
John. "When I think of death it's like the beginning of a pain-free new way of life."
Kim. "I'm not afraid to die—I'm afraid of what I've got to do to get there."
Abel. "I feel like the door is opening; we go back when we're done with the job that we were put here to do—it's so simple, because it would be such a hoax if it weren't true."
Wanda. "I never know minute to minute what my life is going to be but I'm not afraid by that. I'm at peace because I've done everything that I've wanted to do and I try to be the best person I know to be."
Odis. "The last time you close the lid of a casket, that is the most heartrending thing you can do. You break, you just break. I have three children buried in Phoenix and four husbands are dead."
Donald. "Magnificent love, it goes on and on and on—that's how to love. My love is so supreme that even though my ex-wife remarried and loved another man, I still love her. You have to realize you can't always hold on to it, you have to just let it slide away."
Nelly. "I don't know how long I have to live—maybe today? Maybe tomorrow is my last day? I'm not sure. I am very happy, actually, and I don't have regrets even though I've been through hell. As far as I know, I've accomplished what I've had to accomplish in my life."
Sarah. "Time is so precious. God, it's precious…"
René. "There is no such thing as happiness in life. What we call happiness are contributions; all we have is what we are and what we have given at that moment."
Sara. "I think growing up with love makes people give love back. And you have to give love to receive love, you have to be good without expecting anything in return. You do it because it comes from within you to do it."
Ralph. "It's been a wonderful, wonderful ride."
via [PetaPixel], [Huffington Post]

ConnectingDirectors.com is the leading online daily publication for funeral professionals with a reader base of over 45,000 of the most elite and forward-thinking professionals in the profession. With ConnectingDirectors.com we have created a global community through an online platform allowing funeral professionals to Stay Current. Stay Informed and Stay Elite.

Latest posts by CDFuneralNews (see all)
You may be interested
Funeral Industry News
812 views
Funeral Industry News
812 views
It's Time to Think About Going Out of Business
CDFuneralNews
-
July 12, 2018
This is an open letter to funeral directors and the owners of family-owned funeral homes that have worked tirelessly for decades to build their businesses to where they are today, only to feel less secure than ever before.
Funeral Home Marketing
474 views
Comments