Undertaking the way home: Funeral profession revered in Detroit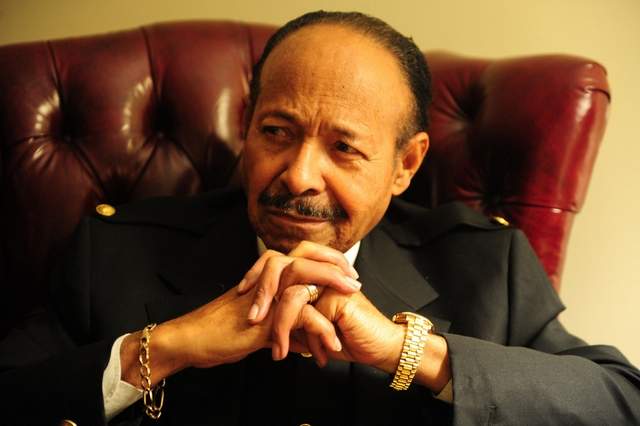 They have cared for their community's dead for more than a century.
From traditions like washing bodies before embalming to hosting lengthy funerals as a final nod to the departed, African-American funeral directors have a longstanding footing in their community.
O'Neil D. Swanson has been burying Detroit's dead for 54 years.
In fact, Swanson is only two generations removed from the first African-American funeral home in the United States, which was established in 1886.
The establishment of black funeral homes was as much a sense of "racial pride" as it was a necessity, he says.
"(White funeral homes) would not accept our bodies," says Swanson in reflecting on the history of African-American-owned funeral homes. "If you look back, that's why we have a black medical association … that's why we have our own association."
Like doctors, lawyers and schoolteachers, morticians and funeral home owners were revered in the African-American community in Metro Detroit and across the country. Swanson, among close to 10 black-owned funeral homes in the city of Detroit, says the funeral business was one where blacks could own businesses and contribute solidly to their communities.
"This is a place, a black business operating with dignity … with purpose," Swanson says.
While the black-owned funeral home has been a mainstay of the African-American community, its significant ties to its history are not widely known.
Earlier morticians also were ministers who buried the dead and conducted funerals, says Carol Williams, executive director of the National Funeral Directors and Morticians . Williams, a mortician and embalmer herself, notes the first black funeral home was established 126 years ago in Knoxville, Tenn.
"We were the bondsmen, we were the ambulances, (and) we were the notary publics," says Williams, whose organization has about 1,200 members who own or work for black-owned funeral homes in the country.
Part of black history
In their early years, black funeral homes were places where people were married and/or had lavish parties. During the civil rights movement, meetings to plan marches and protests were held at the neighborhood funeral home, says George Mason University history professor Suzanne E. Smith, author of "To Serve the Living: Funeral Directors and the African American Way of Death" (Belknap Press, 2010).
"They were key in the civil rights movement," Smith says. "Funeral directors were part of civil rights campaigns and sheltered civil rights activists in their homes. They also put up money to bail civil rights activists out of jail."
Both Smith and Williams say it was the Southern black funeral directors that kept civil rights activists out of danger by smuggling them out of potentially violent situations in hearses. Williams says the Rev. Martin Luther King Jr. had to be smuggled out of Montgomery, Ala., in a funeral hearse during the early years of the civil rights battles.
Smith says after the funeral for slain Mississippi NAACP field secretary Medgar Evers and other activists, black funerals became a sort of "political theater" to promote the civil rights movement.
"It was also a place where people could show respect and be treated with respect during the worst of the Jim Crow period," Smith says.
Venerated profession
Since the turn of the century, the funeral home business in the Metro area's African-American community continues to flourish.
James Henry Cole Sr. and his brother Charles opened his family's first funeral home in 1919. The Cole family now has four generations in the funeral home business, and in 2010 they opened a new chapel on Detroit's northwest side.
Karla Cole began her career in the family's business in 1975. As president of Cole Funeral Home, she says African-American funeral directors and morticians have and will always have a special place in the community.
"Funeral directors are revered in the black community because years ago there were only a few legitimate professions for a black person, such as the ministry and, as it was called then, undertaking. Black people only had their own to turn to when a family member died," says Karla Cole. " White people would not want to touch the black deceased, so we had to turn to our own for a dignified burial."
For her son Antonio Green, there was no doubt he would follow the family tradition.
"I opted to join the funeral profession and my family's business because I knew how important it would be to continue the legacy and build upon the foundation the generations before me had laid," he says.
Raymond Cantrell, at 91, is perhaps the oldest living African-American funeral director in Detroit. He says the funeral business represented solid opportunities for blacks at a time when there were few.
"When I came to Detroit, I never had any slightest idea I would get into the funeral home business," says Cantrell, a Georgia native. "The finance end of the (funeral industry) appealed to me."
The Rev. Gleo Wade, general manager of Stinson Funeral Home in Detroit, knew he wanted to be a mortician when he saw his first funeral director as a youngster accompanying his mother when she played the organ at funerals. He says he always wanted to be a mortician because of their standing in the community and their status.
"You were respected," says 58-year-old Wade. "It was one of the most stable positions blacks could have."
A mainstay for blacks
Lyn Lewis, former chair and professor emeritus of sociology at the University of Detroit Mercy, says the black funeral home is a mainstay in the African-American community for several reasons.
She says it was the black funeral directors who partnered with churches to make sure there was land available to build black cemeteries.
"They don't just take care of burials," Lewis says. "They know the people in the community. They help students in schools."
In recent years, funeral home directors have seen a shift in the manner of death, and the trend is disturbing.
Swanson, who took part last month in a hearse motorcade to protest the explosive numbers of Detroit homicides, says he is seeing too many youngsters end up on his embalming table as murder victims.
"We want the business, but we don't want it this way," says Swanson, whose family-owned business owns and operates three funeral homes in Metro Detroit. "It's just disturbing to me. This is something I have not adjusted to."
For Wade, the issue of homicide-related deaths has sometimes meant stepped-up security at funerals. "When we have a homicide death, we sometimes have to alert police about security," he says.
Despite the challenges in the African-American community, Swanson says he will always be there to lend support. "It's not what I can get but what I can give back."
Funeral traditions
Over the decades, customs common to the African-American community have become a part of the modern funeral and memorial service. Here are some of the customs:
Wake or family hour: Similar to visitations and are held the day before or an hour before the funeral.
Obituary programs: Booklets that contain more than two pages. Not only do they contain the obituary, they often provide a pictorial history of the person's life.
"Homegoing" or "Celebration": A service that commemorates the end of earthly life to the beginning of life in heaven.
Length of service: Typically two hours and tends to include more musical selections and more shared tributes from family and friends. Services lasting three hours or longer, as in the case of pop singer Whitney Houston, are common for celebrities and civic, religious and community leaders.
Funeral home fans: Distribution of handheld fans is part of long-held tradition of advertising in churches.

ConnectingDirectors.com is the leading online daily publication for funeral professionals with a reader base of over 45,000 of the most elite and forward-thinking professionals in the profession. With ConnectingDirectors.com we have created a global community through an online platform allowing funeral professionals to Stay Current. Stay Informed and Stay Elite.

Latest posts by CDFuneralNews (see all)
You may be interested
Funeral Industry News
850 views
Funeral Industry News
273 views
Funeral Industry News
273 views
RELEASE THE FN CRAKN! | FUNERAL nation 114
CDFuneralNews
-
June 18, 2018
It's a barn burner... The Commander is moving his Command Post!!! Besides the Commander on the move, the boys speak…
Frontrunner Professional
3 views
Comments