Should Patriotism Trump Your Business Obligation?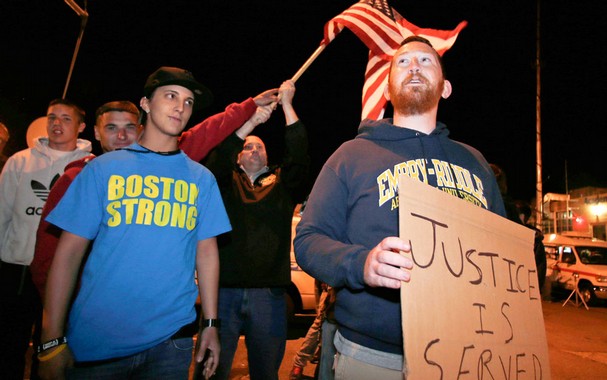 Last Thursday Dyer Lake Funeral Home in Attleboro Falls, MA. was tasked by legal representatives and authorities to transfer the body of  Tamerlan Tsarnaev, dead Boston bombing suspect, from the Medical Examiner to their funeral home, and then instructed by authorities to transfer the body elsewhere.
What happened next isn't entirely shocking but it went way beyond what was understandable.
It's no surprise that local residents protested the funeral home, but some of the comments made went way beyond ignorant.
Warning: Explicit content below.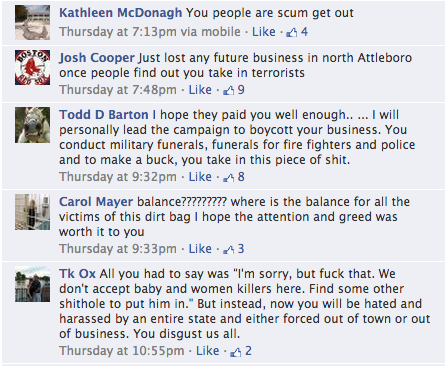 Some comments demanded that the funeral take down the American flag that waves proudly in the funeral home's front lawn.
The Dyer Lake Funeral Home issued the following statement:
We are Dyer-Lake. 
We are honored to serve our community: our neighbors, our families. We proudly fly the American flag. We stand at one with Boston.
Much has been said and written recently about Dyer-Lake. 
Some have said it was disgraceful or shameful that we transferred the body of a high-profile suspect from the Medical Examiner's office in Boston to our facility and held the body briefly. 
We, too, are horrified and outraged by the actions that killed, maimed and injured so many innocent people. It was inexcusable. 
We understand and share in the anger and disgust that surrounds such cowardly acts of terrorism. 
The fact of the matter is this: We were directed by legal representatives and authorities to simply transfer the body of this individual from the Medical Examiner to our facility, and then instructed by authorities to transfer the body elsewhere. 
We carried out the job we were asked to. This is what we do as a funeral home. We did not profit from our work. This was not about money. 
For those who demanded that we lower the American flag that flies so proudly at Dyer-Lake, please know this: Had we lowered the flag, then terrorism succeeds. 
We are one with Boston, one with our community, and we are Dyer-Lake.
---
No funeral home wants to be faced with a decision like this and I am sure it will cost them business down the road. But what the people of Attleboro Falls, MA should realize about Dyer Lake Funeral Home is that they are fair, not judgmental, honest, caring and above all else they are true americans that love and support the United States of America. They simply did their job.
A job that in no way brought any joy upon them.
We still pray for Boston and we as a profession should still support Dyer-Lake Funeral Home.
Photo credit: AP Photo/Charles Krupa
---
What do you think: if it was your funeral home would patriotism trump your business obligation?
CEO at DISRUPT Media and ConnectingDirector.com
Ryan Thogmartin is the Owner and CEO of DISRUPT Media.

DISRUPT Media is a full-service creative agency built for the now. We partner with death care companies to drive deep-rooted brand loyalty and measurable leads through social media.

More Fans. More Conversations. More Leads.

Ryan is also the founder of ConnectingDirectors.com. ConnectingDirectors.com is the leading online daily publication for funeral professionals with a reader base of over 45,000 of the most elite and forward-thinking professionals in the profession. With ConnectingDirectors.com Ryan has created a global community through an online platform allowing funeral professionals to Stay Current. Stay Informed and Stay Elite.
Latest posts by Ryan Thogmartin (see all)
You may be interested
Funeral Industry Press Releases
65 views
News
186 views
We are Building Something Exciting for You… and We Need Your Help!
Justin Crowe
-
January 31, 2018
We want to make your deathcare job easier. Tell us what you want in this 2-minute survey and get entered to win $100! The Connecting Directors and Disrupt Media teams are excited to be planning some new free funeral home marketing content and products for you in 2018 and we want to know what you need most! We want to know your biggest business wins of 2017, the tasks in your day that you hate, and what you feel is holding you back!
Comments