Alan Creedy and The Arrangers Academy Announce Joint Initiative Aimed at Revitalizing Funeral Service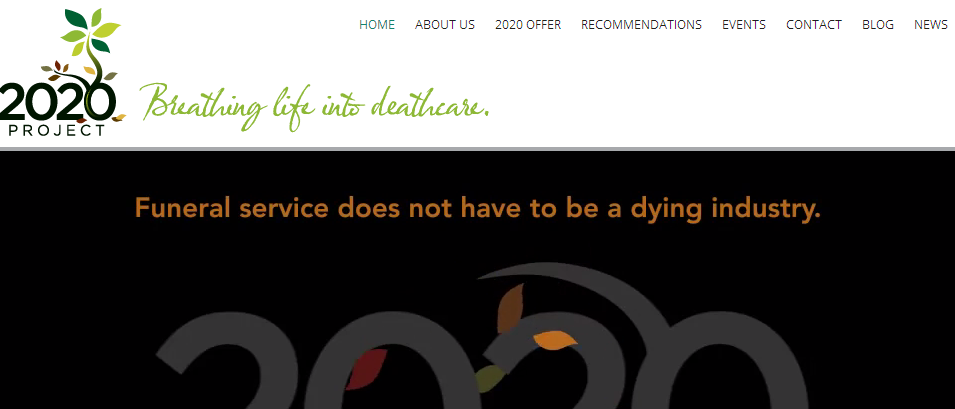 Alan Creedy and The Arrangers Academy announced today that they have launched The 2020 Project, a joint initiative focused on reversing the declines that have negatively impacted the funeral industry for decades.
Arrangers Academy CEO, Karl Jennings says, "Profitability in Funeral Service has declined for more than 25 consecutive years.  In spite of some valiant efforts to hold on to the past, Funeral Service is currently in a race to the bottom."
Creedy, who recently published an online "Funeral Cliff Calculator" (http://2020-project.com/doing-nothing-is-too-expensive/) to illustrate the crisis facing the industry, stated, "With trends continuing to spiral downward, it is simply a matter of applying the math to determine when the nexus point for profits reaches zero and heads into the negative."
The 2020 Project, named for one projection of when many firms in the funeral industry will hit zero profitability, is designed to provide real, practical solutions to funeral industry professionals who have battled rejection and loss of perceived value in the collective eyes of society.  2020 Project partners are offering cutting edge arrangement training, funeral home assessments, leadership training and coaching, and a comprehensive new funeral home business model that is designed to connect to today's families and the customers of the future.
Creedy says, "We are enthusiastic about the future. In spite of the trials we all face we believe that transformation is possible and we believe both the personality and character traits of those called to this profession, given the right tools and training, are the right ones to meet this challenge."
According to Jennings, "The time for letting go of the past has passed; only those living in a time warp can continue funeral service of the 1950's.  The good news is that the vast majority of us are still in a position to create the future.  Our collective energies must be shifted to creating a future instead of continuing to try to manage the decline by trimming margins, creaming the top of the market, expanding market share by acquisition, leveraging generational equity or exhausting economies of scale."
Alan Creedy has been a leader, industry expert, funeral home consultant, author and speaker in the DeathCare Industries for more than 32 years.  He publishes two weekly newsletters titled "The Creedy Commentary" and "The Creedy Roundup" which strive to help practitioners think for themselves as they face an increasingly complex customer and business environment.
Karl Jennings is CEO of the Arrangers Academy and Borek Jennings Funeral Homes. A first generation funeral home owner with 30 years of experience, Jennings and his partner, Todd Borek, have developed a new model for funeral homes that has been described as both "revolutionary" and "industry changing."  The new model is taught at the Arrangers Academy in Hamburg, Michigan, has been used with resounding success at the four Borek Jennings locations in southern Michigan as well as at a growing number of funeral homes across the U.S. and recently in Canada.
For more information about the 2020 Project, please visit http://www.2020project.info

ConnectingDirectors.com is the leading online daily publication for funeral professionals with a reader base of over 45,000 of the most elite and forward-thinking professionals in the profession. With ConnectingDirectors.com we have created a global community through an online platform allowing funeral professionals to Stay Current. Stay Informed and Stay Elite.

Latest posts by CDFuneralNews (see all)
You may be interested
Funeral Industry News
395 views
Funeral Industry News
1185 views
Comments