If Your Firm has a Payment Policy…Then Why Does Your Firm Have Accounts Receivable?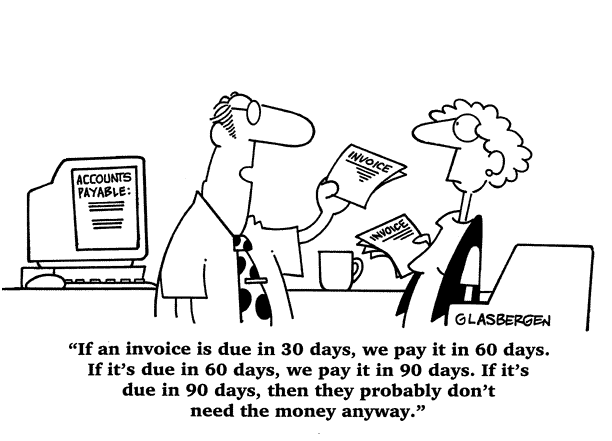 Guest Article By: Jeff Harbeson, Funeral Finance, LLC
I have visited over 500 funeral homes during my tenure in the funeral industry.  In nearly every arrangement room, either on the arrangement table or placed on a nearby credenza is the "We accept full payment upon completion of arrangements" sign.  Occasionally, the same message is found on the GPL.  The forms of payment (cash, checks, life insurance, credit card, pre-paid contracts or payment program) generally follow the statement.
If these signs and information are clearly in view of the families being served, why do so many funeral service providers experience difficulties with collecting the money owed for goods and services immediately upon completion of arrangements?  Why is there so much angst from funeral directors on the subject of collecting funds?  Why must a family be subject to making complete arrangements including selection of services, casket, vault, etc. Then, upon presentation of the total goods and services statement… silence.  If the family does not have life insurance, the next conversation is often "do we have to pay all of this today?"  Of course, the funeral director is wondering why the family did not look at the sign on the table.  At that point the "Payment Policy" is reviewed.  What happens next?  The family may go into "conference" to decide how to divvy up the bill.  OR…they start to undo the work already performed by the funeral director.  Most likely the first change is the casket, then the vault, and sometimes even services get reduced.  OR…the family asks "how much cheaper is cremation?"
Having the preverbal payment policy sign in clear view is not enough.  In fact, not addressing payment early in the arrangement creates more work for the funeral director (in cases where minds are changed), angst and pressure for the family, and cash flow challenges for the funeral home, because full recovery of the GPL prices becomes less likely. (That's another serious subject for another day).
Everything begins with the funeral home management and ownership.  Making a firm decision that payment really is due, or at least secured, upon completion of arrangements is paramount.  Next, training must be conducted regarding how to broach the payment policy early in the arrangement process.   Simply making a directive or placing a new sign on the arrangement table is not going to solve the issue.  I have met with hundreds of funeral home owners and management and one of the major challenges most agree upon is that "once the arrangement room door is closed, we really don't know exactly what goes on in there."  Let's face it, the arrangement room is where all the money is made, and where a lot of money is lost.  The outcome of the arrangement conference is often subject to the experience, professionalism, personality, mood, and skill of the funeral director in the room.  So, one simple step toward consistency of outcome for your staff is to create a solid payment policy for your firm, and train.
Certainly, once the decision to train is established, ownership and management will more than likely get resistance.  "I was arranging funerals when you were in diapers…we have a policy and sign already, I'm a director, not a collector," or my favorite, "I don't like to discuss money with my families"…and so on.  It's interesting that professional baseball players have batting coaches, but we do not train on a consistent basis in our industry (and no, CEU's once a year is not going to cut it).  As a tool, ownership and management should review funeral directors cases and determine the recovery of GPL pricing versus the total collected for goods and services.  I have found that numbers do not have opinions and provide opportunities for improvement.  This exercise will set up the necessity of training.
I have trained funeral directors and they have found tremendous success by doing the following:
Once a family had entered the arrangement room and settled, a funeral director should always offer condolences on their loss.  Empathize.
Thank the family for choosing your firm to assist them during this difficult time in their lives.  After all, they did choose your firm over your competition…thank them for their selection,
The FTC gives us a great tool for payment policy discussion…called the GPL.  As we all know, the GPL must be presented and explained at the onset of the arrangement session.  Period, no exceptions.
What's on the GPL?  Numbers…however, in front of the number is a $ symbol.  Thank you FTC!!!
5.      Once you have complied with the FTC regulations of presenting the GPL, then the next logical step is to…let the family know how you will accept the numbers on the GPL (your money).
Create a Payment Policy Sheet.  The sheet should display what forms of payment for the goods and services your firm will accept.
7.      The Payment Policy Sheet should clearly state that payment for goods and services are due upon completion of arrangements. THE FUNERAL DIRECTOR MUST STATE THAT PAYMENT IS DUE (SECURED) AT COMPLETION OF ARRANGEMENTS. 
Simply list:  Cash, Check, Life Insurance, Credit Card, Pre-Paid Contracts or Payment Plan (if you have one)…THE FUNERAL DIRECTOR MUST SHARE THE INFORMATION WITH THE FAMLIY…and just hand the sheet to the person that is making the decisions.
So…what happens now?  Why does this process make collecting funds simpler, remove angst from the family, and most importantly, make the funeral director's job easier?
The FTC mandates that a funeral director must present the GPL (and introduce finances into the discussion) at the beginning of the arrangement.  So, it's a perfect time to also present how you are going to accept payment for the services and goods.  A simple discussion backed up by written information is very easily accomplished (if trained).
If there is an issue with lack of funds, then a funeral director is helping the family to understand that their options may have limitations.  Why put the family through the whole process only to have the embarrassing discussion that they cannot pay for what was selected? AND…
That causes more work for the funeral director!  How many times have arrangements been made, and then the whole process (including finding out that the obituary is really expensive) must be significantly modified?  Sometimes, even starting over.  Sometimes moving from burial to cremation.  Remember, for burial, the family may still have to pay for cemetery costs if not pre-arranged.  And what a surprise they find when that shoe drops!
If a family is going to elect to use life insurance, then collect the policy(s) at this point.  Have a staff member check the validity of the policy immediately.  Have you ever made complete arrangements for a family that later after the process found out that the life insurance policy was no good?  AND…once again, that causes more work for the funeral director.
I trust that this information was helpful and that you will not only establish and demand that a payment policy be effective in your firm…but train your staff for a consistent outcome.  Most importantly, help the family to know and understand your expectations.  Trust me; they'll be appreciative for your professionalism!
About Jeff
Jeff Harbeson is a founder and developer of Family Choice Funerals & Cremations™, TouchPoints ™ (a funeral service operating platform), Preferencia Familiar™, and a former Batesville Casket Sales Representative.  Jeff is the Executive Vice President and Chief Operating Officer of Funeral Finance, LLC.  jeff@FuneralFinanceLLC.com , Twitter: twitter.com/funeralfinance, Facebook:http://www.facebook.com/funeralfinancellc
Jeff is also a featured expert for ConnectingDirectors.com's "Ask the Expert" column.

ConnectingDirectors.com is the leading online daily publication for funeral professionals with a reader base of over 45,000 of the most elite and forward-thinking professionals in the profession. With ConnectingDirectors.com we have created a global community through an online platform allowing funeral professionals to Stay Current. Stay Informed and Stay Elite.

Latest posts by CDFuneralNews (see all)
You may be interested
Funeral Industry Press Releases
79 views
News
189 views
We are Building Something Exciting for You… and We Need Your Help!
Justin Crowe
-
January 31, 2018
We want to make your deathcare job easier. Tell us what you want in this 2-minute survey and get entered to win $100! The Connecting Directors and Disrupt Media teams are excited to be planning some new free funeral home marketing content and products for you in 2018 and we want to know what you need most! We want to know your biggest business wins of 2017, the tasks in your day that you hate, and what you feel is holding you back!
Comments