Is There Really a Demand For Green Burials?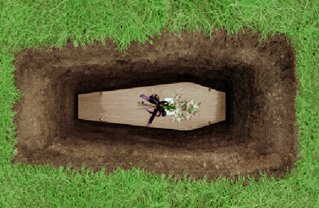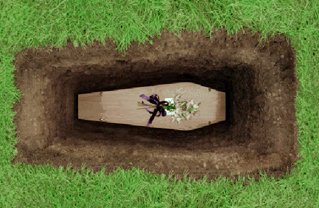 Source:  Minnesota Public Radio
ST. PAUL, Minn. — As environmental consciousness has grown in the country, some people like Theresa Purcell have questioned the practice of pumping dead bodies full of chemicals before they're buried in thick, concrete vaults in the ground.
"People are unfamiliar with the embalming process. People just hear that if you're going to be buried, you need a concrete vault but don't actually question the reasons behind that," said Purcell, who runs the Full Circle Project, which advocates for natural burials. "In the grand scheme of things, it's a huge waste of resources."
Purcell and her group promote a range of options, from wrapping a body in only a shroud to burial in a simple, biodegradable casket. She said traditional cemeteries are starting to offer services that are more environmentally friendly along with conventional services.
"A full-blown conservation cemetery is basically a nature preserve that has trails to walk through and it's 100 percent green burial: No embalming, no concrete vaults, only natural grave markers," Purcell said. "More existing cemeteries are starting to set aside an acre for green burial or just mixing them in with the other headstones."
There are no hard numbers regarding how many green cemeteries exist in the United States. But Joshua Slocum, who runs the national Funeral Consumers Alliance, said when he joined the organization a decade ago, there were only two commercially run green cemeteries. Now he knows of about 60.
In Minnesota, a couple options have emerged in recent years for people who want a green burial.
One of those is Prairie Oaks Memorial Eco Gardens, which Tony Webber and a business partner just opened in Inver Grove Heights. Plans for the three-acre cemetery include space for about 1,600 green graves, as well as areas for the interment of ashes.
"We will not allow any above-ground monuments, we won't mow the grass. The headstone will consist of a natural field stone with the head cut off," Webber said. "The concept is to feed the earth and not to damage it with the compounds."
Another advantage is cost. The National Funeral Directors Association put the cost of a conventional funeral at $7,755 in 2009. Webber puts the price for a green funeral in his cemetery at about $5,000.
Webber hopes people will come to regard the cemetery as a sort of public park. It will contain wooded areas, native grasses and a pond.
That's not that unusual. Although people don't hang out in cemeteries much now, they did in the past, said John Troyer, deputy director of the Centre for Death and Society at the University of Bath in England.
"The 19th century cemetery was very much designed as a park, as a public sphere for people to go and stroll through and eat," Troyer said. "Cemeteries that are going to more meadow type setups — or what's described as green burial — they are in some ways creating sort of a 21st century reinvention of what might be thought of as a burial ground."

ConnectingDirectors.com is the leading online daily publication for funeral professionals with a reader base of over 45,000 of the most elite and forward-thinking professionals in the profession. With ConnectingDirectors.com we have created a global community through an online platform allowing funeral professionals to Stay Current. Stay Informed and Stay Elite.

Latest posts by CDFuneralNews (see all)
You may be interested
Funeral Industry News
1819 views
Funeral Industry News
34 views
Funeral Industry News
34 views
Tukios Announces New HD Video Book Product
CDFuneralNews
-
June 20, 2018
OGDEN, Utah - Tukios has introduced an innovative new keepsake with the recently released Video Book. At an affordable price,…
Funeral Industry News
653 views
Funeral Industry News
653 views
Mean Internet Comments – Funeral Edition
CDFuneralNews
-
June 20, 2018
We shine a light on some of the harsh words posted on social media towards DISRUPT Media's CEO, Ryan Thogmartin.…
Comments