Phaneuf says reprimand will be part of federal challenge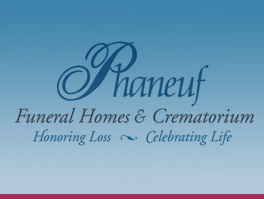 Source:  UnionLeader.com
A state board that regulates the funeral industry has reprimanded the president of one of the largest funeral businesses in the state, a reprimand expected to become part of a federal challenge the Phaneuf Funeral Home and Cremation Society of New Hampshire have brought against the regulatory board.
The reprimand against Arthur "Buddy" Phaneuf came last month, when the New Hampshire Board of Registration of Funeral Directors and Embalmers ruled against him in a 2010 complaint brought by a customer.
On Tuesday, Phaneuf said his lawyer has asked the funeral board to reconsider its finding, and its decision will likely become an issue in his federal court case against the board.
"There's significant errors of facts and law, and that's why there's an appeals process," he said. "Just because someone said 'this is what it is' doesn't mean that is what it is."
Phaneuf has gone to federal court to challenge the way the funeral board oversees the industry in the state. He said the board is made up largely of his business rivals, who have taken anti-competitive actions against him.
However, the lawyer representing the board recently asked Judge Steven McAuliffe to throw out the lawsuit.
The state attorney general's office said the federal system recognizes the ability of state courts to rule on issues involving federal rights, and federal courts should not become involved unless there is no forum for a person to have his complaints aired.
"Here, (state law) provides that final disciplinary actions by the (funeral) board may be appealed to the New Hampshire Supreme Court," Assistant New Hampshire Attorney General Laura E.B. Lombardi wrote in a response to the Phaneuf case.
A pretrial conference is scheduled for Aug. 14.
In its July 18 ruling, the funeral board found that Phaneuf employee Jeffrey A. Plasz acted as a licensed funeral director when he drew up a statement of funeral goods and services for Manchester resident Robert L. Holmes.
It also faulted Phaneuf for a mix up regarding the urn where the remains of Holmes' wife were to be placed.
When Holmes went to the Cremation Society to retrieve his wife's remains, they were inside an urn different from the model he had pre-selected. Initially, a Phaneuf employee told Holmes that his choice was outdated, but Holmes' urn was subsequently found in storage with Holmes' name on it, the board found.
The board said Phaneuf employees should have told Holmes that the remains could easily be transferred to his preferred urn because they were in a plastic bag.
"The board concludes that this course of events constituted unprofessional conduct, especially since this came at a time of emotional distress and personal loss for (Holmes) and (Phaneuf) and those in his employment should have notified (Holmes) immediately of the discrepancy and likewise taken the time to explain the transfer process," the board ruled.
The reprimand involves no penalty or fine, but it may be considered if the board receives complaints in the future.
The hearing took place after Phaneuf's lawyer tried to have it delayed because of the court case. Phaneuf lawyer Frank Mesmer also challenged the impartiality of Susan Simonds, the chairwoman of the funeral board and a Keene funeral director.
Manchester funeral director Thomas Janosz, a member of the board, was recused from the case.

ConnectingDirectors.com is the leading online daily publication for funeral professionals with a reader base of over 45,000 of the most elite and forward-thinking professionals in the profession. With ConnectingDirectors.com we have created a global community through an online platform allowing funeral professionals to Stay Current. Stay Informed and Stay Elite.

Latest posts by CDFuneralNews (see all)
You may be interested
Funeral Industry Press Releases
79 views
News
189 views
We are Building Something Exciting for You… and We Need Your Help!
Justin Crowe
-
January 31, 2018
We want to make your deathcare job easier. Tell us what you want in this 2-minute survey and get entered to win $100! The Connecting Directors and Disrupt Media teams are excited to be planning some new free funeral home marketing content and products for you in 2018 and we want to know what you need most! We want to know your biggest business wins of 2017, the tasks in your day that you hate, and what you feel is holding you back!
Comments