Alan Creedy Launches The Creedy Roundup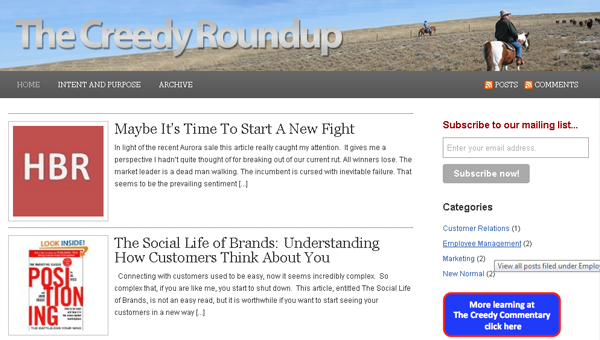 Raleigh, NC July 17, 2012 – Alan Creedy announced today the launch of a new weekly newsletter:  The Creedy Roundupavailable free to subscribers his website alancreedy.org or directly at creedyroundup.com.
Mr. Creedy is a well-known business analyst and strategist specializing in the DeathCare Industries.  His better than 30 years "hands-on" experience combined with his professional expertise as a Certified Public Accountant make him much in demand as an industry speaker and trade journal writer.  Mr. Creedy believes that the profession is on the threshold if its greatest opportunity but is concerned that many will miss that opportunity because of their death grip on the past.
In a statement to the press Mr. Creedy said:
"I can state emphatically who SHOULD NOT subscribe to this newsletter.  If you continue to think you can survive by wringing more shekels out of your best customers with doodads and casket merchandising tricks this publication is not for you!!

Here's the thing.  Let's pretend you own a funeral home or a cemetery.  You have worked hard your entire career to build it up.  Your heart's been in it.  You and your family have sacrificed with long hours and lost family time to serve the members of your community in their time of greatest need.  Your hope had been that when it was time for you to retire you could either pass it on to your kids or employees or it would be worth enough to provide for your retirement.

But lately profits have been going down…or disappearing altogether.  Your livelihood is in jeopardy!  Your wife and family's livelihood is in jeopardy.

As an experienced consultant and business advisor I have to ask what do you want from me?

Do you want flattering but meaningless eloquence?

Do you want me to make you feel good…stroke your forehead and tell you it's going to be all right?

Do you want me to distract you with the latest fad?

Do you want me to tell you how to wring yet another dollar out of your best customers

Or

Do you want me to tell you the truth and show you how to start making the future more secure and the margins improve …Right Now?!

Well I can do that.  But I can't do it alone.  You see, I am not in the "Magic Wand" business.  And, frankly, those magic wands you keep chasing after too often turn out to be matches that start fires that do real damage.

You are going to have to step up too.  I know it's confusing right now and I can unscramble that for you too, But you are still going to have to learn to think in new ways.  You are going to have to consider new perspectives.  You are going to have to believe that no matter what the muckrakers have to say we provide a vital service to society.  We know that… and the families we serve know that AFTER we have a chance to serve them.  But families today want to be served in different ways and employees want to be managed in different ways.  

Finally, you are going to have to face a simple reality.  I don't doubt you are a good funeral director or a good cemeterian.  I know you know your business.  But 100 years ago the guys who were the best horse handlers weren't necessarily the best prepared for the impact of the automobile.  Nor were the best silent movie actors prepared for talkies.  Like them, we aren't going to figure out what to do by about what we have been successful with in the past.  That's why I am launching this free newsletter.  I am hoping a few brave souls will begin to consider some new perspectives to begin regaining lost ground that we didn't have to lose in the first place if we had simply understood the fundamentals were changing"
Alan Creedy has been a leader, industry expert, funeral home consultant, author and speaker in the DeathCare Industries for more than 32 years.  He publishes another weekly newsletter titled "The Creedy Commentary" which strives to help practitioners think for themselves as they face an increasingly complex customer and business environment.  You can learn more about Alan at his website alancreedy.org where you can subscribe to both his commentary and the Creedy Roundup for free.

ConnectingDirectors.com is the leading online daily publication for funeral professionals with a reader base of over 45,000 of the most elite and forward-thinking professionals in the profession. With ConnectingDirectors.com we have created a global community through an online platform allowing funeral professionals to Stay Current. Stay Informed and Stay Elite.

Latest posts by CDFuneralNews (see all)
You may be interested
Funeral Industry News
522 views
Funeral Industry News
22 views
Funeral Industry News
22 views
Tukios Announces New HD Video Book Product
CDFuneralNews
-
June 20, 2018
OGDEN, Utah - Tukios has introduced an innovative new keepsake with the recently released Video Book. At an affordable price,…
Funeral Industry News
602 views
Funeral Industry News
602 views
Mean Internet Comments – Funeral Edition
CDFuneralNews
-
June 20, 2018
We shine a light on some of the harsh words posted on social media towards DISRUPT Media's CEO, Ryan Thogmartin.…
Comments