Screw-In-Ground Burial Container Granted US Patent?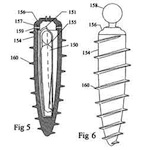 Yes, the title of this article is 100% correct.
The Easy Inter Burial Container has been granted a US Pantent No. 7,631,404.
You maybe asking just what is the Easy Inter Burial Container, here is how it is described in the patent:
A series of burial containers which can be pressed, agitated, screwed and or self bored into a receiving material and provide low cost interment methods. The burial containers being provided with hermetic sealing, security locking, plaque and memorial markers and built in flower and flag receptacles. They greatly reduce excavation labor and burial costs while providing the respectful funeral services currently practiced. They also decrease the land space required for each burial and provide for burials in normally unused areas within the cemetery, greatly increasing the number of burials possible in each cemetery.
Read below for more detail and pictures of the Easy Inter Burial Container concept.
The patent for the Easy Inter Burial Container was filied in 2006 and approved on Dec 17, 2009.
The inventor stats:
More than ever perhaps :

? Space is at a premium.

? Time is at a premium.

? Cash is at a premium.

Hence the need for the –

? Easy Inter Burial Container ?
? This invention relates to conserving land area and easy to install burial containers which can be pressed, agitated, screwed, self bored or by other means set into earth or other receiving materials and do not require a large amount of land area or a large pre-dug rectangular hole with subsequent refilling after the placement of the burial container. ?
The screw-into-the-ground casket will use only one third of the normal space required ? and ' bores its own final hole ' with assitance either by hand :
or, even more rapidly, with a specially adapted tractor backhoe:
The EIBC will normally be made of metal – but will also be available in clear plastic : " A clear plastic Easy Inter Burial Container, where the body is additionally encased in clear resin and is standing erect for all to view during installation, creates a very impressive image. "
Source: Really Magazine
The inventer is Donald Scruggs of Chino, California. He holds two other US Patents.
1. Postall – Easy Install Posts and Fences – Uses the same threaded concept os the Easy Inter Burial Container. (Source: PatentDocs)
2. Flushette – Partial and Full Toilet Flush Devices (Source: PatentDocs)

ConnectingDirectors.com is the leading online daily publication for funeral professionals with a reader base of over 45,000 of the most elite and forward-thinking professionals in the profession. With ConnectingDirectors.com we have created a global community through an online platform allowing funeral professionals to Stay Current. Stay Informed and Stay Elite.

Latest posts by CDFuneralNews (see all)
You may be interested
Funeral Industry Press Releases
76 views
News
189 views
We are Building Something Exciting for You… and We Need Your Help!
Justin Crowe
-
January 31, 2018
We want to make your deathcare job easier. Tell us what you want in this 2-minute survey and get entered to win $100! The Connecting Directors and Disrupt Media teams are excited to be planning some new free funeral home marketing content and products for you in 2018 and we want to know what you need most! We want to know your biggest business wins of 2017, the tasks in your day that you hate, and what you feel is holding you back!
Comments