Australia's Favorite Digital Funeral Platform, Memories, is Hitting the States!
Among the many valuable lessons deathcare professionals learned from the COVID-19 pandemic was the necessity of offering online options. In fact, services like livestreaming and digital guest books have become indispensable; families simply expect you to provide them. As technology advances and more services become available, it no longer makes sense to cobble together digital options from multiple providers. That's just one reason Memories' digital platform of five innovative services is the most logical, economical, and forward-looking solution for today's funeral home.
Introducing Memories
Memories was introduced in Australia three years ago by Memories Group Limited, a group of professionals with diverse backgrounds in media, technology, storytelling, and entertainment. Although different paths led them to one another, each came to Memories Group with personal experiences of losing loved ones and a common recognition that deathcare was ready for digital innovation.
"This was a textbook opportunity to really modernize and technologically innovate an industry that hasn't gone through that digital innovation curve that many other industries have gone through," explains Kosha Gada, Chief Executive Officer of Memories Group Limited. "I think the industry is demanding a digital solution, and Memories is the only one that is integrating every digital touchpoint that happens."
Gada, who landed in Melbourne, Australia following senior executive stints at Comcast and NBC Universal, is excited about what Memories Group has created — and she and her team are eager to introduce the one-of-a-kind Memories platform to deathcare professionals in the United States.
"It's the only fully-integrated digital platform that consolidates the whole funeral customer journey from the moment a loved one passes away through the seven to ten days on average of preparation that goes into the service to the actual service and then post-need," she explains.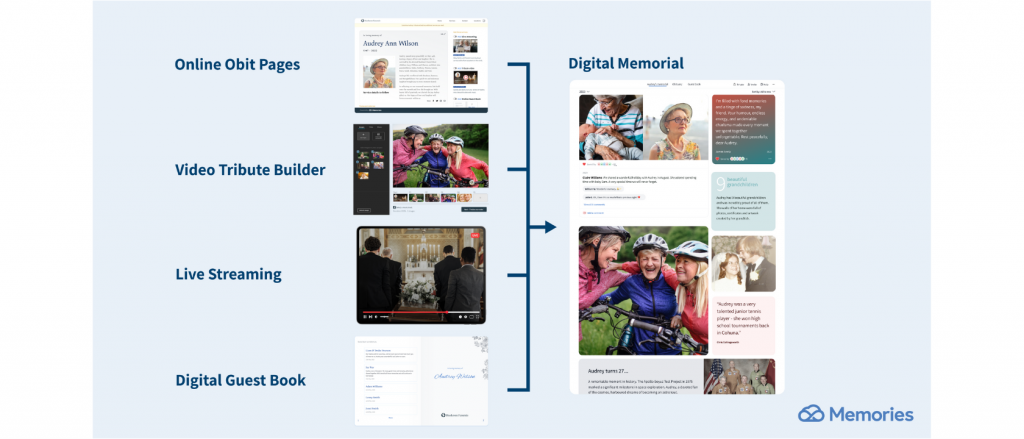 "We're very excited to take the success we've had in Australia where we actually now touch one in four funerals."
Through their relationship with Invocare, Australia's largest funeral provider and a strategic investor in Memories Group, Gada and her team have been able to share Memories services with about 25% of the country's funerals. Hundreds of independent operations have also subscribed to the digital platform, allowing nearly 45% of all families to experience digital options from Memories's fully-loaded suite.
Integration is the answer
Today, the full Memories platform includes five distinct, yet fully-integrated, digital products: Online obituary publishing, a livestreaming service, video tribute building capabilities, and an omnichannel digital guestbook, all of which culminate in a lasting digital memorial. Each component features an elegantly-designed, white-labeled, cohesive user interface as well.
"All of the content assets that are created or submitted through the digital process land on a prepopulated beautifully-curated digital memorial that tells a life story of the loved one," Gada explains. "The memorial helps to elevate the experience and help the family process their grief. I think it can be quite emotional and cathartic to get that memorial at the end of the service when the dust settles and look at it, add to it, share it, and hopefully preserve it forever so future generations will always remember the story."
For deathcare professionals, the beauty of Memories extends to its ease of use and time-saving capabilities. Users can access all products in the Memories platform with one login, and complimentary seamless integration with other existing technologies, such as case management systems, means information about the deceased doesn't have to be entered multiple times into multiple programs.
"In general, the job of a funeral director is too complicated right now, with too many systems to log into, and we don't want to add one more thing to that," Gada says. "Our customers love the ease of this platform, that it's one login to one system and they can just turn on the digital experience that compliments the service and differentiates them in the market."
How it works
Memories is a subscription-based service that Gada likens to a "digital funeral in a box" or a "funeral unpacked" package. As more and more features and digital services are added to the platform, subscribers can automatically enjoy the upgrades and additions at little to no additional cost.
"I call it the Netflix-ization that happens in every industry, where you get better and better products [that replace older, more expensive solutions]," she explains. "For us, like any digital business model, the marginal cost of improving our feature set is not that high, which means we're able to pass that on to the funeral director. You get better and better technology over time for a price that stays close to the same or only marginally increases."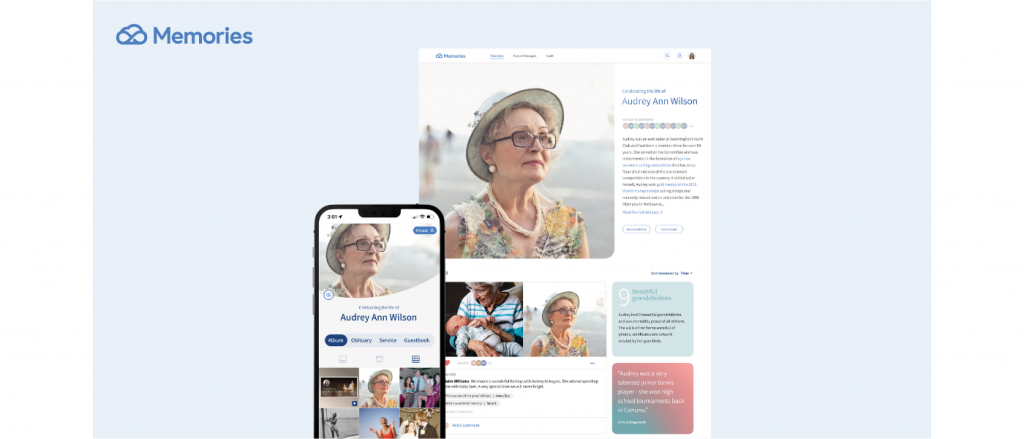 Cutting-edge technology that simplifies the funeral experience for directors and families will always be at the forefront of Memories offerings. In addition to the integrations that lets data flow from one component to the other, the platform offers QR code kits for in-person guestbook additions, and an upcoming AI-assisted obituary writer.
Although the benefits of integrating all five Memories options provide excellent value over the five separate systems you may currently be using, customers can choose to implement only certain components of the digital platform. Adding to your platform at a later date is something the Memories customer support team will be ready to help you do. They're also available for round-the-clock tech support, although the system's high reliability rate means technology issues are rare, if not non-existent.
Reap the benefits
Scaling down the number of disparate systems you and your team manage doesn't mean you have to scale back the options you can offer the families you serve — or your potential profits. With Memories, you get more services for less with the right and permission to bake your digital offerings into your pricing structure.
"What we've seen is the funeral industry is absorbing a lot of the costs and they're not uniformly passing them on to the customer," Gada explains. "They pay a vendor to offer it, but they're not recouping it. The customer sees value and gets value from these services, though, so [a subscription to Memories] can actually open up new revenue streams in the digital lane."
Memories will be fully available in the U.S. this fall, but if you're attending the National Funeral Directors Association (NFDA) International Convention & Expo next week in Las Vegas, you can get ahead of the game! Just stop by the Memories booth, number 1656, just a few rows off the main aisle, to talk to the Memories team and learn more about this exciting platform. You can also visit www.memories.net/partners, email partners@memories.net, or call 940.344.4468.