What do you do with 1,500 used temporary urns?… Hydroponics
Funeral directors everywhere are familiar with the "temporary cremation container," also known as the "black box" or "temporary urn." Over the last century, it has become the industry-standard cremated remains receptacle for families choosing direct cremation, or families that decide not to purchase an urn or a method of permanent placement. The (never spoken out loud) intention of this plastic box is to encourage families to purchase a higher-end urn. It has the perfect, inoffensive balance of functional-but-not-pretty, although some deathcare professionals believe it's doing more harm to our profession than good.
In 2019, Parting Stone introduced a new form of remains for families choosing cremation. Their service solidifies 100% of the remains into a form that resembles 40-60 smooth stones that can be touched and held by families. Their website reads, "No more uncomfortable 'ash.'"
Now, 2 years after launching, the company works with around 350 funeral homes and they are facing a problem.
"We have received over 1,500 black boxes that we don't know what to do with," explains Justin Crowe, Founder and CEO of Parting Stone. "They just accumulated slowly until one day we realized we had a major issue that was not going to resolve itself."
As it turns out, developing the first-ever alternative to cremated remains comes with challenges. Once the solidification process is complete the "stones" are returned to partnered funeral homes in a beautiful cotton cloth bag and pine box, replacing the standard zip-tied plastic bag and black box with a faulty latch. The original black box gets left behind at Parting Stone's lab.
The more families there are that choose solidified remains over cremated remains, the more obsolete the black box becomes.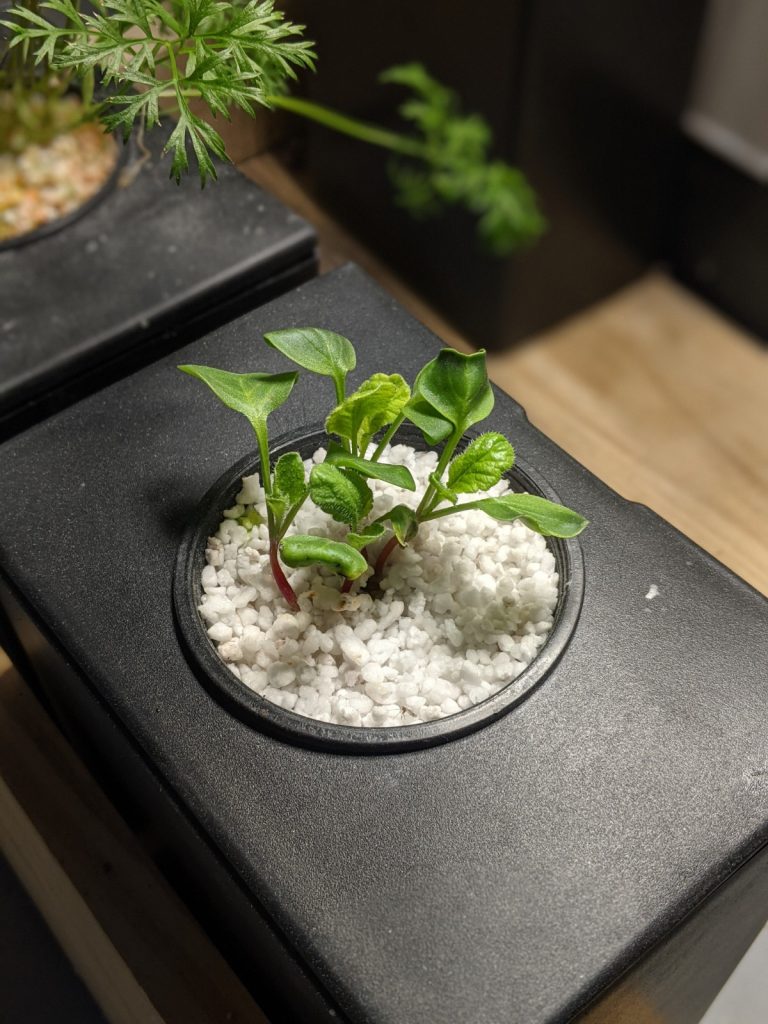 The problem Parting Stone faced is that many temporary urns are made of #5 plastic which is unrecyclable. The idea of sending 1,500 boxes, making up 1,000 pounds of plastic, to a landfill did not align with Parting Stone's Public Benefit Corporation mission and so they set out to find another solution.
"We've brainstormed dozens of ideas on how to upcycle the boxes," said Crowe. "We've considered using them to construct walls and furniture, we tried to donate them back to funeral homes for reuse, and we've thought about finding a plastic-eating bacteria to help break them down."
In the spring of 2021, Sam Funk, Parting Stone's Order manager who tracks the 200+ sets of remains in the lab at any given time, had an idea.
"In the past, I've grown hydroponic gardens at home as a hobby," said Funk. "The ideal container for a small, single hydroponics plant is about the size of a large mason jar and has completely opaque walls to keep light from growing algae in the water. One day it occurred to me that the used temporary urns were the perfect containers for hydroponics."
Hydroponics is a gardening technique using only water, nutrient solution, and seeds. You need a container for water and nutrient solution, a growing cup for the seeds, and sunlight. Hydroponics has become popular as you can grow food and flowers indoors, year-round, with limited space.
In the fall of 2020, Funk began to test his black box hydroponics garden theory in the staff lounge area at Parting Stone's lab. The garden grew quickly, producing a variety of lettuces, radishes, herbs, and flowers.
When the garden was fully grown… Sam harvested and made a salad. Funk and Parting Stone documented the entire process in the video below.
The project was such a success that Parting Stone has created a Downloadable How-To Guide so other death care professionals can replicate their process.To download your free copy of the how to guide click the button below:
Hydroponics has provided one creative solution to Parting Stone's growing excess of temporary cremation containers, but they are still seeking a longer-term plan.
Register for this webinar to learn more about Parting Stone and how they are teaming up with funeral homes to offer families a comforting alternative to granular cremated remains. The webinar will be held on October 12th at 1 PM Mountain Time.