ASD's Web Form WatchDog™ Feature Now Protecting Over 1,000 Funeral Home Websites
Media, PA— ASD – Answering Service for Directors recently recorded a new milestone. The company's NFDA award-winning Web Form WatchDog™feature has now been added to more than 1,000 funeral home websites. ASD has also recently added advanced message screening technologies to this feature to filter out spam messages and ensure funeral professionals are only notified when an urgent need is communicated via their website.
Most funeral home websites have a 'Contact Us' form instructing visitors to leave their information and reason for contacting. Funeral professionals would frequently overlook these messages because they were often sent to a single, generic email address that was not monitored 24/7. In 2018, ASD introduced the company'sWeb Form WatchDog™feature to help funeral professionals become more responsive to submitted web forms.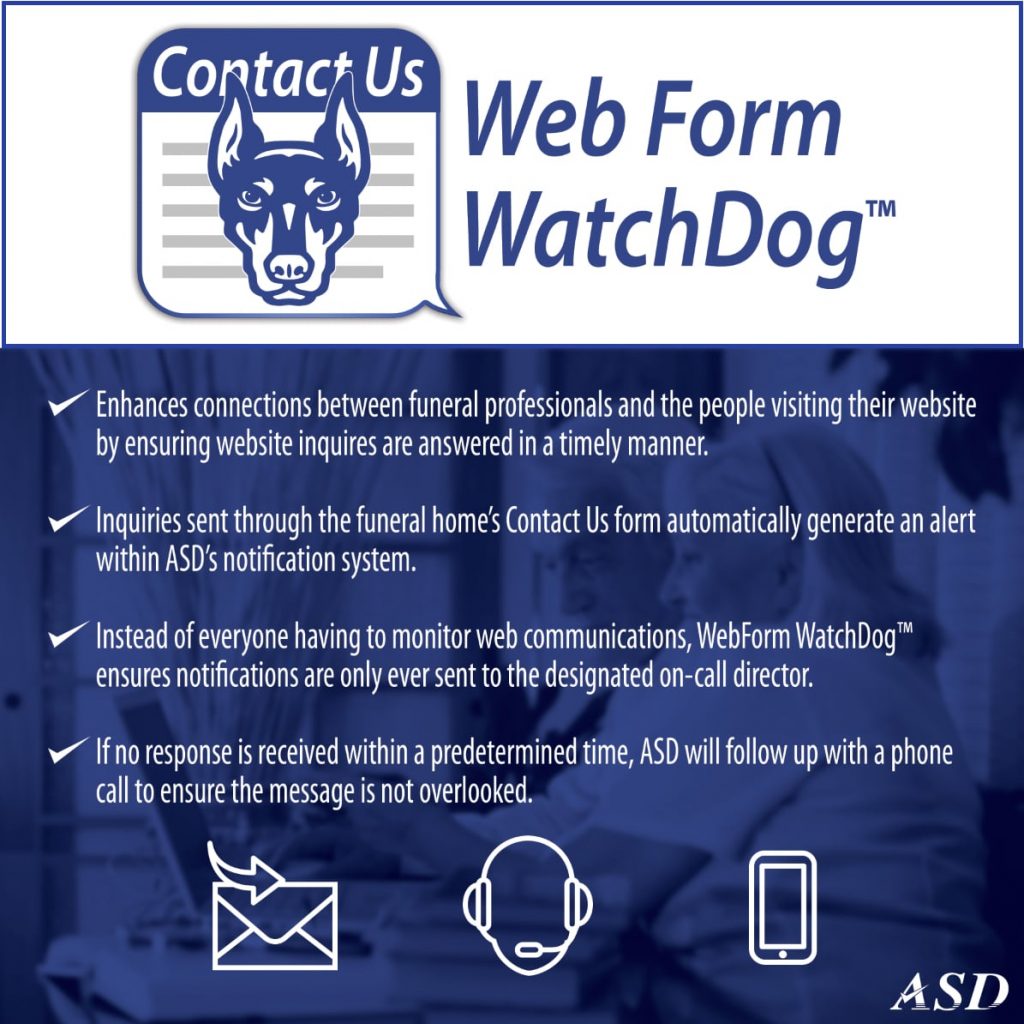 With this feature, time-sensitive inquiries submitted through the firm's 'Contact Us' form automatically generate an alert within ASD's notification system. This safety net ensures funeral home web queries are answered in a timely manner and are always sent to the designated on-call funeral director. ASD received the2018 NFDA Members' Choice Awardin recognition of the numerous benefits Web Form WatchDog™ offers to funeral homes. Since that time, this tool been activated onover 1,000 funeral home websites.
"We are pleased that the ASD web form option is available to the families to use," shared Funeral Director, Mysti Payne of Farmington Funeral Home in Farmington, New Mexico. "Currently, everything is moving to an electronic communications platform. It is amazing that ASD can contact us when families use our contact us web form on our website. It allows us to connect with the family quickly at the time that they need us."
One of the most powerful components to Web Form WatchDog™ is the advanced screening capabilities this feature offers which ensures on-call funeral directors are only notified when an urgent web form is submitted. Through this process, ASD's sophisticated system can automatically filter out any spam marketing messages. Messages that are not flagged automatically are then carefully reviewed by the company's Call Specialist Team who classify the message before it is dispatched. This screening process saves funeral directors valuable time while providing peace of mind that they are not missing anything important.
In an effort to better understand the impact of web communications on funeral homes, ASD analyzed data on web forms recently processed by the company. Within a two-week period, ASD received 1,330 web forms for the over 1,000 funeral homes currently using Web Form WatchDog™. Of these, 936 were legitimate messages (70%) and 394 were junk messages (30%). When examining the 394 junk messages, ASD found that 321 (82%) were filtered out automatically by the company's advanced system and 72 (19%) were filtered out by Call Specialists.
ASD's analysis of thousands of funeral home web form submissions also revealed that this method of communication has been used to report a death or imminent passing much more often than most might expect. Of the 936 legitimate messages that were sent within the same two-week period, 603 were classified by ASD Call Specialists as routine, non-urgent messages, 296 were urgent messages and 31 were new death calls.
These surprising results affirm just how vital it is for funeral homes to protect their website's 'Contact Us' page. Two at-need families are reaching out to a funeral home via their 'Contact Us' page every day to report a death. Concurrently, 21 urgent messages a day are being sent through via web submissions. These urgent communications range from preneed inquiries, to time-sensitive questions, to families calling about a loved one's upcoming service.
When an urgent web form is submitted, ASD will follow the designated contact preferences that have been specified by the on-call director. For example, ASD could email, text or send an ASD Mobile push notification with the new web form details. The on-call director has the ability to acknowledge the message via email, text, ASD Mobile or via ASD's website. If no response is received within a predetermined time, ASD will call the specified on-call person to ensure the message is handled in a timely manner.
Web Form WatchDog™ has been such an instrumental tool for funeral homes that ASD's FuneralSync™ partner, Consolidated Funeral Services (CFS), has made this a standard feature for all of their funeral home clients using ASD. The feature is also fully compatible with all funeral home website providers. To activate Web Form WatchDog™, directors can simply contact their web provider and request they add this tool to their funeral home's existing 'Contact Us' web page. In addition to funeral home websites, ASD's Web Form WatchDog™ can also be added to other funeral-related companies that receive time-sensitive order requests online. This ensures that casket, vault, urn and other funeral home merchandise companies can receive timely notification when a new order is placed via their website form.
"We aim to be more than an answering service for our clients. Our goal here at ASD is to be a technology leader, assisting funeral professionals in managing all aspects of their funeral home's communication,"says ASD Family-Member Owner and head of our Technology Team,Marty Czachor, Jr."Right now, funeral directors are being pulled in so many different directions and may be overlooking some forms of communication. Our Web Form WatchDog™ gives funeral homes a second line of defense and gives directors added peace of mind, allowing them to provide an enhanced level of customer service to their website visitors without having to sacrifice personal convenience or efficiency."
About ASD
ASD – Answering Service for Directors has created a new class of answering service for the funeral profession. Family owned and operated since 1972, ASD blends state-of-the-art technology with an extensive, 6-month training program focusing on compassionate care. The company's custom-built communication systems and sophisticated mobile tools were designed solely to meet the needs of funeral professionals. By offering funeral directors unmatched protection for their calls, ASD has redefined the role of an answering service for funeral homes. For more information, visitwww.myASD.comor call 1-800-868-9950.