Messenger Expands Top-Tier Stationery Offering With New Genuine Leather Register Book
AUBURN, IN – Messenger, a leading provider in stationery, funeral service and personalization solutions, has added a new genuine leather register book to its M Collection of top-tier stationery offerings entitled Merlot. The oversized register book cover is made in the U.S.A. from top-grain genuine leather by Rustico®. The Merlot register book resembles a high-end leather journal and features exposed edges with loop closure for sophisticated detail and broad appeal. The book pages feature a modern marble texture and foil accents throughout.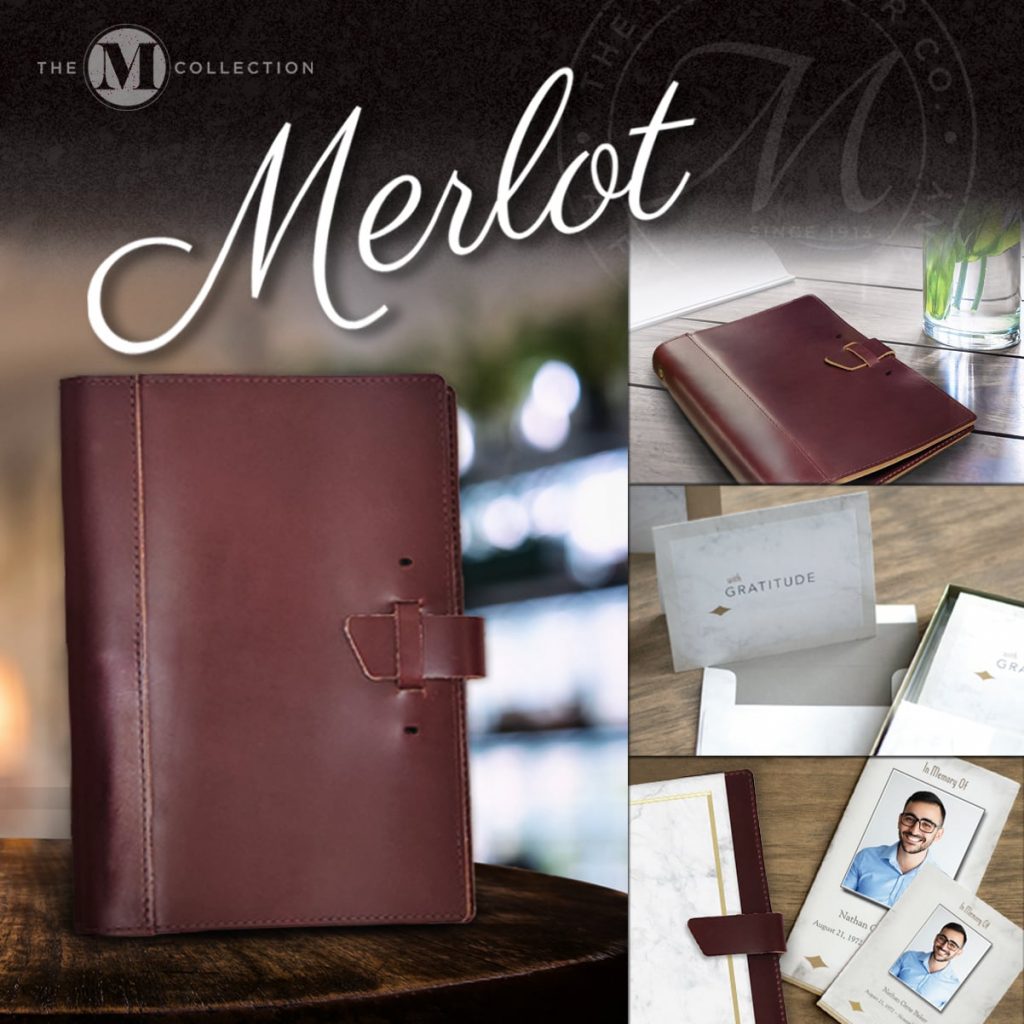 "The top-tier plays a significant role in a funeral home's stationery merchandising structure" stated Heather Garman, Vice President of Sales and Marketing at Messenger. "Adding products with a clear distinction to the top level gives more value to a funeral home's entire product assortment." Garman goes on to say, "While families may not select from the top-tier frequently, they will find the next tier down more attractive and that is where funeral homes will want most of their families to make a selection."
"As we have introduced new products in recent years, we noticed a need to take a new look at the stationery offerings in the top-tier" stated Alicia Norman, Director of Product Services at Messenger. "Many of the products at this level felt dated and have lost relevancy as preferences and tastes have evolved with the generations. Wood and leather options still have a high perceived value, so the goal was to transform them into trendy, modern options that appeal to today's families. We definitely accomplished that with the new Merlot leather register book."
The M Collection includes the Monarch and Merlot Register Books which share a full line of coordinated stationery pieces. The book interior includes extra Gallery Pages between sign-in pages provide an enhanced guest sign-in experience. Interiors can also be infused with Gallery Pages featuring six popular art themes exclusively available from Messenger. The line includes five sizes of service folders, deluxe size thank you cards in retail quality packaging, two sizes of laminated bookmarks, prayer cards, candles, and more. The stationery components for this series are easily personalized and printed through Messenger's free Make It! Personal web application.
The Merlot Register Book will be available for sale to funeral homes on March 1st, 2021. For more information, please call Messenger at 1.800.827.5151.
The Messenger Co., LLC, headquartered in Auburn, Indiana, was founded in 1913 by Frank Messenger, who started in the religious calendar business. Messenger has since become the leading provider of stationery, funeral service items and personalization services. In 2019, Messenger acquired Express Funeral Funding, the largest privately-held insurance assignment funding company. Focused on being a trusted partner to funeral professionals, Messenger delivers time saving solutions to increase customer satisfaction and add value. Messenger provides quality product and technology solutions with quick lead times and exemplary service, exclusive partnerships and one of the most experienced and extensive sales teams in the funeral industry. For more information about Messenger, visit www.messengerstationery.com or call 1.800.827.5151.