Fascinating Places Cremains Have Been Lost … and Found
One of the many reasons people prefer cremation is the portability of cremains. Families travel and move more often than ever before, and many want to take their loved ones with them. Inevitably, though, like luggage and mobile phones, cremains-filled urns and boxes are going to be misplaced. Which also means they'll usually be found. Cremains are definitely not something that makes a finder want to be a keeper, though. Just ask the folks who stumbled upon someone else's loved one in these unusual places.
Outside a Tattoo Shop
A tattoo shop employee was surprised to find a box labeled as the "incinerated remains of Sharon McQueen" outside the Reno, Nevada building in 2018. She contacted the crematorium, who said they had shipped McQueen's cremains in 2007 to a funeral home which was now out of business. The employee researched McQueen's background and determined she was born in Indianapolis and died in Washoe County, Nevada. She believes the cremains were misplaced by a homeless person.
In a Message in a Bottle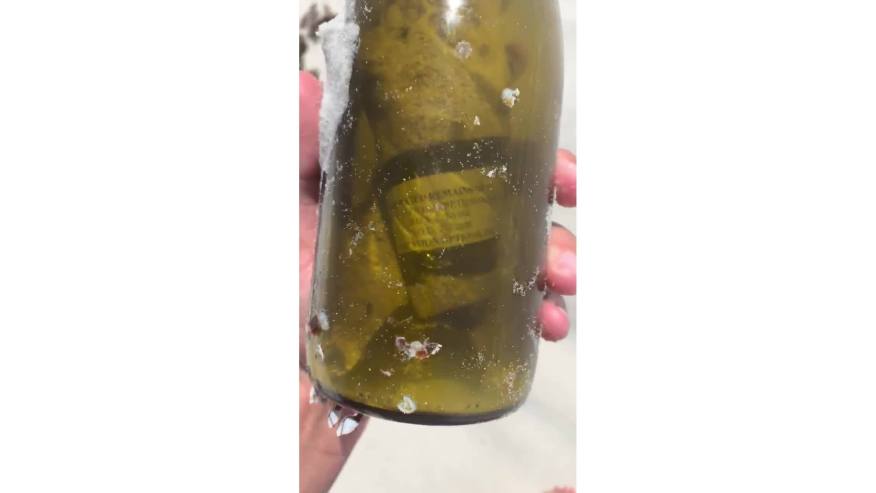 Who wouldn't be excited to find a mysterious message in a bottle lying on a beach? Unfortunately, instead of a treasure map, the bottle John Breland found last May in Destin, Florida contained the cremated remains of Jacquelene Barineau, who died in 2018. A letter from Barineau's brother and mother was wrapped around the bag of cremains and asked the finder to contact the family when the bottle was retrieved. It also said Barineau's life was cut short, so her ashes were "traveling the seas to see the world one wave at a time." Breland reached out, and the family asked him to through the bottle back into the Gulf. "Walking back I had it all in my pocket and I'm just sitting there like man, I'm walking around with someone's cremated body and it just wasn't what I was planning on doing this morning," Breland said.
On the Railroad Tracks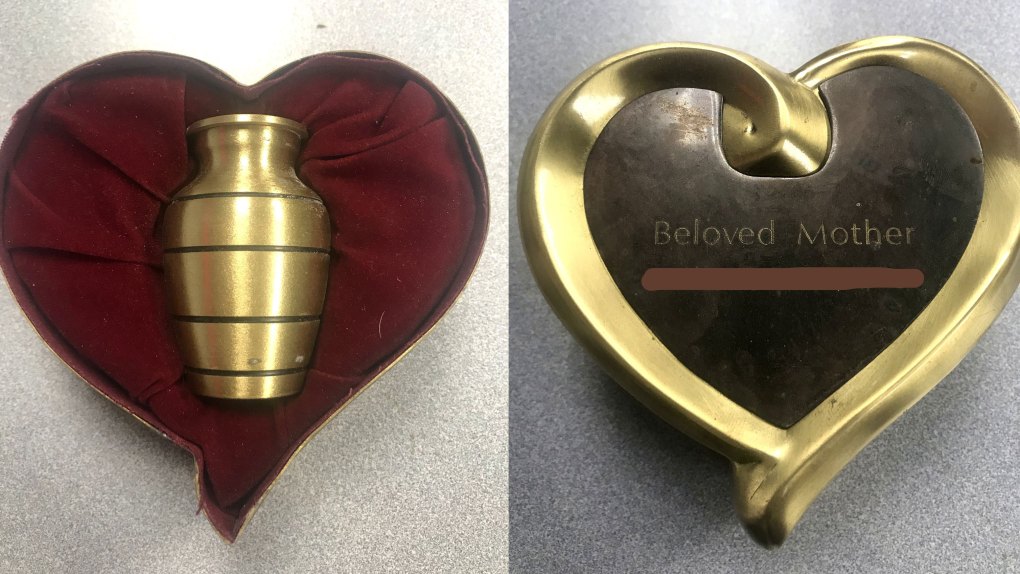 Police officers scouring the ground near the Irwindale, California Metro Gold Line in 2019 weren't looking for human remains as part of their investigation, but that's what they found. These remains weren't related to any crime, as far as they know, though. These were cremains encased in a gold urn that was inside a heart-shaped box engraved with the words "Beloved Mother." There were no other clues to the mother's identity, and police asked the public for help in identifying the owner of the lost urn.
At the Zoo
Augustine Portugal may have been cremated in 2016 in North Carolina, but somehow his remains ended up on a bench outside a zoo in Peoria, Illinois in July. A Peoria Park District employee found the cremains in a package containing the deceased name and death date as well as the name of the North Carolina mortuary. The employee contacted the mortuary, which had changed hands since Portugal's services and was trying to locate his records. If no one claims the records, the county coroner will include them in the community's yearly burial of unclaimed remains.
On a Portland, Oregon Street
In August 2019, someone found a box of cremains on a street in North Portland, Oregon. The label on the bag inside the box identified the contents as the cremains of Floyd L. Hill. Hill died on his 81st birthday in 2000, so someone had managed to hang on to his remains for 19 years. The funeral home which was identified on the label had no information on Hill's next of kin. They planned to use "Google, BeenVerified, and genealogy" to find his family.
On the Hood of a Car in a Parking Garage
At first, Sasha Martin wasn't sure if someone had left a gift or a bomb on the hood of her SUV, which was parked in the garage of her Bellevue, Washington apartment complex. After checking out the box and photographing it from all angles, she took it to her apartment. Eventually, she removed the four screws on the bottom which held the box together and found a cinched, unlabeled bag of ashes. She posted her find to Facebook hoping she'd locate the owner, and had a local funeral home verify that the ashes were indeed human cremains.
In a Back Alley
A dog walker found a box of cremains in an alley off a busy UK street in September 2020. The box was in a shopping bag and accompanied by a receipt from the crematorium. "It was not a pleasant thing to find, and I am sure this woman did not want to end up in a back lane in Paignton after she died," said the dog walker. "This is not what I would want to happen to me when I die. Maybe the person who left her behind forgot because of their grief." The local police asked the finder to keep the cremains until someone came forward to claim them, but she took them to the crematorium instead.
At a Goodwill Store
Anita Minks thought the cute globe frame she snagged at the Missouri Goodwill store for $2 would be a great place for her son's photo. That is, until she opened the back of the globe and found human remains. Minks' first reaction was to either bury the cremains or toss them in the river. Her daughter, though, took charge and posted the photo that had come in the frame on Facebook. Eventually, the story emerged that the deceased's cremains had been distributed to several friends and family members. One of those friends placed her share in the globe frame, which was temporarily placed in a storage building while the friend moved. The storage building was burglarized, and somehow the frame ended up in Goodwill.
Buried in a Vacant Lot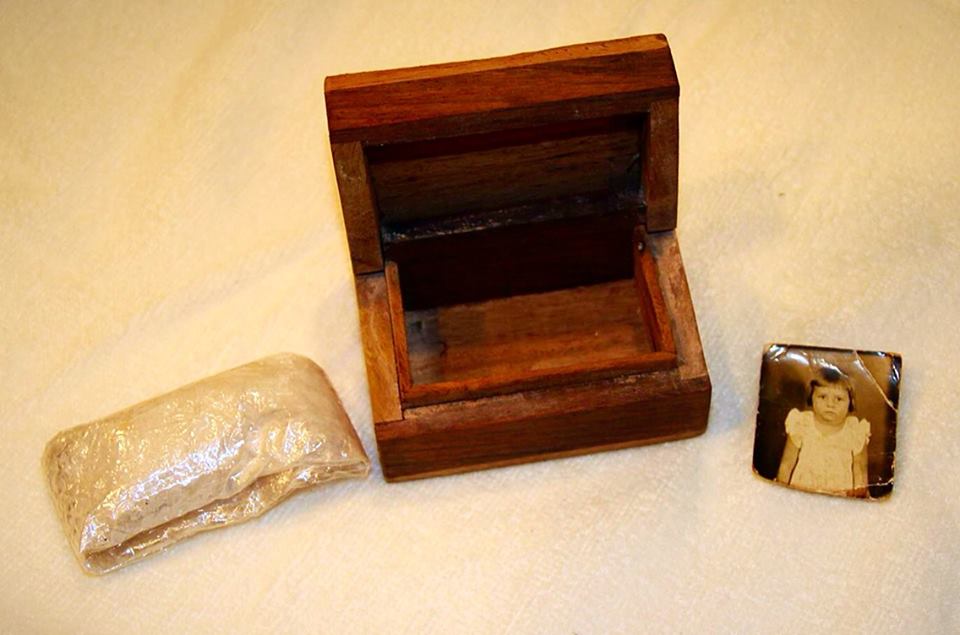 Two little girls playing in a recently-excavated Washington City, Utah vacant lot in 2014 were thrilled to find a small box in the dirt. They ran home to show it to their dad, who handed it over to a neighbor whose aunt owned the lot. The neighbor opened the box and found a small packet of cellophane-wrapped ashes and a photo of a young girl. "I'm like 'OK, is somebody pulling a trick? These aren't drugs or anything?,'" the neighbor told local media. "It's not. I opened it up. I could feel it through the Saran Wrap and every once in awhile you could feel like a bone fragment or something, and it just smells like dirt, so there's no drugs or anything in it." She's keeping the box until the next of kin is found.