Want More At-Need Calls? You Need Alan Hillsberg from Funeral Marketing Services
SEO. GMB. PPC. If you don't know the best strategies that these acronyms represent — or how important they are to your death care business — you need Alan Hillsberg.
Hillsberg is the genius behind Funeral Marketing Services, a Long Island, NY-based firm that specializes in helping over 80 funeral homes and crematories throughout the USA get found on the Internet.
"We provide on-line visibility for our clients at the exact moment an at-need family is doing online search," Hillsberg explains. "Our strength and our target is immediate need, driving quality cases consistently to our funeral home clients."
With close to a 100% retention rate, his long-term funeral home and crematory clients are profiting from the services provided to them.
Hillsberg: The Great Equalizer
Hillsberg understands that all death care professionals want their internet strategies to work. Exclusively working with funeral homes and crematories has given Funeral Marketing Services a specialized knowledge on how to generate new business for their funeral home clients consistently month after month. That consistency is what is most impressive.
"Funeral Marketing Strategies are not a one size fits all approach. You can't use the same strategies for a dentist's office or a clothing store that you would use for a funeral home," he says.
While he claims he could never be a funeral director, it takes a very special person to walk families through probably the most difficult time in their lives, he makes it his business to learn about the challenges funeral directors face. He's especially attuned to the changes growing cremation rates have made to profit margins.
"With Funeral Home property costs and taxes, overhead, payroll, workers compensation and supplies increasing, we're the great equalizer to what cremation has done to profits." Hillsberg says. "We have solutions to counteract lower profits that cremation, especially direct cremation has on profit margins."
By solutions, Hillsberg doesn't mean a one-size-fits-all cookie-cutter plan. For example, funeral homes in more competitive areas like New York City require a different online marketing strategy than funeral homes in a rural area.
"Google ads are not always the best play for some clients," Hillsberg explains. "It just depends on the customer we're working with. We're not just offering a "one size fits all" approach. We create a plan specific to that funeral home and it's location. In this way our clients only pay for services that will make a difference for them." This also ensures their marketing dollars are not wasted and are only used towards services that have a positive impact on their business goals.
A Gold Mine
When most people think about Internet marketing, they instantly think about SEO or pay-per-click (PPC) Google ads. But, Hillsberg says, SEO and ads are just one part of a much larger, much more intricate ecosystem that he and his team constantly monitor.
"Google's algorithms change all the time," he says. "We're always watching Google's ranking signals."
Hillsberg's latest research shows that even if you rank on the first page of Google organically, you can lose up to 89 percent of your sales to PPC competitor advertising! Even a number 1 ranking loses 50 percent of their sales to other PPC ads. Regardless of whether you can afford PPC advertising or not, the real question is, can you afford not to?
When you use PPC search ads, you want to bring in the best ROI possible. These statistics indicate that PPC has the ability to provide a high ROI under the right circumstances. GMB (Google My Business) pages are important as well. Structuring the right marketing plan depends on your demographic and the services you want to expose to that demographic.
"The Funeral Home Business is an incredibly well-searched industry," he says. "Online search counts for the keyword terms 'funeral home' and 'cremation' from Google alone account for more than 100,000 searches each month.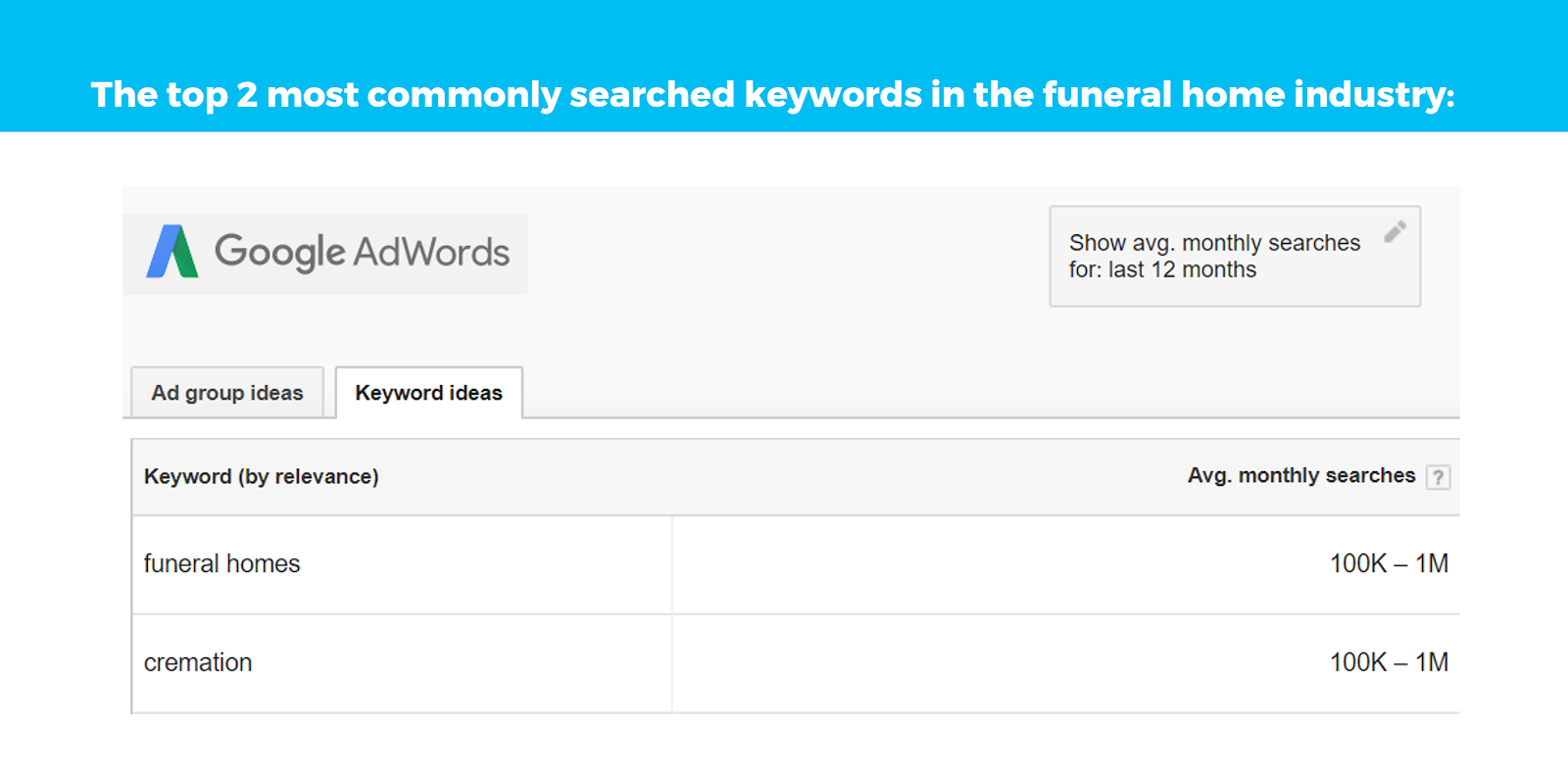 "What these numbers tell us is that Internet marketing for funeral homes is a robust platform you can't ignore. It's big business because when you think about it, How are people that don't know you going to find you? Outside of neighborhood walk-in traffic and referrals, which are always welcome, the Internet is where your next family is coming from and if your website is set up properly, it could be an absolute goldmine for you!"
Expert Knowledge on Strategies That Move the Needle for Funeral Homes and Crematories
With Hillsberg's years of knowledge and expertise marketing for the death care profession, he's developed ideas and strategies that have made a financial difference for the funeral directors he serves. With Internet marketing, little things can make a big difference.
For example, when it comes to search engine optimization (SEO), the right backlinks are extremely important. Additionally, he will promote your services in expertly-written, SEO-friendly articles. Hillsberg's articles are widely shared in strategically-selected news outlets, with the intention of creating quality backlinks pointing back to your website, GMB pages, your Maps pages and your reviews.
Furthermore, Hillsberg quotes, "What gets immediate need families into a funeral home are the people that run it. Your policy is to cater to every family with compassion, dignity and respect. But how do families know that? We put strategies in place that make you as a funeral director more approachable to the families you serve."
Ask The Expert
Just as you strive to build a trusting relationship with the families you serve, Hillsberg and his team want you to trust their dedication and expertise. The company's history of success and nearly 100% retention rate speaks for itself, as do the glowing testimonials from satisfied clients.
"One of our clients received a call from another company offering to manage their Google ads for him," Hillsberg recounts. "My client replied he didn't need them, he already had a 'miracle worker' on his side." Check this short video testimonial below of this recorded exchange;
Hillsberg's methods are proven in every state including New York City, one of the most competitive markets in the USA. One New York area client generated about $493,057 in net credit card receipts over a seven month period after spending just $15,486 on Google ads. That case study in its entirety is available for download at www.funeralmarketingppc.com
You only have to talk to Hillsberg for a few minutes to thoroughly understand he knows his stuff, inside and out. You can also tell he truly cares about his mission to help his clients achieve their financial goals.
"I get excited because I love what I do," he says.
Are you ready to consistently generate more at-need calls? Alan Hillsberg at Funeral Marketing Services can be reached at (516) 812-9326 or visit www.funeralmarketingservices.com. You can also book time with him on his calendar here. There is never a charge to share ideas and strategies to see if their unique forward thinking strategies are a fit for your funeral home or crematory.