"Coffin Confessor" Gets Paid To Crash Funerals, Clean Up Messes, and Air Dirty Laundry
What started as with a dying man's simple request for post-death revenge has become a booming business for an Australian man. Today, Bill Edgar, a.k.a. the "Coffin Confessor," makes a living crashing funerals, revealing secrets, and much more — all at the request of the dying.
Shocking beginnings
According to a story by the UK's Daily Mail, two years ago Edgar was working as a private investigator. A client who was dying from cancer asked Edgar to interrupt the man's funeral to deliver a special message. He wanted his "so-called best mate" — who was to deliver his eulogy —  to know "he knew he was 'trying to screw' his wife."
When the time came, Edgar stood up during the service and read a letter the man had written before his death. In addition to calling out the best friend, the letter addressed others in the crowd. The Gold Coast Bulletin reported Edgar named a specific person, then read "Can you please stand up — can you f*** off." He continued, "I haven't seen you for 30 years. Why are you here? F*** you."
About half of the attendees left the service after the bizarre incident, the Bulletin says. Yet, Edgar racked up seven more engagements for similar services within the next few months.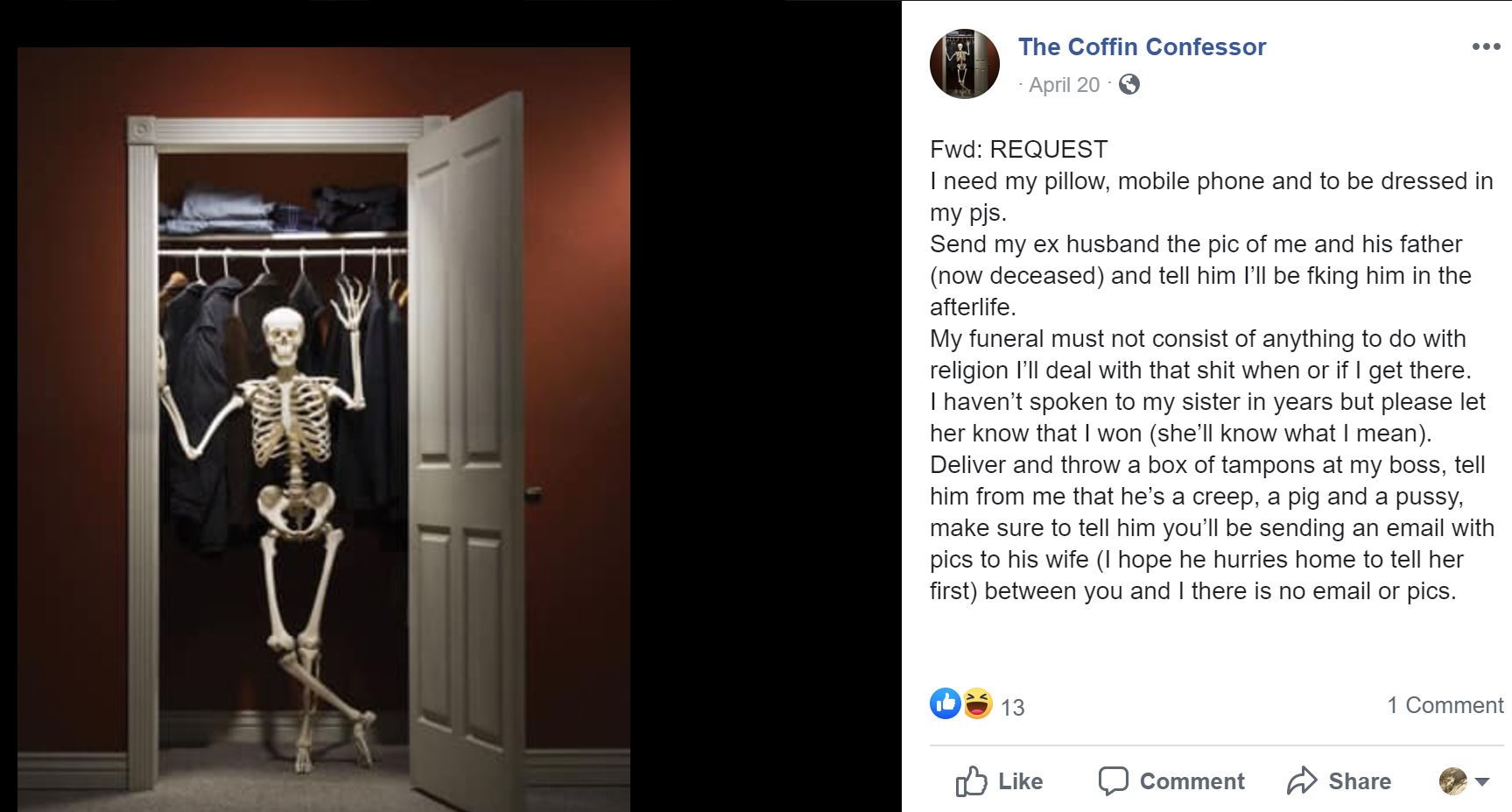 Expanding the business
Since that first foray into funeral wish fulfilment, clients have asked Edgar to do even more for them post-death. Cleaning up evidence of well-hidden sex lives is a particularly popular area.
The Mail relates the story of an elderly man in palliative care who asked Edgar to dispose of some items in his attic.
"The man asked me to go to his house and remove some things," Edgar said. "I went up to his attic and there was a sex swing hanging there."
Edgar says he filmed himself burning the swing and "various sex toys" as proof for the client.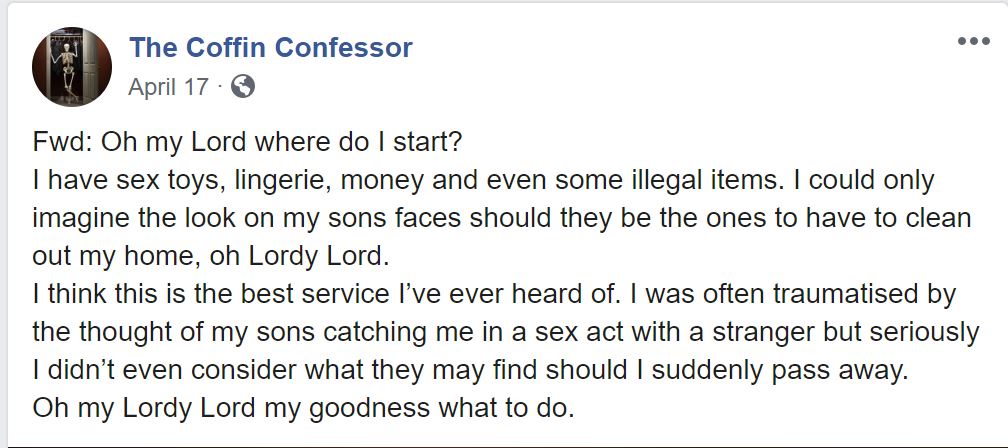 He was also asked to kill a client's dog so the dog could be with him in heaven. Edgar says he turned down this request, as he would if asked to assist a client with suicide. 
A fine line
Edgar doesn't shy away from other controversial requests, though. He's accepted "confessions" of crimes, like one he shared on his Coffin Confessor Facebook page.
"I was involved in a hit and run," the post begins. The client then shares they broke into a jewelry store, robbed factories, and stole a carriage, used it for burglaries, and burned it.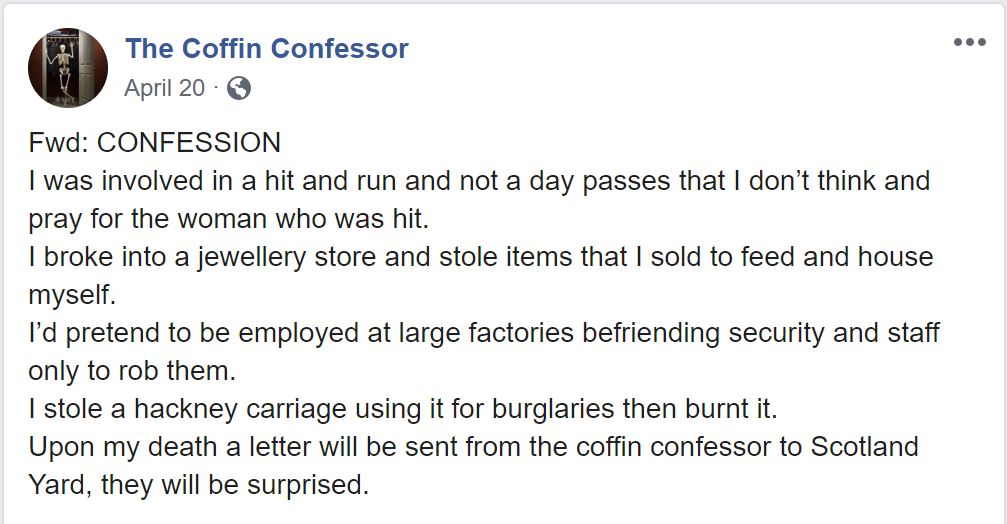 "Upon my death a letter will be sent from the coffin confessor to Scotland Yard, they will be surprised," it closes.
Edgar tells the Mail that he'll tell police about "anything that errs too far on the wrong side of the law," however. Unless the client gives him a "sealed envelope with their secrets inside," that is. In that case, Edgar will keep the envelope closed until after the client dies.
It's not all bad
Even though one of his most recent gigs was revealing a biker gang member's homosexuality to his family during his funeral, many of Edgar's assignments aren't intended to shock and awe.
He was tasked with sending one love letter each year to a husband from his deceased wife. He's been asked to dress up as Homer Simpson and "perform" at funerals. In another Facebook request, a dying wife asks Edgar to deliver a bottle of a couple's favorite wine, chocolate, and a special gift to her widowed husband.
One person who fears being buried alive asked Edgar to be sure she's actually dead. "I thought you might be able to insert a needle or pin into me," they write. They also want to be placed in the coffin "upside down with my arms above my head; this is how I sleep." 
Making arrangements
Edgar reportedly receives thousands of dollars for each request he carries out. He's also leveraged his fame into a unique subscription service. For just $9.99, anyone can become a lifetime member of his Coffin Confessions website and upload a confession.

"Coffin Confessions is your personal library and your login and password are your library card," the site reads. "We plan for a birth, a wedding, a holiday, a life filled with adventure and memories and then we die without leaving a loving message to those we loved most, no departing gift or swipe at those we loved to hate."
Edgar asks members to provide contact information of a confidant who will let him know the member has died. The confidant then has to become a member themselves to retrieve the deceased's confession. At that point, it's up to the confidant as to how the confession is handled. Employing Mr. Edgar to crash a funeral or burn personal items are separate requests.