This Multi-Purpose Bookshelf Converts to a Coffin
For bookworms contemplating their final plans, a new invention promises a practical, stylish, and environmentally conscious option for storing your favorite possessions—and, when the time comes, your own body. Called "Shelves for Life," the bookshelf/coffin combo is the brainchild of British designer William Warren. After serving as a bookshelf, the piece converts into a coffin custom-fit to its owner.
The bookshelf that converts to a coffin
Designed to last a literal lifetime(and beyond), the shelves feature natural wood that will darken, stain, or bleach in the sun over their lifetime. When the owner dies, the pieces easily reassemble into a coffin that will bear the marks of years of use. A brass plate under the bottom shelf can be engraved with your personal details.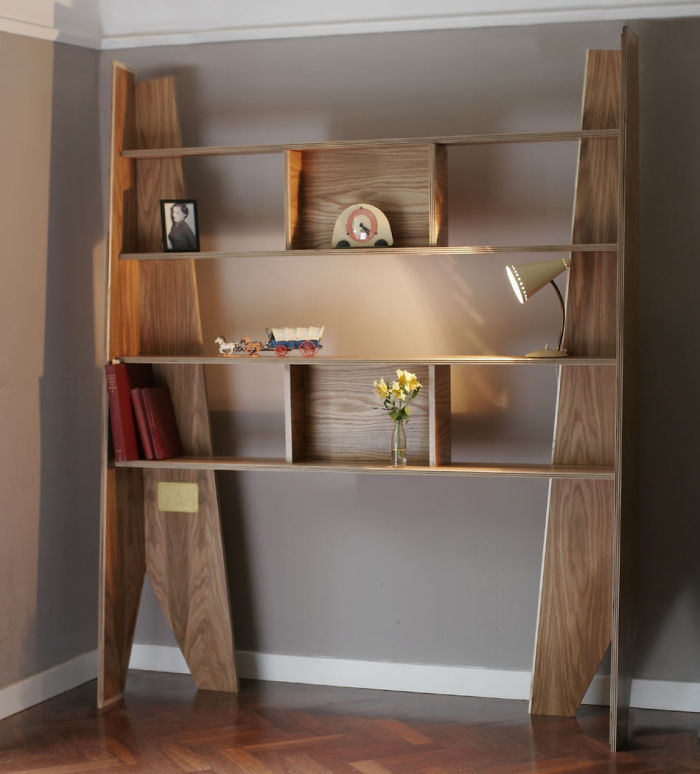 When asked about reactions to his invention, Warren admits some people don't enjoy the reminder of mortality. Others "squeal and some smile," he says. To him, the design just makes sense. Everyone dies, and most people need a coffin. He disdains the idea of ending up overspending on a "40£ piece of rubbish because nobody argues with an undertaker." 
"Why not make your coffin from something you've owned and loved for years?"
Warren first showed the Shelves for Life at 2005's London Design Festival, appropriately showcasing them in the British Library. He makes his designs available for free online, so anyone can make their own coffin bookshelf using his template. If you decide to build your own, don't forget to send Warren a photo. He'd love to see them!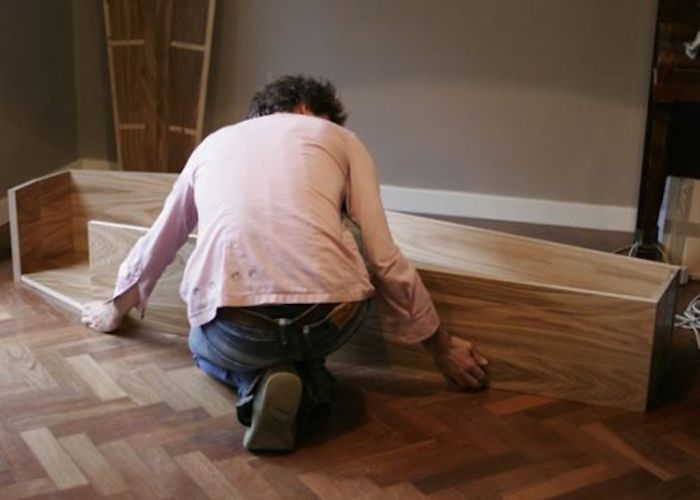 Warren's other thought-provoking designs include a bench made out of nails, a rug with an "alligator" subtly rising out of one corner, and a street art coloring book.
Making death part of life
Warren isn't the first to build this kind of multi-purpose piece. In Maine, furniture-maker Chuck Lakin creates furniture pieces that convert to coffins, custom-fit to each client's specifications. Some of his pieces include entertainment centers, storage chests, and wine racks. As a longtime supporter of home funerals, Lakin wants everyone to have access to affordable, multi-purpose caskets. "Death is a natural part of living," says one of his clients, a retired psychiatric nurse named Virginia Landry. "It may be the best part." Once she turned 75, she says, she began thinking seriously about her final wishes. Not a fan of elaborate funerals, she felt drawn to Lakin's simple and sensible designs. At the moment, she uses her custom-made shelves to store her handmade quilts.
Others are more reluctant to buy Lakin's products. Like Warren, he acknowledges modern society's discomfort with death. It's no wonder most people don't want to come face to face with humankind's greatest dilemma on a daily basis. But to Lakin, death is "not a tragedy; everybody dies." Coming to terms with it, perhaps by interacting with it via an ordinary household object, can lessen fear and help us appreciate life more.
Lakin's pieces not only serve multiple purposes, but cost less than half as much as the average casket, making more than a symbolic statement. 
For those seeking affordable alternatives to ornate, high-priced caskets, these versatile pieces of furniture just might do the trick with versatility and style—as long as you don't mind facing your mortality head-on, every day.