The DeathTech COVID-19 Research Project Needs Your Input
You may not realize it, but as a deathcare professional working through a global pandemic, you're making history. Now a team of brilliant minds at Australia's University of Melbourne want to record your contributions and perspective.
The DeathTech Research Team is a group of university scholars who are working on a variety of deathcare-related research projects. As part of this effort, DeathTech has established an open, collaborative platform to share and study accounts of how the COVID-19 pandemic is changing deathcare. 
Your contribution is important
They are particularly interested in first-person accounts, reflections on new technologies being used, and new rituals. They'd also like your input on the emotional, professional, and social impact of these changes. You can include links to news articles, images, or videos or write your own account of what you're seeing and feeling. 
Your contribution will help the research team understand how COVID-19 is changing deathcare, funerals, and memorialization in all countries and cultures. It's also a great opportunity for you to see what others are experiencing.
"This could be an amazing way for funeral directors in the U.S. to learn and gain perspective and insights from seeing a variety of solutions to similar problems funeral professionals are facing around the world," said Parting Stone's Justin Crowe, whom Connecting Directors would like to thank for bringing this important project to our attention. 
Here's how to help
The DeathTech team would greatly appreciate as many contributions from deathcare professionals as possible. 
Here's how to add your insights and experiences to the project:
To add a reflection, click the large pink plus sign on the upper right side

Select a location (this can be as specific or general as you wish)

Add your text or a link, or upload your video or images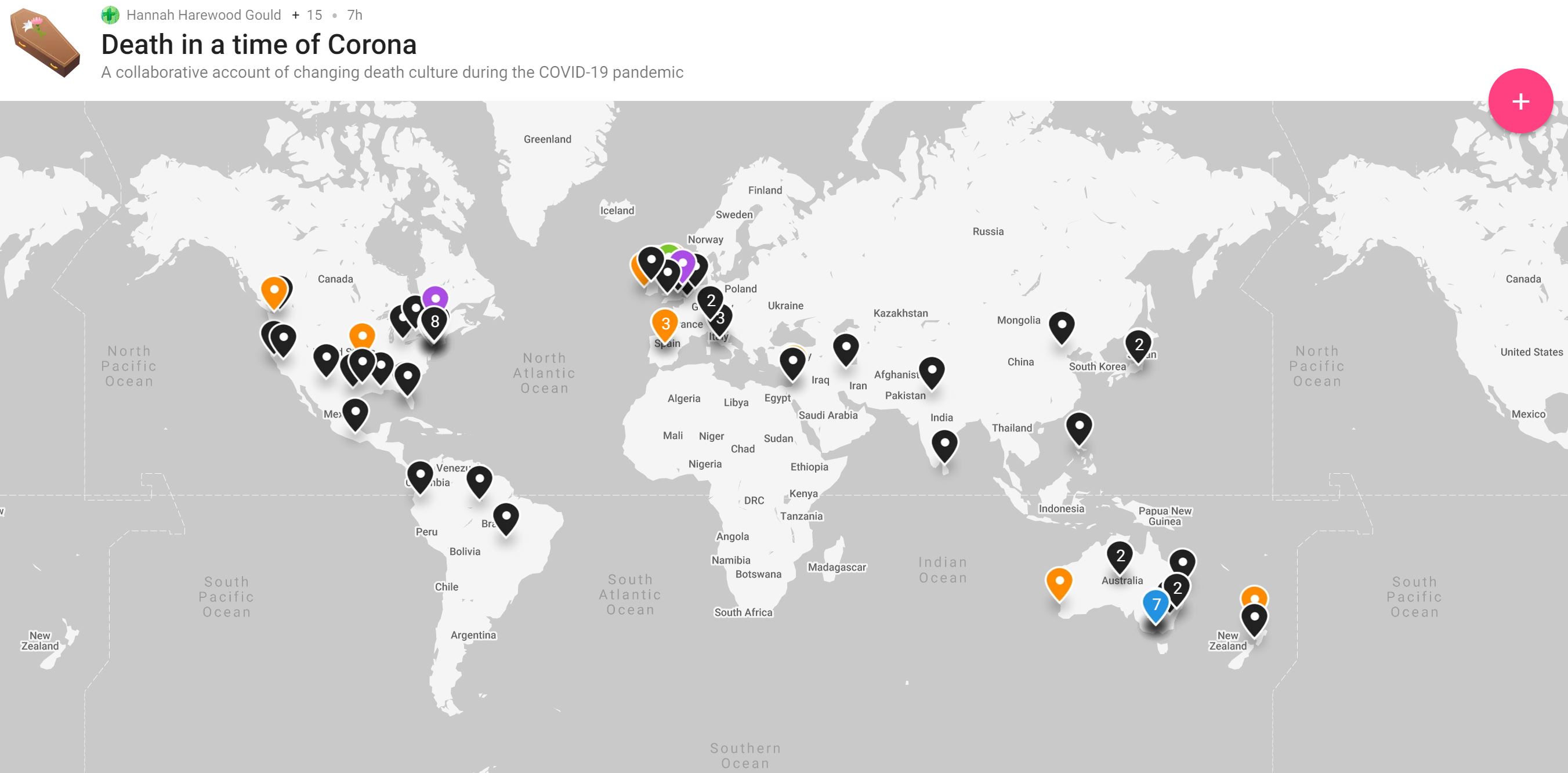 You can also email your thoughts to deathtech-research@unimelb.edu.au if you'd like for the team to upload your contribution. When you post directly to the map, you can add your name and/or company or remain anonymous. You may also remove your contribution at any time.