ICYMI: Heritage Cremation Provider Is Scamming Again, Warns NFDA
Like a bad penny, Heritage Cremation Provider, LLC keeps turning back up. In late November the National Funeral Directors Association (NFDA) issued its third warning in as many years about this disreputable company. It seems they are once again hiding behind a new online-only alias.
"We received word from a state association that Heritage Cremation Providers — which also operated under the names Families First Funeral Home and Funeral Services — appears to be doing business as 'The Funeral Group,'" wrote the NFDA on its website. "As in the past, NFDA members who receive calls to provide cremation services for Heritage Cremation Providers, Families First Funeral Home and Funeral Services, and The Funeral Group are advised to refuse those requests."
Third time's the charm?
According to the most recent NFDA release, Heritage is an "internet middleman that holds itself out to the public as a locally-owned and trusted funeral home providing low-cost cremation services." In reality, Heritage is an "unlicensed seller of funeral and cremation services with a long track record of consumer fraud and abuse," writes the NFDA.
NFDA General Counsel T. Scott Gilligan first shared this nefarious news with NFDA members in June 2017. At the time, Heritage was also operating under the name "Legacy Funeral Service" and still portraying itself as a low-cost, family-owned, locally-based cremation service. "In actuality," Gilligan wrote, "it is a scandal-ridden middleman that collects payments from consumers for cremation services and then outsources all of the work to funeral homes and crematories that perform removals and carry out the cremation."
Gilligan followed up this initial alert with a new warning in November 2018. A New Hampshire NFDA member had become suspicious of "Families First Funeral Home," which had been relentlessly contacting him. He closely reviewed the Families First paperwork only to find references to Heritage Cremation Providers in the text. "Apparently, when Heritage Cremation Providers decided to disguise itself as Families First Funeral Home," wrote Gilligan, "it overlooked several references to Heritage Cremation Providers in its own paperwork."
Apparently, they also overlooked (or just didn't care about) the Shutterstock branding on the stock photo below on their Legacy Funeral Services website below, either.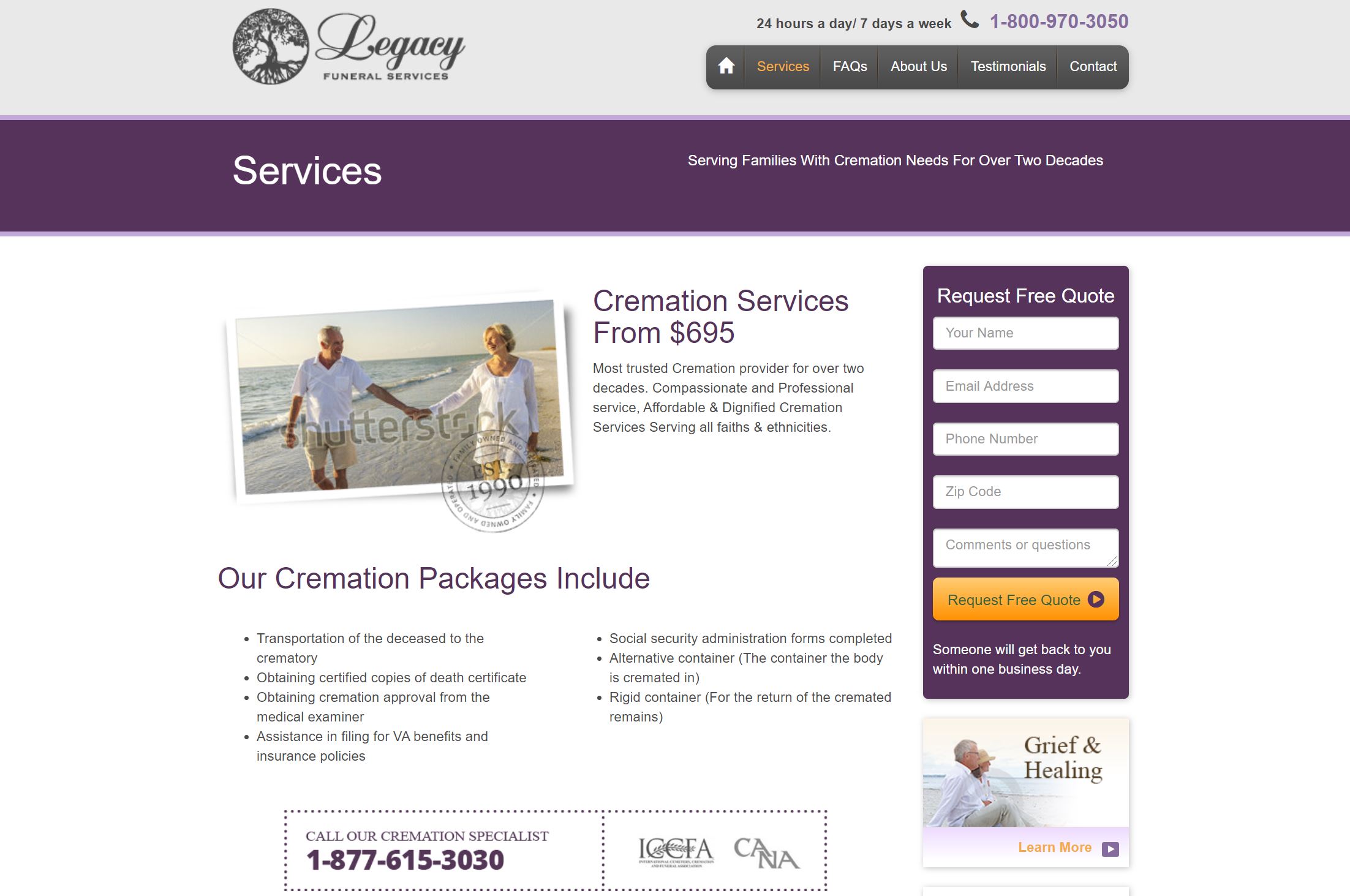 States they shouldn't be serving
Despite these warnings, disciplinary action taken since these allegations came to light in 2017 hasn't seemed to stop Heritage from continuing its practices. On June 6, 2017, the Colorado Office of Funeral Home and Crematory Registration suspended the registration of Heritage, saying the company was "guilty of multiple deliberate and willful violations of the Mortuary Science Code."
This action followed similar actions by the North Carolina Board of Funeral Service in 2016 and Oregon's state mortuary and cemetery board in 2014. Massachusetts withdrew Heritage's registration in 2017 because Heritage "broke the Massachusetts law requiring any funeral parlor that accepts payment to be registered by the Board of Registration of Funeral Directors and Embalmers." In 2017, the NFDA cited Tennessee and Florida as additional states with actions against Heritage.
According to the Better Business Bureau, in 2017 the Attorney General of the state of Georgia ordered Heritage/Legacy and its owners Joseph Damiano and Anthony Joseph Damiano to immediately cease its "unfair or deceptive acts or practices" in that state as well. The Georgia agreement also included a requirement to notify the state of any company name changes. Apparently, the Damianos agreed to notify the state in writing "of any change in the name of Heritage or Legacy, including the use of any alias or fictitious names within thirty days of the change."
However, besides the NFDA's updates on Heritage's new aliases — which may or may not have been reported to Georgia authorities as requested — no new actions by additional states seem to have been filed since 2017. As NFDA reports, though, Heritage Cremation Providers can "hide behind the internet," which makes nailing down their slippery practices difficult for states.
False advertising
Along with the Colorado and Georgia "Government Action" alerts, the Better Business Bureau site for Heritage also includes findings from their review of Heritage's advertising.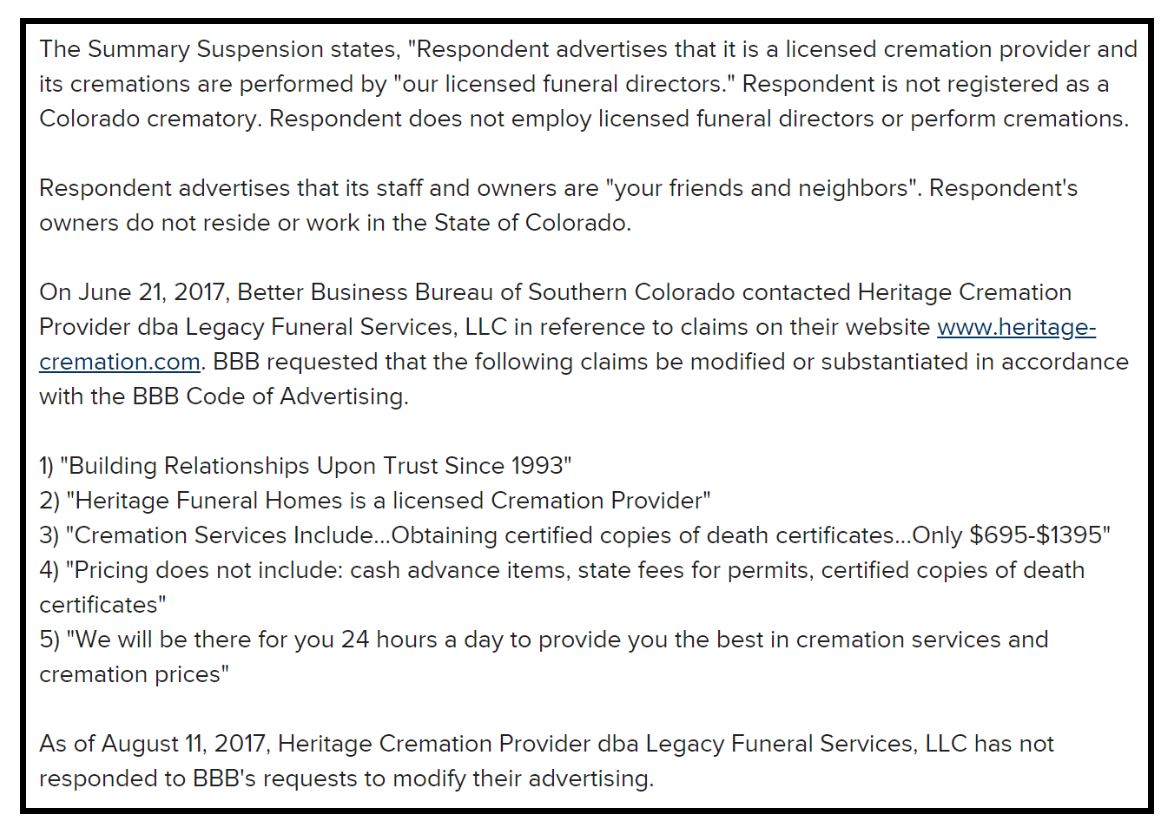 As of this writing, each and every one of these 2017 statements still appear on Heritage's website, with no modifications. Additionally, the two links in the Heritage website's footer reading "States we serve" and "Cities we serve" still link to a list with links to funeral homes in every state, including those which have forbidden Heritage to do business there. Note that Heritage's website's copyright information confirms that no updates have been made since 2017, while Legacy's (screenshot above) cites a 2018 copyright, but includes the same links and results as below.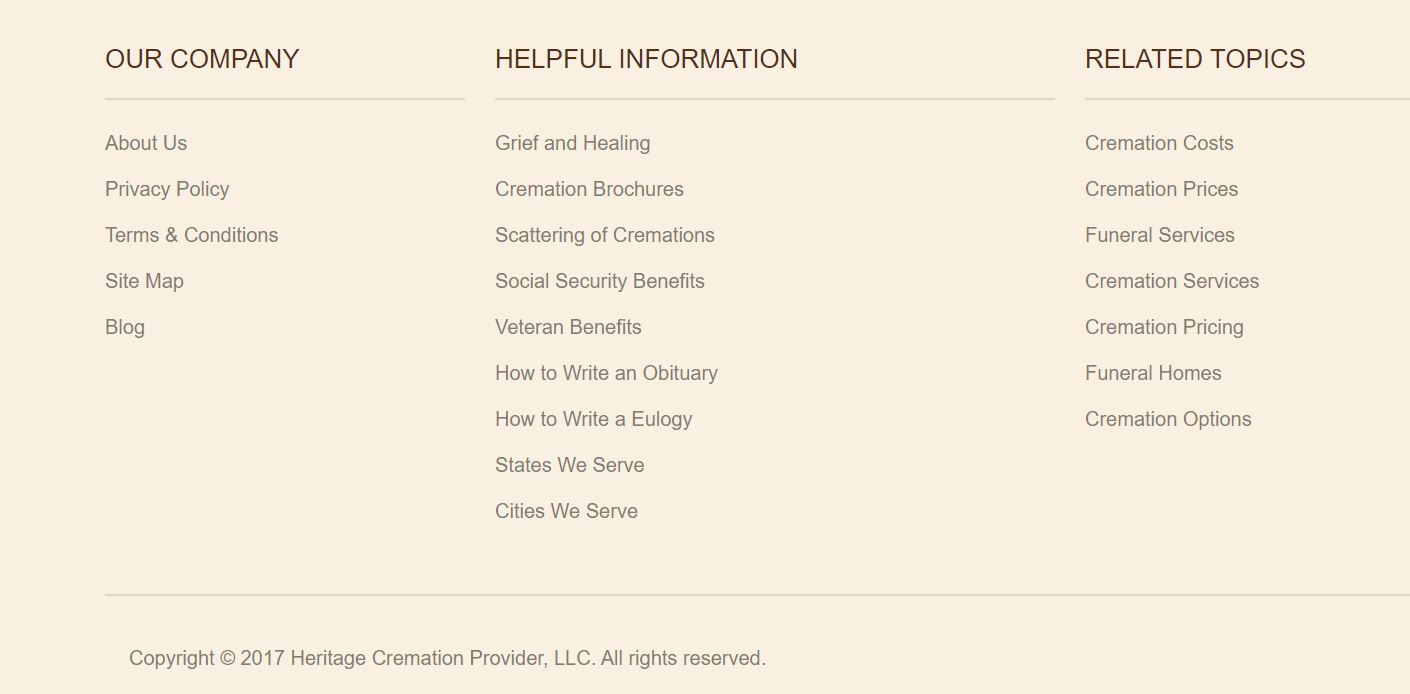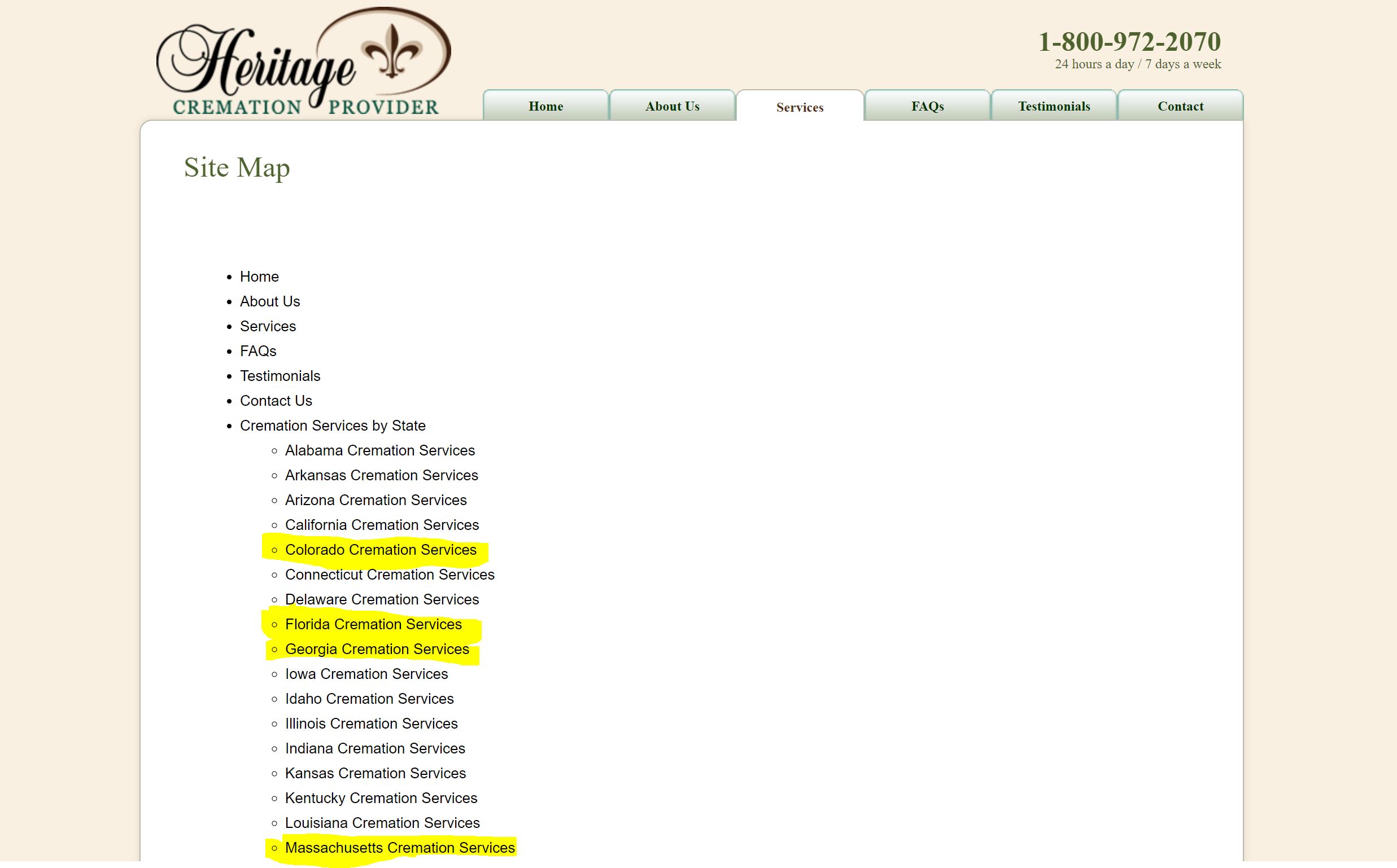 What to do if you're contacted
As the NFDA so soundly recommends, all death care professionals should stay aware of Heritage Cremation Provider's many aliases, which, to recap, include:
Legacy Funeral Service

(website URL reads "Legacy Cremation Services"),

Legacy Funeral and Cremation Services,

Families First Funeral Home and Funeral Services, and

The Funeral Group.
Because of the Damianos' history of changing business names, the NFDA issues the following advice:
Funeral homes should always investigate when they receive a request for services from out-of-state funeral homes they are not familiar with. If you have not previously dealt with a particular out-of-state funeral home, ask for its contact information and confirm through the NFDA website, state board licensing listings and funeral home directories that it is an operating funeral home. Since nearly every funeral home has a website, this will be helpful in confirming who owns and operates the funeral home that is requesting you to provide cremation services.
Although it purports to be family-owned, Heritage Cremation Provider's website does not list the owners' names — nor any names for that matter. There is also no physical address or even mailing address — only a 1-800 phone number, email address, and a fax number.