Tired of Piecemeal & Plug-Ins? Try Frazer's One-Stop-Shop Website Platform
As a funeral home professional, you wear a lot of hats. You're a director and embalmer, of course, but you're also a counselor, HR manager, marketer, bookkeeper, event planner, historian, and maybe even housekeeper. There's no reason you should add "IT specialist" to that list just to have a website platform that works for your organization.
Your funeral home's website is perhaps the most important marketing tool you have at your disposal. Today's families are looking online for not only obituaries, but also simple, all-in-one ways to find information and memorialize a loved one. Like you, they don't have the time or inclination to move from one system to another to get it all done.
Built by death care professionals for death care professionals
Frazer Consultants understands how frustrating it can be to manage multiple technology platforms. Owner Matt Frazer grew up in the funeral industry. He started Frazer Consultants in 2003 to offer high-quality personalized stationery products to death care professionals. In 2011 Frazer began building the architecture for what has become a robust, powerful website platform.
"Matt's goal was to build the foundation for a platform that could continue to grow as we added new features and functionality," says Frazer Sales Consultant Adam Hovey. "It's not just a website. It's a one-stop shop."
Frazer's all-in-one platform includes everything you'd expect from a premium website provider, including customized branding and layout, easy-to-update content management system, and mobile-friendly design. However, it's the ever-evolving modules that truly differentiate Frazer websites from other platforms.
Frazer's platform is exclusive and all-inclusive
Unlike some website platforms, Frazer's websites are built specifically for the funeral home industry, and use no third-party components. Every element of Frazer's multifaceted offering was built from scratch by Frazer's team of in-house developers, including these powerful features:
Tribute Pay: Allows families and visitors to easily pay online for products and services using debit and major credit cards or ACH payments.
Tribute Crowdfunding: Ensures online donations for funeral expenses are deposited directly into your bank account.
Tribute Store: Partners with local florists to offer revenue-generating floral arrangement orders from your website.
Tribute Loans: Helps those customers apply for additional funding without impacting their credit score.
Tribute Insurance Assignments: Instead of waiting for life insurance proceeds, Frazer takes care of the approval process for you so you get paid right way.
Every Frazer website includes all of these modules, each of which customers can choose to activate and use as they wish. As new modules are introduced, they are made available to the entire customer base at no additional charge.
As a funeral director you recognize that every detail is important, and little things can mean a lot. With the goal of creating an all-inclusive platform, Frazer hasn't overlooked smaller features, either. Details like iOS and Android apps so you can manage your website on-the-go and a text direction feature for obituary pages simplify access for your customers and your team.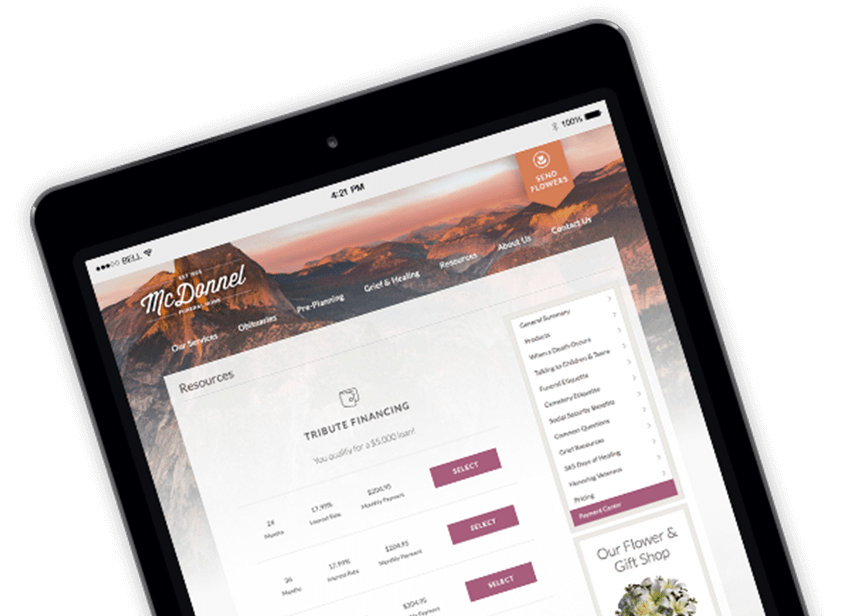 "We can't take credit for these ideas," Hovey says. "They come from our customers' suggestions, issues, and pain points they've shared with us."
Frazer also seeks feedback from families, often inviting consumers to test and interact with potential website features before they are launched.
Hang up your IT hat
From a marketing and management perspective, Frazer's website technology is designed to make your experience as easy as possible. Their support team includes experts in every aspect of the platform, so help is just a phone call, chat, or email away. They keep up with all of the technology trends so you don't have to.
Frazer's team will also help you to integrate other software programs into your website platform. Some connections, like those to major data management programs and call services, are ready to enable when you purchase your Frazer platform.
And with Frazer's online obituaries, called Tribute Walls, families create meaningful memorials while funeral homes create stronger connections with their communities. Whether it's families signing up for obituary notifications, sharing obituaries on their social media, or simply visiting and engaging with the website, funeral homes benefit from having these interactive obituaries almost as much as the families do.
"Our Tribute Walls give families a permanent online memorial where they can come together and honor a life," Hovey explains. "At the same time, funeral homes stay connected with families both locally and afar."
Frazer's simple solution, easy transition
If you've put off updating your funeral home website for fear of downtime, complicated installation, or the potential of losing information, don't worry. Frazer Consultants will do the heavy lifting and work closely with you from demo and design through the day you switch over to your stunning new site.
Frazer will seamlessly transfer all of your existing obituary data and comments. You can also choose if you'd like to create new verbiage and add new images or bring over what you already have. And if you have a vision for your new website, Frazer's team will do everything they can to bring it to life.
To learn more about Frazer Consultants and their all-in-one, one-stop-shop funeral home websites, contact a representative today to set up a complimentary demo. Frazer's schedule is dictated by yours, so appointments are flexible and detailed to your availability and needs.